WWE: 10 Potential Replacements for John Laurinaitis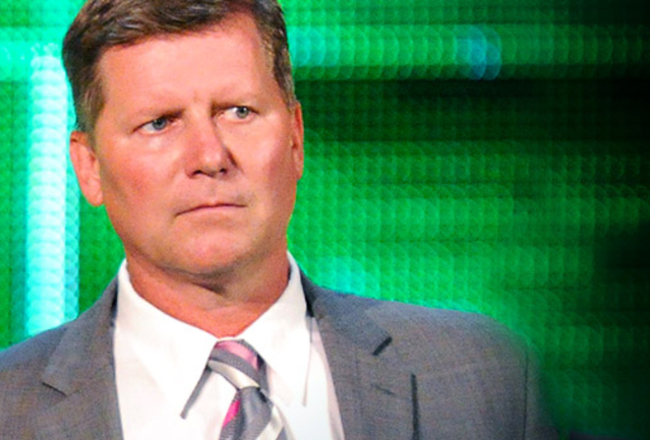 Photo courtesy of WWE.com

Say so long to People Power.
John Laurinaitis was officially fired as the General Manager of both Raw and SmackDown last week, resulting in the end of both shows as we've known them over the better part of a year.
Laurinaitis is indeed out, but who's in?
As we saw on last week's episode of Raw, the short-term solution is for the WWE to bring back a GM from the past each week until a new GM is named.
But a long-term solution has yet to be found.
When that will happen or who it will be is anyone's guess, but today, we're going to try to figure out that latter part.
Here are 10 potential replacements for John Laurinaitis.
10. Vickie Guerrero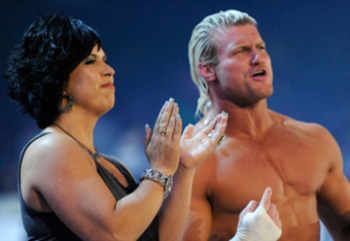 Photo courtesy of WWE.com
As we learned last week, Vickie Guerrero will be in charge of both Raw and SmackDown this week.
And I definitely don't think it's much of a stretch to consider her for the permanent position.
Vickie has experience working in a GM role (as both the interim and "permanent" GM on SmackDown in 2007), and she's also got something else going for her: She's a heat magnet.
If there's anything that Vince McMahon and the WWE loves, it's a good heel authority figure, and Vickie fits that absolutely perfectly.
Were current WWE story lines shaping up a little differently, she'd be at the very top of this list.
But given what seems to be going on with her and Dolph Ziggler, I'm not sure the WWE wants to give her a spot as the GM of both shows, too.
9. JBL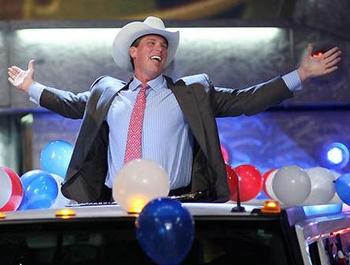 Photo courtesy of WWE.com
JBL is a name that keeps popping up in this discussion, and with good reason.
The WWE recently agreed to sponsor a major charity event that JBL will soon participate in, and JBL himself also recently revealed that he has "a deal in place" to return to WWE TV in the near future.
No one seems to be sure if that return will be a simple one-off appearance (especially with Raw's 1000th episode coming up) or if it means something bigger.
But bringing JBL back to Raw and/or SmackDown is definitely an intriguing possibility.
Like Vickie Guerrero, he generates as much heat as just about anyone in the business, and it could be really fun to see the money/power hungry JBL return to the WWE as a massive heel authority figure.
8. Eve Torres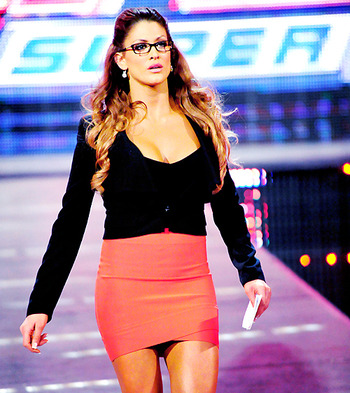 Photo courtesy of WWE.com
Eve Torres has been completely absent from WWE TV over the last several weeks to film footage for a new NBC reality show.
She's expected to be back on TV soon (saying on Twitter she'll be on Raw tonight), but when she gets there, Raw is obviously going to look a lot different.
John Laurinaitis will be gone, and Eve will be without the man who appointed her as the Executive Administrator of both Raw and SmackDown.
One question I'll have regarding Eve's return is whether or not her position as the Executive Administrator even has any standing anymore now that Laurinaitis is gone.
I'm sure that it probably won't, but I could certainly see Eve trying to use some sort of loophole in her contract as the EA to claim that she's entitled to succeed Laurinaitis as the GM of both Raw and SmackDown.
I don't think I'd complain very much about seeing her ridiculous hotness on TV every week, either.
7. Mick Foley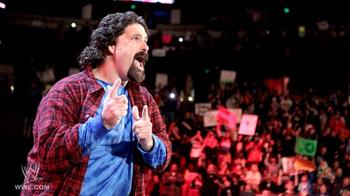 Photo courtesy of WWE.com
Remember when Mick Foley announced himself as the guest GM of Raw last week?
Then, remember when he didn't even appear on the show after the opening segment?
Yeah, that was really weak. But it doesn't change the fact that many are pining for Foley to stay in that role on a long-term basis.
I'm one of those people.
Foley is already under WWE contract, he's a great mic worker, he's someone who's widely respected in the pro wrestling business, and he could actually add some value to Raw and SmackDown every week.
There are very few people who are a better fit than Foley would be as a full-time authority figure on WWE TV.
6. Michael Cole/The Anonymous Raw GM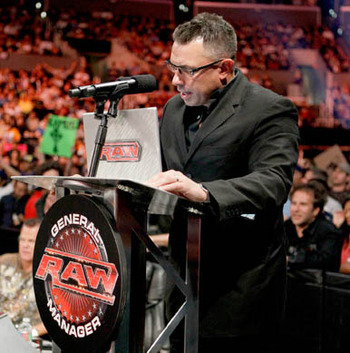 Photo courtesy of WWE.com
Oh, gosh. I'm cringing just thinking about this.
Chances are that the WWE currently has no idea who will step up to be the long-term GM, and the last time that that happened, the picture you're looking at is what we got as a solution.
Michael Cole wasn't actually the anonymous GM (we think), but he would get massive heat on a weekly basis when he uttered that famous line: "May I have your attention, please?"
Could it be brought back? I think so.
There's no doubt that Cole is one of the most hated heels in the WWE at the moment, not many are overly impressed with his announcing skills, and he could easily become an even bigger heel if he were named the new GM.
He doesn't need to bring the laptop with him, but if he did, that would only add to his heat.
I'm not sure Cole and/or the laptop will make their way back to the GM spot for good (yeah, Cole was never technically the GM, but he was the voice of it), but I'd bet on at least seeing those two team up once again as a guest GM on the road to the 1,000th episode of Raw.
5. Teddy Long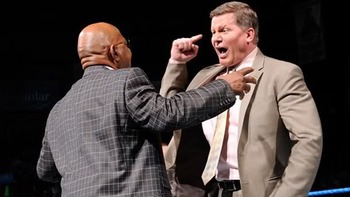 Photo courtesy of WWE.com
Teddy Long was "fired" as the SmackDown GM at WrestleMania 28.
But the WWE has a long history of making "firing" angles mean absolutely nothing, and Long's situation is a perfect example of this.
You might even argue that Long has gotten more TV time (especially on Raw) since being removed as SmackDown's GM, and ultimately, he's missed exactly zero TV time since losing the Battle of the GMs at WrestleMania.
It would be extremely easy for the WWE to do what it almost always does and make that whole Long firing angle completely pointless by bringing him back as the GM of both Raw and SmackDown.
So, Long gets fired as GM of SmackDown and gets replaced by Laurinaitis, who ends up being fired fired and replaced by the guy he replaced on SmackDown?
Come on, this is the WWE. Way crazier things have happened here.
4. Triple H And/Or Vince McMahon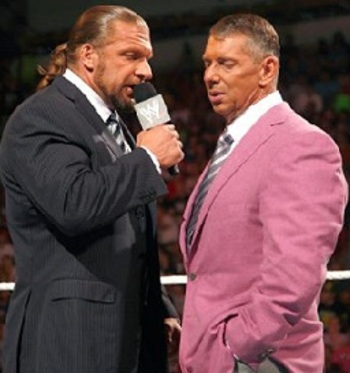 Photo courtesy of WWE.com
The power struggle at the top of the WWE makes no sense.
Vince McMahon was removed from power by the Board of Directors and replaced by Triple H, who was later removed from power by the man he removed from power, Vince.
John Laurinaitis then became the interim GM of Raw before replacing Long as the GM on SmackDown and becoming the "permanent" Raw GM. That all happened before Vince inexplicably returned and fired a guy who replaced the guy that basically fired him.
There are logic holes all over the place here, and at the very center of those holes are Triple H and Vince.
I don't expect that to change whatsoever, either.
Vince is the WWE Chairman, Triple H is its COO, and being that they both should have more power than anyone else in the WWE, I can't help but think that one of them could indeed end up controlling both shows (like they should be anyway) in the very near future.
3. John Laurinaitis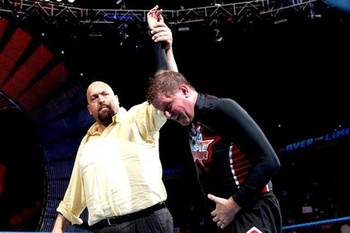 Photo courtesy of WWE.com
John Laurinaitis getting replaced by himself? That makes no sense, right?
Well, in the real world, it wouldn't. But the WWE probably thinks it does.
If there's one thing we've learned about firing angles, it's that they don't mean a damn thing.
Big Show was recently fired on Raw and showed up six nights later at Over the Limit, Laurinaitis was fired at No Way Out, appeared on Raw the next night and made the show's main event, etc.
What we should get from this: No one should really believe that Laurinaitis is going anywhere.
He'll continue to show up on TV (probably even tonight), he'll continue to be pushed as an on-screen character, and if I know the WWE's logic (or lack thereof) like I think I do, he'll likely be back as an authority figure very soon.
Now, Laurinaitis may not return as the GM of both Raw and SmackDown. But there are a million other names you could call him that basically mean the same thing.
So, to sum up, I wouldn't be even remotely shocked if Laurinaitis returned as, yes, the replacement for himself.
2. Ric Flair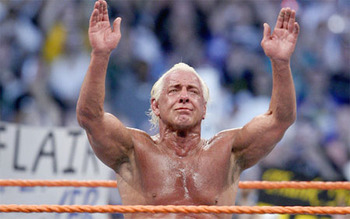 Photo courtesy of WWE.com
TNA's pending lawsuit against the WWE is throwing a bit of a wrench into the WWE's plans to rehire Ric Flair.
Despite the fact that the WWE has claimed it has no interest in Flair, that's just the company doing the politically correct thing. The WWE wants Flair, and now that he's parted ways with TNA, will get him as soon as they can.
There have been all kinds of return scenarios discussed for Flair, including him coming back to the WWE as a manager for a young up-and-comer.
But if I'm running the WWE, I bring him back and have him control both Raw and SmackDown.
Although Flair could obviously help some rising stars, I also think he'd fit well into a role as an on-screen authority figure, a role he held on both Raw and SmackDown back in 2002.
There are very few people with the name and drawing power that Flair has, and given how well he can perform in both heel and face roles, he could shake things up a bit.
1. David Otunga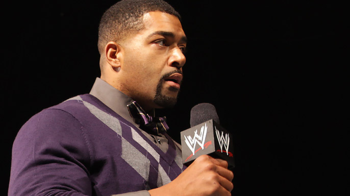 Photo courtesy of WWE.com
I like and hate David Otunga.
I like him because I think he has a good heel character and because, although not great, he can work the mic. But I hate him because he hasn't improved whatsoever in the ring, and it's a borderline travesty to see him anywhere near the main event on Raw.
That being said, Otunga's gimmick is almost perfect for an on-screen authority figure.
He has the legal background, he sips his coffee like a corporate schmuck, and he's the kind of heel who you want to see get destroyed every time he cuts a promo or wrestles a match.
But since Otunga can't wrestle (sorry, but he can't), perhaps it's time to hide that weakness by highlighting his strengths.
Have him fill the spot left by his buddy John Laurinaitis and become the new GM of both Raw and SmackDown.
You want a heel GM? You've got one in David Otunga.
Drake Oz is a WWE Featured Columnist for Bleacher Report. You can follow him on Twitter and ask him any wrestling-related questions on Formspring.
Keep Reading