2012 NHL Draft Picks: Sebastian Collberg and Biggest Day 2 Steals
June 24, 2012

Justin K. Aller/Getty Images
The Montreal Canadiens picked up an incredible steal on Day 2 of the 2012 NHL draft Saturday, acquiring Swedish right winger Sebastian Collberg early in the second round. 
The Canadiens finished with the worst record in the Eastern Conference last season, and added to their future scoring punch by bringing on a young, explosive talent with plenty of potential.
Collberg wasn't the only Day 2 steal, however. There were several.
Sebastian Collberg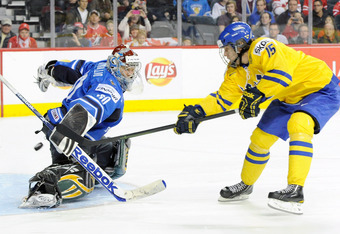 Richard Wolowicz/Getty Images
The Montreal Canadiens were lucky to get their hands on sharpshooting Collberg early on in Day 2. Montreal selected the Swede No. 33 overall to add an explosive scorer to their franchise. The 18-year-old scored nine goals in 21 games for Frolunda HC last season, and posted 44 points in only 35 appearances with the club in 2010-11. 
Collberg led Sweden to the gold medal at the 2012 World Junior Championships thanks to four goals and three assists in six games. The right winger shows great promise as a smooth scorer in the NHL some day. 
Ludvig Bystrom 
The Modo defenseman was selected No. 43 overall in the 2012 NHL draft by the Dallas Stars. Bystrom was projected to go sometime early on Day 2, but stuck around for a while. The 17-year-old averaged nearly a point per game for Modo in 2010-11, and brings plenty to the table in terms of intensity and skill.
Dallas will be happy they made the decision to draft the Swede in the second round, as he will only get better playing overseas and eventually contribute to their efforts to challenge for the Western Conference. Bystrom tallied 22 assists and seven goals in 34 games with Modo two seasons ago, and racked up four points in eight playoff games for the club that season. 
Pontus Aberg
Bruce Bennett/Getty Images
The Nashville Predators added a solid piece in the second round when they drafted Pontus Aberg No. 37 overall. The Swedish forward shows excellent promise as a future NHLer thanks to his command of the puck and ability to finish in front of the net.
The 18-year-old Aberg scored eight goals and tallied seven assists for Djurgardens last season, but scared away some scouts before the draft because of shoulder and concussion injuries he suffered not long ago. Aberg's contract with his current club extends through the 2013-14 season so he'll be developing overseas for a few more years before he joins the Predators' push for a Stanley Cup.
Follow Patrick Clarke on Twitter for more puck talk.