NBA Rumors: Miami Heat Reportedly Eyeing Massive Free-Agent Stars
June 24, 2012

Mike Ehrmann/Getty Images
Even though they are now the defending NBA champions, the Miami Heat are going to have to do some retooling this offseason if they want to have any shot at a repeat. It appears as if they may be looking to once again go back to the deep well that is free agency to accomplish that.
According to Alex Kennedy of hoopsworld.com, the Heat are hoping to bring in a free agent veteran this offseason who may prefer a title chance over a big payday:
The HEAT are hoping to sign a veteran who is willing to take a pay cut in exchange for the opportunity to compete for a title. Miami is looking for a contributor who would prefer a ring to a large contract.

Steve Nash, Chris Kaman, Grant Hill, Andre Miller, Ray Allen and Jermaine O'Neal are among the players who Miami could target with their mini mid-level exception, according to sources close to the situation. Those players can likely make more money elsewhere, but may be willing to take less to join the HEAT.
While the specifics on who exactly the Heat will target will most likely not be available until after the NBA draft and deeper into the summer, there is one thing that is certain—this is going to be an incredibly important offseason for Miami basketball.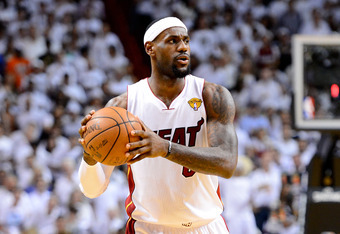 Ronald Martinez/Getty Images
Note: Kennedy's article also mentioned the possibility of Brandon Roy making a comeback from his early retirement to join the Heat.
If we learned anything during these NBA playoffs, it was that the Heat are very good when the "Big Three" of LeBron James, Dwyane Wade and Chris Bosh are all healthy and involved. The kicker is, they are absolutely unstoppable when the supporting cast around them is able to contribute to the game as well.
Basketball became simple and fundamental for the Heat in the finals, and credit the role players for that.
The "Big Three" demanded defensive attention and oftentimes double-teams, and that in turn opened up role players like Mike Miller, Shane Battier or Mario Chalmers for easy looks at the basket and wide open shots.
Oklahoma City may have been able to find a way to hang with the Heat had it been able to just focus on stopping James, Wade and Bosh, but there was no way it could stop the Heat when the role players started stepping up and hitting shots.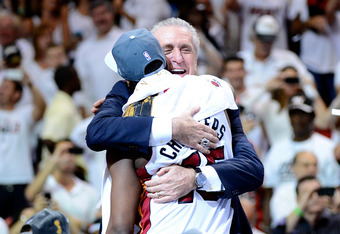 Ronald Martinez/Getty Images
Frankly, there's nobody in the NBA that can beat the Heat if that were to be the case on a night-in-night-out basis, and that's what makes this offseason so important.
With the future of much of their bench up in the air—whether due to potential retirement or unrestricted free agency—the Heat are going to have to focus on retooling and bringing in another big-time veteran would do the trick.
Mind you, it's an easy sell for the Heat. Championship runs, awesome Miami weather and the chance to play with the greatest basketball player in the world are all available, so it just comes down to finding the right guy to fill the right role.
This Miami team has a chance to be very good for a very long time, but it all depends on how it retools this offseason. If Pat Riley and company can continue to provide his stars with reliable, veteran role players that are willing to play for cheap and win titles, there's no telling how many championships this team can win.
Not one, not two, not three....