MLB Trade Rumors: Kevin Youkilis in Today's Lineup Despite Trade Talks
June 24, 2012

Winslow Townson/Getty Images
In a move that usually does not signal that a player is about to be traded, Kevin Youkilis is in today's lineup against the Atlanta Braves. (h/t Boston Globe)
Here is today's lineup (June 24, 2012)
Nava LF
Pedroia 2B
Middlebrooks DH
Ross RF
Gonzalez 1B
Youkilis 3B
Aviles SS
McDonald CF
Shoppach C
It is slightly puzzling that Youkilis is in the lineup when trade talks surrounding him are about as hot as they can get. If this is a showcase scenario, I'm not sure what more a potential trade partner could learn by seeing Youk play one more time.
Trade talks really heated up yesterday, with a number of teams poised to be potential suitors. Today, the final potential suitor list is beginning to take shape.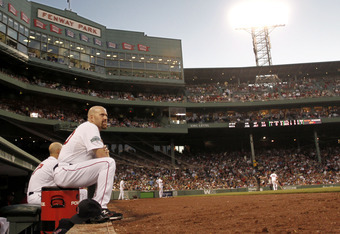 Winslow Townson/Getty Images
According to a tweet this morning by Jon Heyman of CBSsports.com, the Chicago White Sox, Los Angeles Dodgers and Cleveland Indians remain in the running for Youkilis. (h/t MLB Trade Rumors)
#chisox #dodgers #indians are in probable final 5 for youkilis, who's in #redsox lineup today

— Jon Heyman (@JonHeymanCBS) June 24, 2012
The Red Sox are at a point of no return with Youkilis. He must be traded soon before things in the clubhouse begin to get ugly. 
Yesterday was the third straight game Youkilis did not start, and frustration started to show. When asked about his situation, Youkilis said:
"I don't know my situation. I never was told what's going on here. Let's put that straight. There was no conversation, and I'll leave it at that. I don't want to start up anything. There was no conversation. That was it. It has been addressed." (Providence Journal)
That may be as pleasant as things will get in the Red Sox clubhouse as long as Youkilis remains on the roster. He is a veteran player in limbo right now. Ben Cherington owes it to Youkilis and the Red Sox to get a deal done as soon as possible. That deal may be right around the corner. 
Watch today, Red Sox fans. It may be the final time you see Youkilis in a Red Sox uniform.