Los Angeles Lakers Should Trade Up into 2012 NBA Draft
June 25, 2012

Ronald Martinez/Getty Images
The Los Angeles Lakers are in an interesting spot—holding just the final pick in the 2012 NBA draft—and should pursue opportunities to trade up into the first round.
Coming off a disappointing exit in the NBA Conference Semifinals to the eventual Western Conference Champion Oklahoma City Thunder, the Lakers need to find a way to keep their reputation as one of the game's elites intact.
The current roster is built around Kobe Bryant, but the future Los Angeles squad will likely showcase the talents of Andrew Bynum. The question is, how long can these two keep this team in title contention?
Barry Stavro of the Los Angeles Times thinks that you can expect Bryant to continue to play at his highest capacity even at age 34. The Lakers should, however, look to acquire more young talent besides Bynum to run the team in the future.
They can do this by trading Pau Gasol—along with their second-round pick and cash considerations—to move into the first round and draft an impact player. FOX Sports' Sam Amico has tweeted that the Lakers could move into the first round, since they have interest in Baylor's Perry Jones and Quincy Miller.
It's good that the Lakers are targeting players with relatively high ceilings, but there's basically zero chance that they fall to pick No. 60.
NBADraft.net predicts that Jones will be taken by the Boston Celtics at No. 21, while Miller will go to the Miami Heat with the No. 27 pick. The Lakers will have to trade up in order to even have a shot at either of those players.
Los Angeles are reportedly committed to moving Gasol, according to Mitch Lawrence of the New York Daily News, despite Lakers executive VP Jim Buss saying fans shouldn't expect any major moves (per the Los Angeles Times).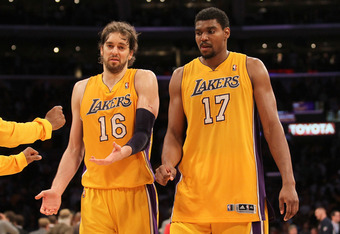 Stephen Dunn/Getty Images
If you have a team that didn't win the NBA Finals, is only getting older and you don't make any changes, how can you expect to win? Bill Plaschke of the Los Angeles Times thinks that Buss is crazy to think that his team can win with that theory.
Another issue is that Ramon Sessions didn't exercise his player option to stay with the team next season, which leaves a void at the point guard position. Even though Bryant will handle the ball most of the time, Los Angeles still needs another guard or forward to complement their future Hall of Famer and young superstar.
If Buss thinks that Iona's Scott Machado—who NBADraft.net projects the Lakers to select at No. 60—can replace Sessions, he's insane.
The Lakers have to trade up.
In order to be able to draft the two aforementioned Baylor Bears, the Lakers would need to acquire a pick in the No. 18 and No. 30 range. Why not ship Gasol to a team in that range, dump some payroll and draft a potential star?
Is keeping Gasol really going to help the Lakers achieve their goal of a championship? Younger players could do the same job and set up Los Angeles nicely for the future.
It obviously will be tough to ensure that whomever the Lakers would end up drafting could put up numbers like Gasol, but it's worth the risk. He did average 17.4 points and 10.4 rebounds per game last season, and Kentucky's Anthony Davis might be the only one capable of replicating those numbers in his rookie year.
However, that isn't to say that whomever Los Angeles selects couldn't put up similar numbers throughout their career.
The Lakers just need another piece of the puzzle that they can develop into a star to play alongside Bynum in the future. The only way that they can do that is to trade up in the 2012 NBA draft.