NHL Draft 2012 Results: What This Means for the Toronto Maple Leafs' Future
June 25, 2012
Bruce Bennett/Getty Images
It's been a while since there was this much buzz about the NHL draft in Toronto.
Heck, even in 2008 when Toronto selected Luke Schenn fifth overall, the Leafs held the seventh pick and traded up at the draft.
2012 was different, though.
From the day that the balls dropped at the NHL draft lottery, the Maple Leafs were guaranteed a top-five draft choice (barring any trades).
Once the draft order was settled, it was time for Leafs fans around the continent to engage in debate as to whom the Leafs should use that fifth overall pick on.
It appeared to be conventional wisdom that Toronto would choose a forward, whether it be Mikhail Grigorenko, Filip Forsberg, Alex Galchenyuk or even Nail Yakupov (if Toronto could pull off a trade with Edmonton to acquire the first overall selection).
Instead, Brian Burke sent shockwaves throughout Leafs Nation when he drafted defenseman Morgan Rielly of the Moose Jaw Warriors.
With his second-round selection, Burke chose to stick with his strategy of selecting the best available player, when he drafted Guelph Storm defenseman Matthew Finn.
While some Leafs fans may have been up-in-arms over Burke's two choices in the opening rounds, bringing in Morgan Rielly may turn out to be an excellent choice, as he has the potential to develop into a very similar type of player as Toronto's current standout defenseman, Jake Gardiner.
As for Matthew Finn, Burke would have been foolish to pass on the 18-year-old Toronto native.
Finn was projected to go in the first round by just about every scout and expert out there (TSN's broadcast on Friday night had him ranked 21st, hockeyprospectus.com had him ranked at No. 19 and NHL.com had him listed as the 16th best North American skater available in this year's draft).
In essence, Burke was able to bring in a top-20 pick without having to give anything up. It's as if he moved up 10-15 slots for free.
When you have that opportunity, you simply do not pass it up.
Toronto's final four picks came in Rounds 5-7, as the Leafs had previously traded away their third and fourth round selections.
With those picks, Toronto drafted high school centerman Dominic Toninato, Erie Otters right winger Connor Brown, London Knights center Ryan Rupert and Swedish defenseman Viktor Loov.
With all of those later round selections being born in 1994 except Viktor Loov, it is unlikely we will be seeing any of them at the Air Canada Center for another three or four years.
As for Rielly and Finn, it is highly anticipated that both will return for at least one more season in the CHL (Finn is still rather young and will need to develop at the junior level and bulk up before he is ready for professional hockey, while Rielly will probably need another season of junior hockey after he only managed to suit up for 18 games in the 2011-12 season).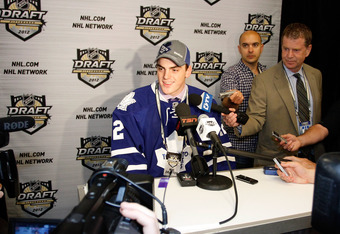 Justin K. Aller/Getty Images
Despite the fact that none of Toronto's draftees will be ready to make an immediate impact, GM Brian Burke stuck to his philosophy of building from the backend forward.
He has also stocked up on young, talented defensemen, who can be used in trades to bring in help up front, as evidenced by Toronto's acquisition of James van Riemsdyk from the Philadelphia Flyers.
All in all, Brian Burke did a tremendous job at the 2012 NHL entry draft, bringing in an extraordinary amount of talent with his first two choices and then using his organization's depth to pick up a much needed power forward in van Riemsdyk.
Now it's back to the hunt for a No. 1 goalie and top-line center for Toronto's GM.
This time, however, he'll be perusing the market knowing Toronto's future just got a little brighter.