Projecting How the New England Patriots Rookies Will Fare in 2012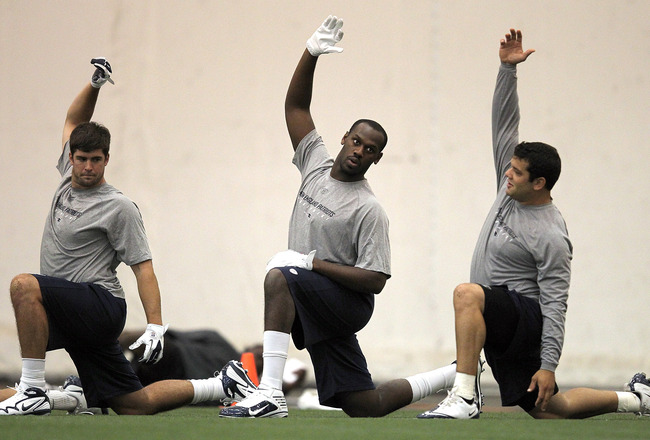 Jim Rogash/Getty Images
During his tenure at the New England Patriots, Bill Belichick has rarely given much responsibility to a rookie. There are, of course, exceptions such as Jerod Mayo and Devin McCourty, as well as last year when Nate Solder was required to start due to a number of injuries.
Belichick rarely gives rookies much to do due to the complexities of the Patriots' offense and defense, something that he obviously feels rookies aren't able to grasp straight away. It is for this same reason Belichick believes that players have their biggest increase in play between their first and second years.
While this has been the case for a while, this year's group of rookie players may end up playing significant snaps for the Patriots. Needs on defense as well as the calibre of players drafted may call for Belichick to forgive momentary mental lapses for potential game-changing plays.
Here's how I project the Patriots' rookies for the upcoming season.
Chandler Jones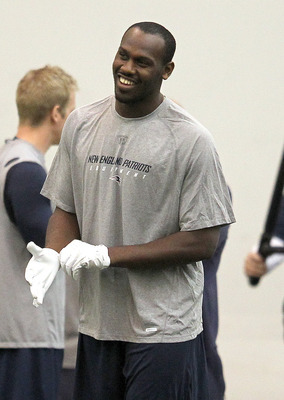 Jim Rogash/Getty Images
It's been a long time since Patriots fans were legitimately excited over a draft choice, even with Rob Gronkowski, Aaron Hernandez, Brandon Spikes and Patrick Chung all drafted over the last few years. So when Chandler Jones has Pats fans excited, you know there is something special going on.
Standing at 6'5'', Jones could very well fill the Willie McGinest-sized hole that recent Patriots defenses have possessed.
A true athletic freak, Jones will be expected to rush the passer from day one, something that he did extremely well in college. Many draft experts, including Mike Mayock, have gone on record as saying that Chandler Jones will emerge as the best defensive player from the 2012 NFL Draft and that is what Patriots fans will be expecting from him.
Being coached by the same guy who coached Lawrence Taylor and Willie McGinest will be a huge help for Jones.
2012-13 Projection
- starter from day one.
- starts at OLB in the 3-4 or LE in the 4-3.
- expect 8-10 sacks.
- starts every game.
Dont'a Hightower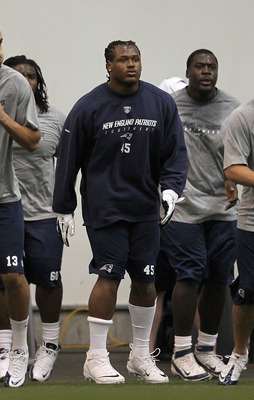 Jim Rogash/Getty Images
The second of New England's first-round choices, former linebacker Dont'a Hightower's versatility will be a nice addition to the Patriots' front seven. This is a player who people say is actually better than current Raiders MLB Rolando McClain, who was taken with the eighth overall pick two years ago.
With the ability to play each linebacker position, I expect Hightower to be behind Brandon Spikes and Jerod Mayo on the depth chart, but ahead of Dane Fletcher, Bobby Carpenter and Tracy White.
As stated before his versatility is what makes him special and I can could see Hightower starting at strongside linebacker in the Patriots' 4-3 as well as playing MLB in the Pats' sub formation (4-2-5).
An inside duo of him and Brandon Spikes, with Mayo playing on the outside, would definitely be a sight to see. I imagine many running backs would like to avoid running into the heart of the Patriots' front seven.
2012-13 Projection
- starter in the 4-3 as SLB.
- backup to Spikes as MLB in the 3-4.
- expect 2-3 sacks with 50+ tackles.
Tavon Wilson
Jim Rogash/Getty Images
Second-round selection Tavon Wilson caused head scratching nationwide as analysts including experts Mel Kiper and Mike Mayock were left speechless as they had next to no idea who this kid was. Again, according to the experts, Wilson was projected to go somewhere in the fifth round or later and the pick was called a massive reach.
However, like most Pats fans, I operate under the mantra "In Bill We Trust" and after looking at Wilson's versatility—he played free safety, strong safety, corner, slot corner and on special teams—I feel satisfied with the pick.
With Patrick Chung and James Ihedgibo returning as well as free agent signing Steve Gregory, Wilson's starting defense snaps may be limited, but his versatility will allow him to see some snaps this season.
2012-13 Projection
- plays on special teams.
- possible starter in nickel and dime formations (3-2-6) at safety or slot corner.
Jake Bequette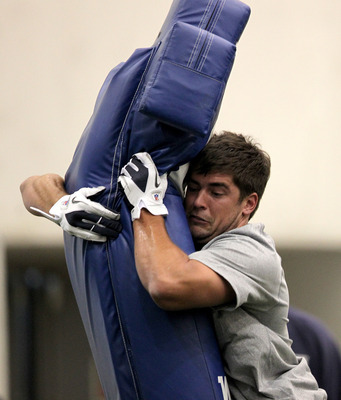 Jim Rogash/Getty Images
A third-round pick out of Arkansas, Jake Bequette was one of the biggest steals in the NFL Draft in my eyes.
I still can't see why Bequette fell to the third round as he is an above-average athlete who produced on a consistent basis in the toughest conference in college football, the SEC. By production I mean his 23.5 sacks during his career in Arkansas, including huge games against teams like Tim Tebow's Florida Gators.
With the Patriots losing their two most successful pass rushers from last year in Mark Anderson and Andre Carter, Bequette will be given several opportunities to do what he does best: sack the quarterback. Bequette doesn't possess the talent of a Chandler Jones and he may struggle in run defense so he will have to earn his keep on third down.
2012-13 Projection
- starting DE in dime and nickel formations.
- limited snaps as OLB in the 3-4 and as DE in the 4-3.
- expect 4-8 sacks.
Nate Ebner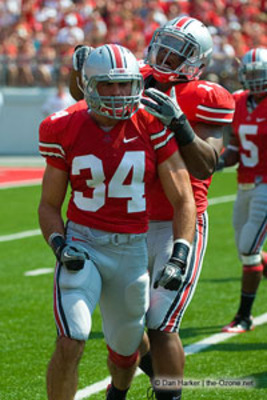 A former rugby player, Nate Ebner was a walk-on for Ohio State's football team. Ebner was a special team's standout for the Buckeyes, but due to his lack of football experience he was unable to contribute anywhere else.
While I consider Ebner to be a fringe player at best, if he is to make the final roster I don't see him doing anything outside of contributing on special teams. As mentioned before, his experience as a football player is limited and he doesn't seem to provide the Patriots enough to warrant a roster spot.
2012-13 Projection
- will most likely be cut prior to the start of the season.
- will hopefully make it to the practice squad.
Alfonzo Dennard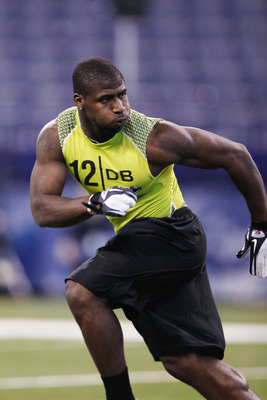 Joe Robbins/Getty Images
If taking Jake Bequette in the third round was a steal then drafting former Nebraska cornerback Alfonzo Dennard in the seventh round was nothing short of robbery.
An arrest caused Dennard to tumble down draft boards and his misfortune turned into a great pick for the Patriots. Dennard, who some considered to be better than former teammate Prince Amukamara—a first round pick of the Giants last year—was projected to go in the middle of the second round prior to his arrest.
As a physical, though slightly undersized corner, Dennard is a perfect fit as a slot corner. Terrific in man and press coverage, Dennard's quickness and eye for the ball will make him a very solid player should he stay out of trouble of the field.
2012-13 Projection
- starting nickel/slot corner.
- plays every game.
- contributes on special teams.
- records 2-3 INTs.
Jeremy Ebert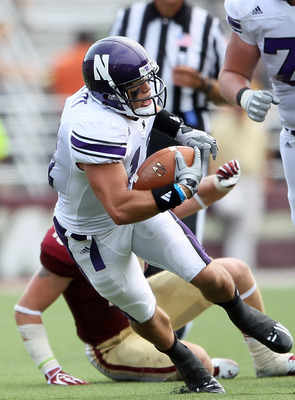 Elsa/Getty Images
A quick, shifty receiver in the mould of Wes Welker, Northwestern's Jeremy Ebert was the Patriots' final draft selection.
Ebert enjoyed a productive career at Northwestern finishing last season with 75 catches for 1060 yards and 11 touchdowns.
Ebert was always going to be a fringe player. Throw in Northwestern's late graduation, which caused him to miss OTA's and a leg injury sustained during minicamp, and he faces long odds at making the roster.
Considering that wide receiver is also one of the strongest positions on the Patriots roster and Ebert's already long odds of making the roster are further weakened.
2012-13 Projection
- cut prior to the start of the regular season.
- hopefully makes it to the practice squad or is placed on IR giving the Patriots a nice young receiver to develop.
Thanks for Reading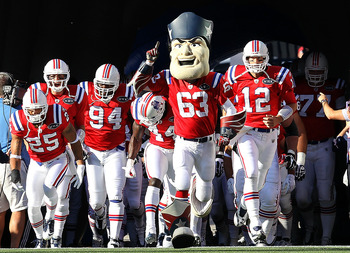 Jim Rogash/Getty Images
Keep Reading

New England Patriots: Like this team?