After Pacquiao vs. Bradley, It's Time to Fix Boxing
June 24, 2012

Kevork Djansezian/Getty Images
I leave it to others to vent about the obvious catastrophe that was the scoring in the Pacquiao–Bradley fight. I'm still scratching my head over last year's Erislandy Lara loss to Paul Williams.  
Instead, I would ask that you consider the subsequent blowback and how it might end up affecting the sport.
Conventional wisdom tells us that the furor will subside soon enough for all but the most ardent haters. In years past, the simple passage of time would satiate enough angry fans, while the sport gathered enough new fans to offset any deserters. Isn't it time to try to improve things instead?
Granted, it's hard to imagine the entire legion of Manny Pacquiao fans boycotting his next fight, whether it is a rematch with Bradley or not. Most fans will come back, but it will be interesting to compare the PPV numbers. When people spend upwards of $65.00 on an evening's activities, they don't expect to be kicked in the stomach and told, "Get over it, we know you'll be back eventually."
Not only are times "tighter" financially lately, there are so many other options vying for our entertainment dollar.
If viewers need something in the violence genre, there's always MMA. MMA is a growing sport, easily as intense and vicious as boxing, and the matches rarely end without someone going to sleep or submission.
Even with its obvious growing pains as a sport, MMA has a footprint in both cable and network television and appear here to stay as a permanent competitor.
When I was young, boxing was on free TV. Even when we only had a handful of networks, the sport would lure enough viewers that advertisers wanted them on the air.
Those days are long past. Until recently, all the relevant boxing matches occurred either on HBO or Showtime, and all so-called "big" fights have been on PPV. Simply put, the sport has been fighting for viewers in an uphill battle for decades.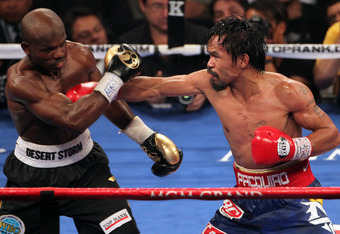 Jeff Bottari/Getty Images
The good news is that in the last few years boxing has not only expanded their coverage on cable TV, but also started to make inroads back onto network television.
The bad news is that boxing doesn't seem to like good news. The sport always finds a way to shoot itself in the proverbial foot. This time, it decided to rob a decision from arguably the biggest draw in the sport and one of the most well-known athletes around the world.
Then they make matters worse by convening a judges' panel after the fact with only the power to keep the controversy going, otherwise being ineffectual.
The already tough battle for today's entertainment dollar is never made easier when one of the sport's mega-stars retires or is perceived as being "wronged."
I, along with many others, had a hard time swallowing the De La Hoya loss to Trinidad. De La Hoya was the mega-star, just like Pacquiao is now, and while I still think Trinidad lost, the fight was definitely very close. Even so, a lot of fans felt De La Hoya was robbed and were very upset with the decision.
That was a close fight, and no rematch took place. Most people agree that Manny clearly won the Bradley fight—time will tell if we will see a rematch. My guess is a lot less people watch via PPV, but perhaps most fans will forgive and/or forget by then.
The sport clearly needs Manny more than he needs it, given his other activities. Imagine if Manny simply pulled the plug and retired.
Who is the next mega-star on the horizon? Bradley? Floyd's in jail, while Margarito, Winky and Mosley just retired. Cotto is around but has lost three of his last five. Victor Ortiz just lost again. Tarver's on the juice as well as being old. Alvarez is a rising star but not a household name yet. Neither is Andre Ward or Nonito Donaire.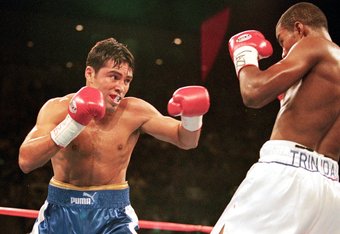 Al Bello/Getty Images
Boxing is an unpredictable sport, which is one of the reasons we watch. We love the personal stories of hard work and perseverance, especially with underdogs.
Lopez's TKO of Victor Ortiz yesterday is a perfect example of what's right with boxing, mostly because the judges had nothing to do with the outcome. One judge had that fight 48-43 for Ortiz, while another had it 47-47, so who knows how things were going to end up if a decision was required?
Let's take the judges out of the equation and have boxers fight until someone can't continue. Boxing could slowly implement this change, starting with all PPV matches and then expanding later to all matches where a belt is at stake.
Before you tell me how this would put fighters in more danger, remember there are still six parties who can stop the fight at any time: both boxers, both corners, the ref and the ring-side doctor. The only way the judges get involved is if an accidental foul ends the fight after Round 4, which is very rare.
With this change, we would almost always have an actual winner.
Sure, controversy would still be possible, but inexplicable decisions by inconsistent judging would be mostly a memory except for the rare event where an accidental foul ends a bout after the fourth round.
An ancillary benefit would likely be a change in boxers' mindsets, encouraging fighters to avoid coasting in later rounds because they think (often incorrectly) they are impossibly ahead on the scorecards. Instead, it would force them to be aggressive and stop their opponent, not just win a decision.
Boxing needs a boost to stay relevant, and this solution could only help generate excitement while (more importantly) showing that it respects itself and its fans by actually doing something to try to fix a very fixable problem.