Cristiano Ronaldo, Real Madrid Stars Dominating Euro 2012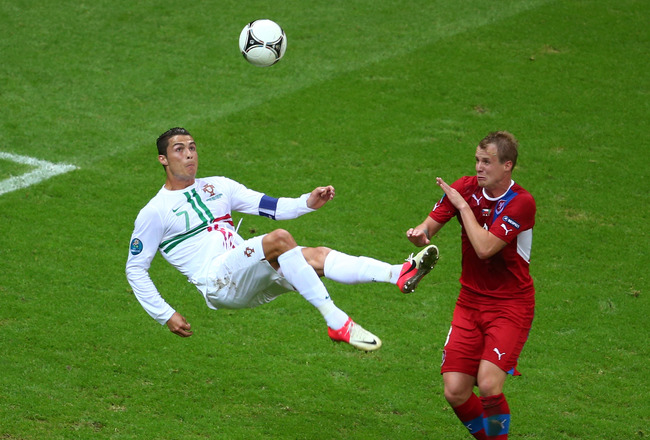 Ronaldo has brought his bag of tricks to Euro 2012
Michael Steele/Getty Images
Perhaps the most expensive football team to be put together, complete with some of the most expensive football players of all time is the current Real Madrid team. The record-breaking side that tore through La Liga contains some of the best players in the world.
Now that the season is over many of Madrid's stars are playing in Euro 2012. But as with their club, they are dominating for their country.
With Euro 2012 about to wrap up the quarterfinals stage let's check out the starring roles of some of Madrid's players
Honorable Mention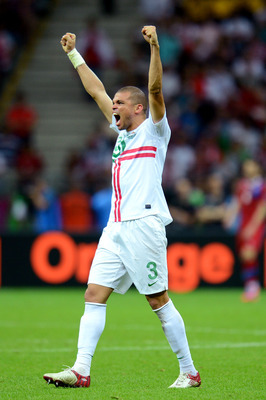 Shaun Botterill/Getty Images
Pepe: A rock throughout the tournament for Portugal, Pepe has anchored the team which some call Portugal's greatest ever.
Sami Khedira: The German has been his usual solid self throughout the tournament and even scored a spectacular goal against Greece.
Iker Casillas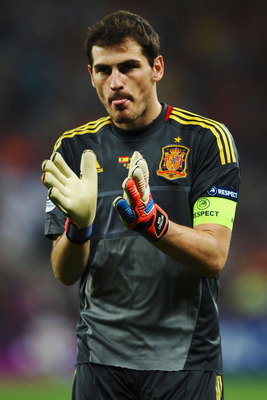 Laurence Griffiths/Getty Images
Country: Spain
Often regarded as the finest goalkeeper in the world, Real Madrid and Spain's captain has been his usual reliable self at Euro 2012. With the exception of a Antonio Di Natale strike in the opener, Casillas has yet to allow a goal throughout the tournament.
Several terrific saves in the Croatia match ensured Spain's progress and a solid game against France have the Spanish side in the semifinals.
A cool, calm and collected leader on the field, Casillas may not always have much to do, but as always he has performed well when called to duty.
Another Euro crown alongside the World Cup title and Euro 2008 title may lead to Casillas being crowned the greatest keeper of all time.
Xabi Alonso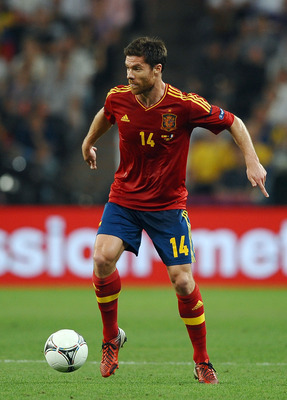 Laurence Griffiths/Getty Images
Country: Spain
Xabi Alonso rarely if ever wows you on the field, simply relying on his perfect passing and positioning to get the job done. His ability to control the game from the midfield while providing help in front of the defense has been crucial in Spain's domination through Euro 2012.
He has never been the flashiest player, but on the night he earned his 100th cap for Spain, Alonso won the game for Spain with a textbook diving header and perfect spot kick.
Playing a similar role for country as he does for Madrid, Alonso's ball control and leadership have been vital for Spain as they look to secure consecutive Euro titles.
Mesut Ozil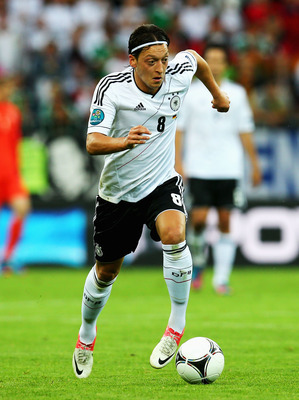 Alex Grimm/Getty Images
Country: Germany
The puppetmaster behind Germany's hot run through Euro 2012 has been Mesut Ozil. A playmaker of the highest calibre, Ozil has steadily increased his play as the tournament has progressed, culminating in a man of the match outing against Greece.
A master of the through ball, Ozil is doing for Germany exactly the same thing he has done for Real Madrid's recording breaking offense the last two years, setting up goal after goal with perfect pass after perfect pass.
The key to stopping Germany in this tournament will be to stop Ozil, and judging by his form that will be easier said than done.
Sergio Ramos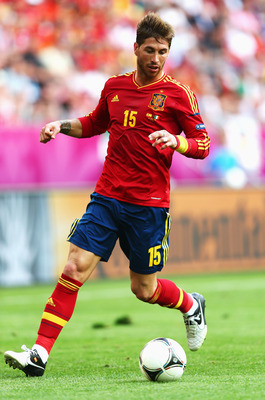 Michael Steele/Getty Images
Country: Spain
Seemingly the only player on the Spanish team who has been able to defend competently, Sergio Ramos is making a very real claim of being the best defender in the game.
With Gerard Pique struggling to find his usual world-class form, Ramos has been a one man defensive line in front of teammate Iker Casillas. Not helping him has been the expected poor form of fellow Madrid player Alvaro Arbeloa, while Jordi Alba has seemingly forgotten he has to defend as well.
Since being moved to centre back from his preferred right back role, Ramos has turned away wave after wave of attackers using his strength and speed.
Once the youngest Spanish cap in over 50 years, Ramos has also developed into a fine leader and may eventually take over Casillas as Spanish and Real Madrid captain.
Cristiano Ronaldo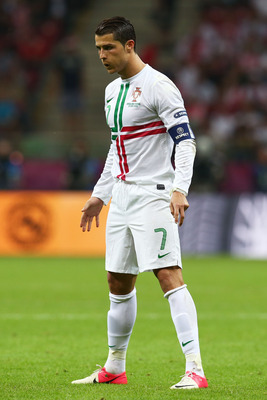 Alex Grimm/Getty Images
Country: Portugal
Following a season in which Real Madrid overtook Barcelona, Cristiano Ronaldo is in the midst of overtaking Lionel Messi as the best player in the world.
After a disappointing first two games in which he missed several great chances, Ronaldo exploded in a must win match against the Netherlands. A virtuoso performance against the Dutch, in which he bagged a brace, ensured the progress of the Portuguese.
Ronaldo then had arguably the best performance of all of Euro 2012 against the Czech Republic when he almost single handedly beat the Czech Republic. Throughout the game it seemed as if Ronaldo was going to score whenever he touched the ball, whether it was from a free kick, bicycle kick or header. He eventually scored the winner with a perfect diving header.
With Portugal taking on Spain in the semifinals Ronaldo will be going head to head with teammates Sergio Ramos and Iker Casillas. The winner of that battle may determine to winner of the game.
Keep Reading

Real Madrid: Like this team?