NBA Draft 2012: Exploring a Derrick Williams Trade for the No. 2 Overall Pick
June 24, 2012

Christian Petersen/Getty Images
Minnesota Timberwolves GM David Kahn is going into this week's NBA draft with one goal—to make the Wolves a better team.
Many argue that the team already has too many mouths to feed, and they don't need any more young players. They may be right to some extent, however, if the right opportunity presents itself, I don't think Kahn will be hesitant to pull the trigger. 
About a week and a half ago, ESPN's Bradford Doolittle wrote about the possibility of a trade between the Timberwolves and the Charlotte Bobcats that would involve the Wolves giving up Derrick Williams and the No. 18 pick in exchange for the No. 2 overall pick in this year's draft. 
This trade is so simple, yet so complex. Derrick Williams showed flashes of brilliance this season this season, but the reality is he's never going to get the minutes he needs playing in Minnesota. As painful as it is to say, the Wolves are going to need to trade him at some point. 
Anyone who takes one glance at the Timberwolves' roster can see they need a shooting guard badly. Luke Ridnour started there for much of the season playing out of position. Wes Johnson isn't going to pan out, so it looks like the team is out of options. They need to bring in someone that can be a long term solution at the two, there's no way around it. 
Rubio needs to be paired with a guard that can shoot the basketball and spread the floor. There are plenty of opportunities for open jump shots in the flow of the Wolves' fast paced offense, and they need to bring in someone that can make those shots, while also defending the position.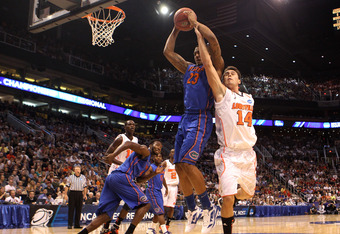 Christian Petersen/Getty Images
There are two primary problems when it comes to obtaining a prized shooting guard.
First, there aren't many of them, and the ones set for free agency in the coming years are restricted, meaning it's going to be nearly impossible for the Wolves to get their hands on them. Beyond that, the team would undoubtedly have to pay a pretty penny to get a high caliber shooting guard (Just look at Joe Johnson).
The second problem is that the Wolves simply have no real assets.
Taking a look at the roster, you have Rubio and Love, who clearly aren't going anywhere. Next, you have Pekovic, who considering all of his injury history, probably isn't worth a lot. Even if he was, the Wolves wouldn't trade him knowing Darko is behind him.
After that you have Beasley, a restricted free agent, and then the likes of Luke Ridnour, JJ Barea, Wes Johnson, Martell Webster, Anthony Randolph, Wayne Ellington, and Darko, none of whom are worth much to anyone except the Wolves.
That leaves one player: Derrick Williams. It's a simple equation. The Wolves desperately need a shooting guard. If they want a quality one, they're probably going to have to make a trade. If they're going to make a trade, the only real option is using Williams in a package.
Thinking of packages for Williams is hard. Two other possibilities that came to mind were Williams for Indiana's Paul George, and Williams for the Warriors' Klay Thompson and their No. 7 pick. Maybe the Wolves would throw No. 18 in there.
The problem with these trades is that they are wildly unrealistic.
The Warriors have a solid frontcourt and traded Monta Ellis to make room for Klay Thompson, while the Pacers don't really have anyone to replace Paul George, and I don't think they're looking to make a big move like that after their success this season.
The reality is, finding a shooting guard is hard. Really hard.
While the Wolves could overpay Jamal Crawford to come to Minnesota for two years and shoot below 40% from the field, I think they should turn their attention to the draft. 
With their No. 18 pick, the Wolves have to be trying to address their need at shooting guard, however, it would seem like a long shot for a quality player to fall that far.
The way most experts are evaluating this draft, there are five quality shooting guards in this year's draft: Bradley Beal, Dion Waiters, Jeremy Lamb, Austin Rivers, and Terrence Ross.
If one of those guards was certain to fall to the Wolves, or if they were drafting in the lottery, everything would be fine. At first it seemed as if Rivers may slip, then maybe Ross, but now it's looking like both will be lottery picks come draft day.
Although Fab Melo would look good in a Wolves jersey, and complement their frontcourt well, if the Wolves have an opportunity to fix their shooting guard dilemma, they have to use whatever means necessary. Another year of Ridnour or two years of Jamal Crawford just isn't going to work. 
Rumor has it the Bobcats are asking for the moon in exchange for No. 2, but because of the lack of a clear cut second-best player, it's going to be hard for them to get a big offer. 
What this would appear to come down to is who the Bobcats prefer between Derrick Williams and Thomas Robinson. I am by no means a Robinson fan, which you can see here, but for one reason or another it seems like he's going to be the guy if Charlotte keeps the pick.
Essentially, the Bobcats can have Derrick Williams and No. 18, or Thomas Robinson. It's a reasonable and realistic trade, it just depends on how the Bobcats evaluate these players comparatively, the extra pick could tip the scales considering the sheer depth of this draft. There are certainly good players to be had at No. 18. 
Thomas Robinson is an intriguing player, but Derrick Williams has more star potential, which is exactly what the Bobcats are looking for in this draft. If the Wolves were to offer this trade to Charlotte, it's one they must consider, and ultimately, it would probably be the best offer they receive. 
The Wolves are giving up a lot. Probably more than they'd care to, but their options are limited when it comes to pairing Rubio with a worthy backcourt partner. This may be their best opportunity to get a quality shooting guard so it's a move they should make.
Beal would have plenty of minutes and open looks to ease his transition, and if he lives up to the hype, Minnesota may soon enough have a big three of their own. With Rubio, Beal, Kevin Love, and a little luck, this team could contend for a decade.