UFC 147 Results: The Real Winners and Losers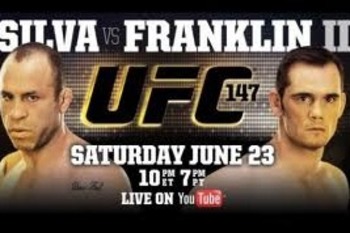 mmaweekly.com
On paper, UFC 147 wasn't enticing. The preceding weeks saw UFC message boards awash with barbed words aimed at Saturday's event.
The event had been cursed since its birth—a slew of injuries deflated 147, rendering it a joke among MMA consumers.
Thankfully, despite downgrades, I doubt buyers of UFC 147 felt robbed. The card provided just enough incendiary moments to warrant its cost.
Some fighters sparkled under Brazil's blunt spotlight. Others scuttled into obsolescence. Some climbed the ladder in spectacular fashion, while others tumbled down to the bottom of their division.
The undercard was exhilarating, too. Among a collection of highlights, Vinicius Pancini snatched victory from Wagner Campos with a Tekken combo in Round 3.
Even some of Saturday's losers boosted their stock—or created a blip on UFC's radar—through brazen performances.
Rony Bezerra and Cezar Ferreira secured TUF titles in enthralling fashion. Congrats to them—they won the coveted show.
Simplest observations aside, scope out this list of less-obvious winners and losers:
Winner: Hacran Dias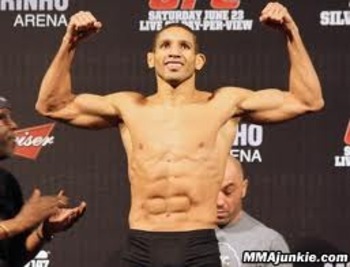 mmamania.com
Hacran Dias used touted prospect Yuri Alcantara as his doormat through the door to relevancy.
Against stacked odds, Dias outmatched the favorite everywhere, managing to inflict plenty of damage while also wriggling out of some slick submission attempts from Alcantara.
This win won't fully register with many fans, but Alcantara was considered a beast and Dias slayed him. He's someone to look out for.
Loser: John Teixeira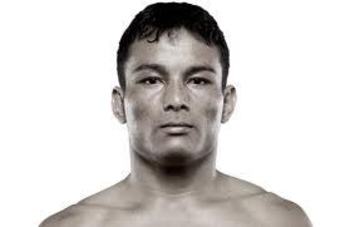 fueltv.com
John Teixeira didn't perform poorly. He was, however, outmatched by a much smaller man—a comparable midget who gassed early.
"Macapa" knows the perils of cutting weight—he came in at 150. Not a good look. Dana white and Co. really dislike such lapses of professionalism.
Teixeira failed to ground Hugo Viana and capitalize on his grappling advantage, despite Viana's shallow gas tank and tininess.
Under the brightest spotlight, "Macapa" suffered the first loss of his career. The first step of his UFC journey was a stumble when it seemingly could have been a resounding strut.
Loser: Yuri Alcantara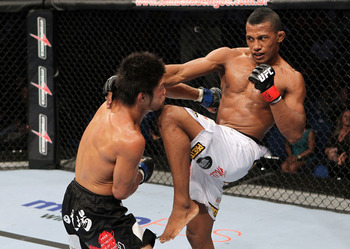 mmweekly.com
Yuri Alcantara was on track to become a contender at 145. Hacran Dias sunk his chances for now.
Amassing a 3-0 record under the Zuffa banner, Alcantara came into Saturday's scrap as a heavy favorite. Defying odds, Dias outclassed him, bettering him wherever the fight happened to wind up.
Alcantara must now rebuild his case for contention. Thankfully, his youth will provide many opportunities for redemption.
Big Loser: Mike Russow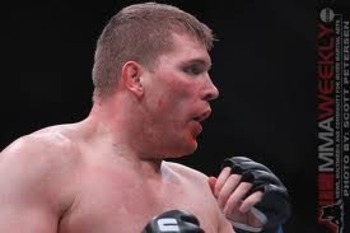 tapology.com
The lulling wrestler had a chance to legitimize himself. He wasn't expected to, and he didn't.
For a man who's undefeated in the UFC, Mike Russow is dished a boatload of flak. Russow is either ignored or treated with disdain. Frankly, he's tedious to watch.
He did nothing to reverse his reputation. Russow could have at least proven he's a viable threat, albeit boring, but he didn't. He was outclassed—Russow will be relegated to irrelevance for now.
Winner: Fabricio Werdum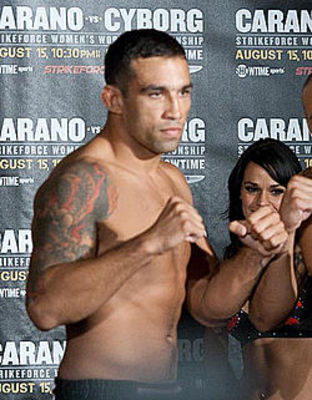 wikipedia.org
Let's be real: Fabricio Werdum was fed Russow. The Brazilian savored every bite en route to solidifying his contendership in the heavyweight division.
Werdum was bestowed with hero treatment as he vanquished the American invader Russow.
He completely outclassed the floundering wrestler and the crowd surged, culminating in a unanimous chant of "Vai Cavalo."
He's entered the upper echelon of heavyweights. Expect a title shot for the Brazilian titan fairly soon.
Winner: Francisco Trinaldo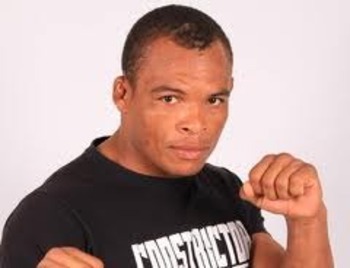 portalmma.net
Francisco Trinaldo totally "Donkey Konged" Delson Heleno. "Massaranduba" is one scary man-beast.
Trinaldo shrugged off Heleno's takedowns as if Delson were a dandelion, then he ripped up the dainty flower.
Trinaldo displayed infallible takedown defense and explosive striking: he generated immense power with short shots and mixed up his strikes adeptly. The ground-and-pound he unleashed upon his fetal foe was tasty.
Trinaldo owns the recipe for success: power and takedown defense.
Winner: Rich Franklin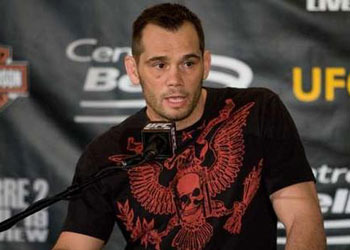 betdsi.com
Rich Franklin grasped on to relevance after his cinematic win over Wanderlei Silva. He utilized perpetual movement, floating around the Octagon while peppering the Brazilian golem with punches.
We knew Franklin possessed strong striking skills, but coupled with Dominick Cruz-like movement, perhaps "Ace" can provide a novel threat to middleweight stalwarts.
Age is grinding on Franklin, but he showed he's not yet a shriveled up has-been. He looked as capable as ever, really; he showcased stellar movement, power and perseverance.
Good show, Rich. You didn't deserve that overzealous chorus of boos.
Winner: Wanderlei Silva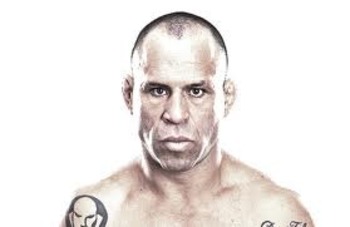 ufc.com
Wait, he's a winner? Even though he lost?
Only diehard Wanderlei fanatics held delusions of Silva's relevance. He's done contending. Regardless, Silva has the capacity to provide entertainment.
Heck, he nearly finished his adversary. "The Axe Murderer" fought with the mettle of, well, an axe murderer.
Conversely, Silva was hesitant throughout most of the fight. "Hesitation" isn't normally associated with him. He didn't quite channel "The Axe Murderer" of old, but he turned on beast mode for short glimpses—a pleasantly violent scene to behold.
Silva's on his way out. Before his exit, he gifted his Brazilian worshipers with a gritty performance. Let's not place too many expectations on the shoulders of the legend.
Keep Reading