Predicting Top Offensive, Defensive Stat Leaders for the Miami Dolphins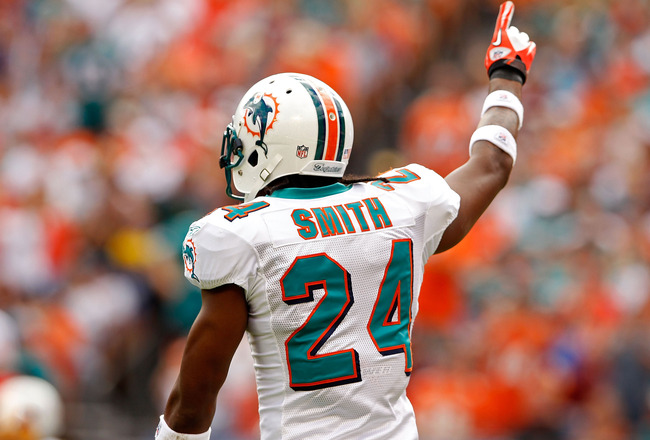 Mike Ehrmann/Getty Images
Now that Bill Parcells is out of the picture and a new head coach with a fresh philosophy is in, the Miami Dolphins roster is churning rapidly.
Brandon Marshall is gone, there's a three-way quarterback battle, three running backs vying for carries, 11 wide receivers competing for five or six spots and five safeties duking it out for two starting roles.
Training camp will play host to some intense positional battles, but which players will emerge as Miami's main producers at the end of the season?
Passing Yards/Passing Touchdowns: Matt Moore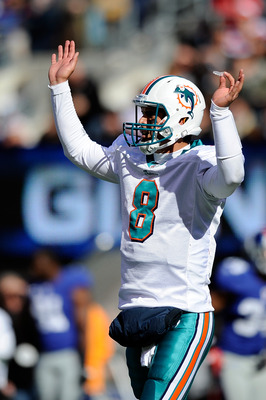 Patrick McDermott/Getty Images
As training camp approaches, it's becoming increasingly difficult to feel out Miami's quarterback battle. David Garrard initially appeared to have the upper hand, but Matt Moore performed well in OTAs and Joe Philbin is pleased with his progress (h/t Izzy Gould, Sun Sentinel).
On paper, Garrard should still be considered the favorite, but it's hard to believe a 34-year-old coming off of back surgery can outplay a young and hungry quarterback coming off of a great season.
In my latest depth chart predictions, I have Garrard winning the starting job, but I'm beginning to change my tune. Moore thrives when he's the underdog, and he really should emerge as Miami's starter.
Rushing Yards: Reggie Bush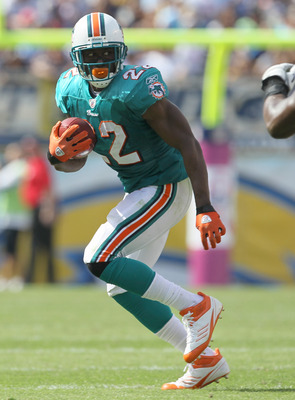 Stephen Dunn/Getty Images
Reggie Bush won't average five yards per carry again, but he's still the unquestioned No. 1 running back.
Bush is by far the best and most talented running back on the roster, and his numbers will reflect that. Daniel Thomas and Lamar Miller might eat into Bush's workload, but that won't prevent him from outrushing both of them.
We may see Bush line up as a wide receiver often, but unless Daniel Thomas has an epiphany, he'll still see the lion's share of the carries.
Bush must stay healthy, however, and there's no guarantee he can. In fact, history suggests Bush will miss at least a game or two. If he does in fact goes down for a few games, then Thomas or Miller could challenge him for the team rushing title.
Rushing Touchdowns: Daniel Thomas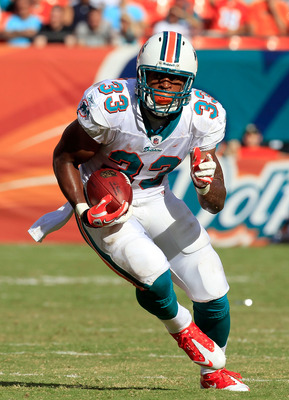 Sam Greenwood/Getty Images
Why isn't anybody talking about Daniel Thomas?
The Dolphins traded up to draft him, handed him the keys to a featured role and he botched it.
There are plenty of excuses to be made for Thomas. He was injured. He was just a rookie. The offensive line wasn't very good. The lockout set him back. And so on. These are all valid excuses, but Thomas was indecisive and hesitant with the ball in his hands. If Reggie Bush can set career highs behind last year's line, then Thomas should be able to produce behind this year's.
Thomas is blessed with an amazing blend of size and speed, and the Dolphins clearly saw great potential in him last year. Now that Thomas is healthy and has a year of experience under his belt, he should recover and play a big role in Miami's offense.
Because he is so much bigger than Reggie Bush and Lamar Miller, Thomas should be the Dolphins' short-yardage back, and he should rack up some goal-line scores.
Receiving Yards: Davone Bess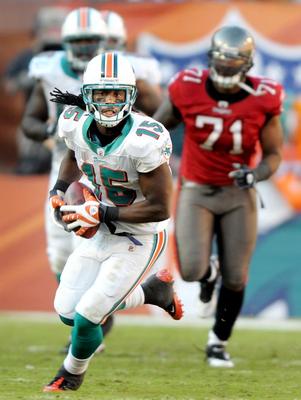 Photo via ProFootballFocus.com
If I were a betting man, I'd put money on Davone Bess to lead the Dolphins in receiving yards.
Bess is the most reliable wide receiver on the roster. Bar none. His quickness and soft hands make him an ideal West Coast offense wideout, and he'll still spend much of his time in the slot.
Although Bess' numbers inexplicably dipped last season, I don't think it was anything more than an aberration. Bess has been a standout at OTAs, and whether it's Matt Moore, David Garrard or Ryan Tannehill throwing him the ball, he should have a big year in 2012.
Receiving Touchdowns: Legedu Naanee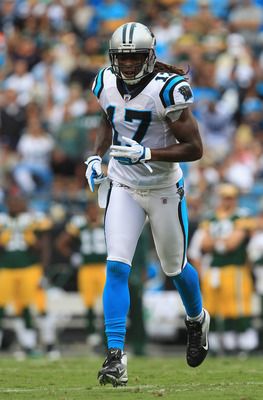 Streeter Lecka/Getty Images
The Dolphins are transitioning to an uptempo offense. Eventually, they might become an explosive, pass-happy team. But not this year.
This team doesn't have the personnel to conduct aerial raids on opposing teams, so don't expect 60-yard touchdown strikes. Instead, look for the Dolphins to employ a more conservative pass-oriented offense. If this is the case, then the best red-zone target will reel in the most touchdowns.
Legedu Naanee's solid, 6'2", 220 pounds, and his smooth athleticism makes him a natural red-zone target. Cam Newton favored Naanee heavily inside of the red zone last season, so he must be doing something to earn his quarterback's trust (via Nathan Zegura, CBSSports.com).
Naanee is on his third team in three years, so it's now or never. He has the skills to be a touchdown machine, but he needs to translate it from the practice field to the playing field.
Sacks: Cameron Wake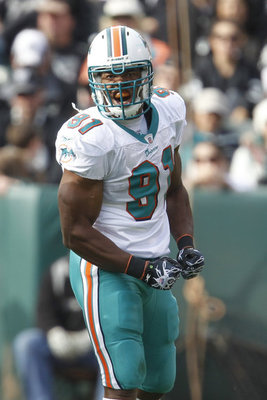 Photo via Cleveland.com / Tony Avelar / Associated Press
There's not much up for debate here.
Cameron Wake has led the Dolphins in sacks for the last two seasons, and if all goes according to plan, he'll do so this year as well.
In the 4-3 alignment, Wake will line up as a defensive end, where he played during his CFL days. Wake might not register 23 sacks like he did with the BC Lions, but he should finish the season in double digits.
Plus, there isn't much competition on the roster. Jared Odrick, Randy Starks and Olivier Vernon can all get to the quarterback, but none of them are capable of dethroning Wake.
Tackles: Karlos Dansby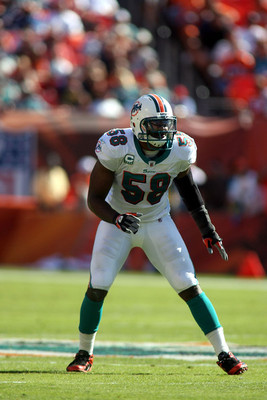 Photo via Zimbio.com
If a linebacker is making close to $9 million per season, then he better lead the team in tackles.
Karlos Dansby did so last season, and he will this year, too.
In the 4-3 alignment, Dansby will be tasked with diagnosing plays and tracking down the ball-carrier. This should allot him opportunities to rack up double-digit tackles on a consistent basis.
The Dolphins believed Dansby was an elite middle linebacker when they inked him to a five-year, $43 million deal in 2010. For that kind of money, Dansby should be making a Patrick Willis-type impact. But hasn't yet. It's time for Dansby to justify his contract, and Kevin Coyle's new defense will offer him a chance to do so.
Interceptions: Sean Smith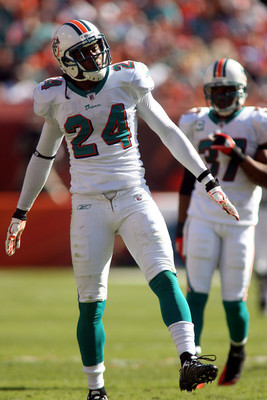 Photo via Zimbio.com / Marc Serota/Getty Images North America
Sean Smith is easily one of, if not the most frustrating and unpredictable players on the Dolphins roster.
In 2010, Smith was one of the NFL's best cornerbacks (via Pro Football Focus). He ranked second in TA/COV (times thrown at per coverage snaps) and fourth in REC/COV (receptions allowed per coverage snaps), putting him in company with Darrelle Revis and Nnamdi Asomugha. Had Smith not dropped a league-high five interceptions that year, he would've been a First Team All-Pro.
But last year, Smith inexplicably regressed, surrendering the 13th-highest yardage total among cornerbacks (via Pro Football Focus). He was a fraction of his former self.
Smith is now entering the final year of his contract, so he'll have extra motivation to elevate his game. Plus, there's no reason a player with his physical tools can't dominate, and if anybody can get the most out of Smith, it's defensive coordinator/secondary specialist Kevin Coyle.
Keep Reading

Miami Dolphins: Like this team?