Edwin Jackson Fires Back as Washington Nationals Drop Baltimore Orioles
June 24, 2012

Patrick McDermott/Getty Images
On Friday, Baltimore Orioles pitcher Jason Hammel dominated the Washington Nationals in a 2-1 Orioles victory at Camden Yards.
Saturday, Washington hurler Edwin Jackson returned the favor.
Jackson tossed 6 1/3 strong innings, as the Nationals beat the Orioles 3-1.
Jackson surrendered just one earned run on four hits, while striking out five on the night. With the victory, Jackson goes to 4-4 on the season and his ERA shrinks to 2.91.
Tyler Clippard picked up the save for the Nationals—his 11th.
Wei-Yin Chen took the loss for the Orioles. The rookie left-hander pitched five innings, giving up two earned runs on six hits.
With the loss, Chen is now 7-3 with a 3.38 ERA.  
Offensively, the Nationals got on the board first in the top of the second inning when Xavier Nady singled home Michael Morse. A throwing error by third baseman Wilson Betemit allowed Washington's first baseman Adam LaRoche to score from second base.
LaRoche tacked on another run for the Nationals in the top of the fourth inning with a solo shot over the right center field wall—his 13th of the season.
Baltimore's lone run came in the bottom of the seventh inning, when Orioles center fielder Adam Jones deposited a laser just right of the foul pole over the left field wall. Jones' homer was his 19th of the season.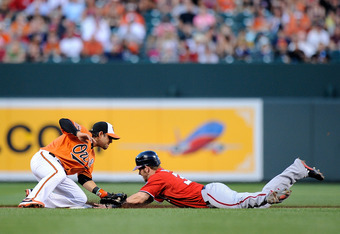 Patrick McDermott/Getty Images
A bright spot for the Orioles, the team's bullpen pitched four more scoreless innings in what has become one of the most reliable bullpens in baseball.
But on this night, Washington's bullpen did not blink either, holding Baltimore scoreless in 2 2/3 innings of work.
With the win, Washington moves to 41-28. They hold a 3.5 game lead over the New York Mets in the NL East.
The Orioles fall to 40-31, and are now 2.5 games behind the AL East leading New York Yankees.
Baltimore and Washington will battle once again Sunday at 1:35 p.m.
Ross Detwiler (4-3, 3.34 ERA) will square off against Jake Arrieta (3-9, 5.83 ERA) in the grudge match of this three game series.
James Morisette is a featured writer for Bleacher Report. You can see his full archive here.