Tampa Bay Buccaneers: Five Questions That Must Be Answered in Training Camp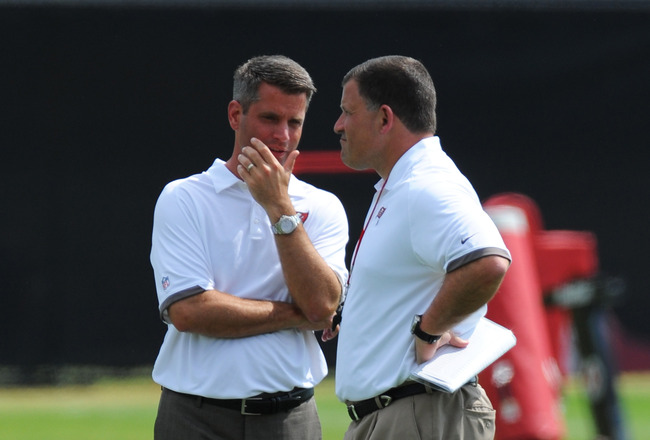 Al Messerschmidt/Getty Images
Minicamp went well, I suppose.
During the three day session, nothing went drastically wrong. At least nothing that we heard about.
But it left questions unanswered. Questions of the burning variety, to be exact.
So we look to training camp to provide us with these answers. In training camp, we will have the opportunity to see firsthand how the team has responded to the new coaching staff of Greg Schiano and how much individual players have improved or regressed since last season.
Here are the five most pressing questions that the Tampa Bay Buccaneers must answer in training camp.
Doug Martin or LeGarrette Blount?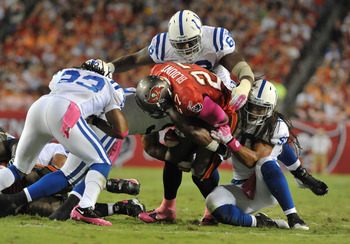 Al Messerschmidt/Getty Images
I am getting pretty darn tired of this one.
The Bucs traded up to draft Doug Martin, which must mean that they wanted him pretty badly. That also means that they have a plan for him to make major contributions to the team. They made him the second running back drafted in 2012 and they want to use him.
But the Buccaneers already had a starting running back in LeGarrette Blount. Say what you want about Blount, but you cannot deny his potential for solid production. The 1,000 yard rookie season was no fluke. Blount runs with elite strength, which we saw when he broke more tackles than any other RB in 2010. At this point, there is no true front-runner in the competition for the starting job.
Tampa Bay Times writer Stephen Holder projected Doug Martin as the starter heading into training camp, but the Pewter Report reported that LeGarrette Blount saw the majority of the first-team reps in minicamp.
We may have to wait until September 5th for the conclusion to this one, folks.
Can Brian Price Bounce Back After a Rough Offseason?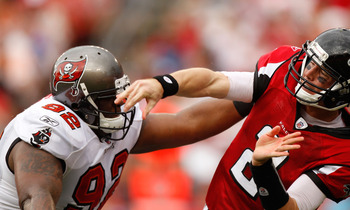 Mike Ehrmann/Getty Images
"Rough" vastly understates the miserable time Brian Price must have had after his beloved sister perished in a car accident. The poor guy was hospitalized shortly after, due to an ugly mixture of stress, dehydration and a high fever. He has lost siblings before; two brothers were killed in shootings.
Understandably, Price lost his cool for a brief moment. He punched rookie safety Mark Barron during minicamp, leaving the Alabama superstar bloodied. The incident came about because Barron was sitting in Price's seat. He was not emotionally ready to return to football.
Hopefully, Price can regain control of his emotions and live up to the great potential he showed coming out of college.
Will Talib Have to Deal with Goodell's Wrath?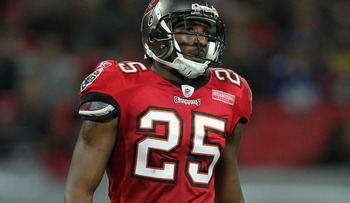 Streeter Lecka/Getty Images
But is Aqib Talib safe?
For a while, it seemed like the 26-year-old cornerback would not be playing for the Bucs in 2012. He was being brought to trial for allegedly firing a gun at his sister's ex-boyfriend. Because of Talib's past history (he once was accused of hitting a cab driver in St. Petersburg), the charges did not seem groundless.
Thankfully, the case was dismissed. Talib's accuser lacked credibility, and his testimony would not have held up in court.
Yet Talib's 2012 season is still in danger, as long as Roger Goodell can suspend him.
Goodell punished a lot of people this offseason. Because of the New Orleans Saints' bounty program, he suspended both Saints head coach Sean Payton and linebacker Jonathan Vilma for a full year, and a host of other players and coaches for shorter lengths of time.
Goodell dropped the hammer.
This should make Talib afraid. An agitated Goodell may decide to make an example of Talib and suspend him for a long time. Although the case couldn't hold up in a government court, that doesn't mean it couldn't hold up in the Goodell court.
An angry Goodell is a scary Goodell.
Goodell could drop the hammer on Talib at any time, but he should do so by or during training camp, so the organization has time to recover after losing their star cornerback.
How Will Injuries AFfect the Defensive Line?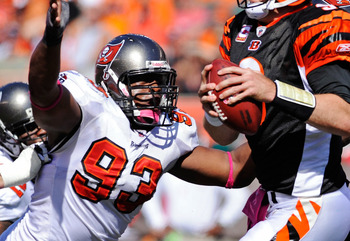 Jamie Sabau/Getty Images
First, Da'Quan Bowers fell to a torn Achilles.
Then Amobi Okoye went under the knife.
Can the defensive line catch a break?
Sure, the Bucs have Adrian Clayborn preparing for a followup to his stellar 7.5-sack rookie campaign. And sure, they have veteran Michael Bennett to work his underrated magic time and time again. They have Gerald McCoy, 2010's third overall draft selection, to plug up the middle and Brian Price right next to him.
But is that enough?
The only depth the line really has is in defensive tackle Gary Gibson. This is really bad, considering how awful the Buccaneer defensive line was in 2011. Last season, Tampa Bay housed the league's worst rush defense and a very mediocre pass rush.
The line remains largely the same, the most notable difference being a healthy Gerald McCoy. After he fell injured in Week 6, the dung hit the fan for the defense, and the team has not won a single game since. But we can't be too hopeful, as McCoy has only played 16 games in his two seasons. The guy has had health issues.
But maybe, just maybe, the Bucs catch a break and everything runs smoothly. Clayborn improves, Bennett stays solid and both Price and McCoy reach their full potential.
Who knows?
Who Is the Real Josh Freeman?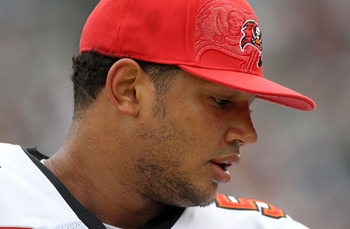 Sam Greenwood/Getty Images
Well, who is the real Josh Freeman?
Is he the stud who achieved a 95.9 passer rating while throwing just six interceptions?
Or he is the guy who threw 22 interceptions versus just 16 touchdowns?
Entering the 2012 season, Freeman is at a crossroads. He can either become the elite player he was always meant to be, or the mediocre quarterback he was in 2011. Quarterbacks generally show their true colors by their fourth seasons, and very few rebound to long-term success after a poor fourth year.
Freeman finally got the help he needs during the offseason. Former Giants QB coach Mike Sullivan, the man who turned the lesser Manning into Eli(te), became the new Buccaneer offensive coordinator. Signing former Saint Carl Nicks turned the offensive line into a brick wall, and signing wide receiver Vincent Jackson gave Freeman a true No. 1 receiver, something he has never had. The upgrades have given him everything a quarterback could reasonably ask for.
So can the real Josh Freeman stand up already?
Keep Reading

Tampa Bay Buccaneers: Like this team?