Alabama Football: Offense's Strengths, Weaknesses and Secret Weapons
Kevin C. Cox/Getty Images
All of Alabama's offensive players have a lot of strengths, but each and every one has a weakness as well. They all have their own signature trump cards as well.
Each player in college football takes their own path and they must play off their own strengths and weaknesses, and recognizing those is half the battle.
Here are the strengths and weaknesses of some offensive Alabama players as well as their secret weapons.
Michael Williams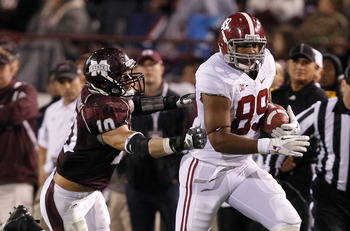 Butch Dill/Getty Images
Tight end, 6'6", 270 lbs.
Strength: Run Blocking
Michael Williams is a massive tight end. If he had a few more pounds in the midsection he could be an offensive lineman.
When it comes to blocking for running backs few can match Williams in ability and production. He simply paves the way for Bama's rock-toters.
Weakness: Receiving
For such a big target, Williams leaves a lot to be desired in the passing game. His role as a receiver has been limited to trick plays that revolve completely around him.
As an individual target with no misdirection support (and he requires a lot of misdirection) Williams can't do a whole lot.
Secret Weapon: Pass Blocking
The most underrated part of Williams' game is his pass-blocking ability.
Alabama's offensive line shifts around quite a bit with the goal of confusing the defense, and Williams excels when expected to fill the role of an offensive lineman.
Many times Williams has lined up on the left side of the line and went head-to-head with opposing pass-rushers (including LSU's outstanding defensive end Sam Montgomery) and effectively kept them away from his quarterback.
Cyrus Kouandjio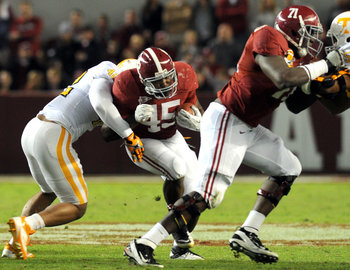 Left tackle, 6'6", 322 lbs.
Strength: Size
Cyrus Kouandjio's size as a left tackle is blue chip in every aspect.
From height to weight, Kouandjio is the ideally built left tackle and he has the talent to back it up.
Weakness: Experience
However well-built he is, Kouandjio has limited experience against the SEC.
He has a year of practice under his belt and a half a season of game experience, but he hasn't faced the full assault of the SEC as a starter.
The SEC has some dangerous pass-rushers on the blind side and Kouandjio just hasn't faced that kind of competition for extended periods of time.
Secret Weapon: Lean Body Pass
A simple glance at Kouandjio's height and weight shows a great build for a left tackle, but a picture tells a thousand words.
Despite weighing well over 300 lbs., Kouandjio has about the same body fat percentage as a stud linebacker.
Kouandjio is a tall pile of muscle that doesn't include a 30-pound gut and his lean build increases his quickness.
Barrett Jones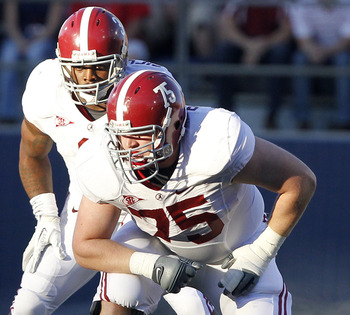 Butch Dill/Getty Images
Center, 6'5", 311 lbs.
Strength: Intelligence
Barrett Jones is the Tide's smartest offensive lineman and he paired his smarts with his natural ability and size to make name for himself early in his career in 2008 and 2009.
Chameleon defenses and sly looks don't fool Jones on the field nor do they in the film room.
He earned his Bachelor's in three years with a perfect 4.0 GPA (via Izzy Gould, al.com). Now that's smart.
Weakness: Quickness
Jones does not really have any weaknesses, but his quickness is the weakest (relatively speaking) part of his game.
He is one of the Tide's quickest offensive lineman, but there's always room for improvement.
Speedy pass-rushers that weigh in under 250 lbs., such as LSU's Sam Montgomery and Auburn's Corey Lemonier, are the only players that have ever given Jones any sort of difficulty, but more often than not he handles them with few issues.
Secret Weapon: Versatility
Jones can play anywhere on the offensive line and that makes the options limitless on the field.
From right guard to left tackle to center, Jones has become an offensive line savant.
His versatility allows him to move around on the line without skipping a beat and that same versatility allows him to confuse defenses.
He has lined up as a wide receiver and a fullback during his career at Bama and boggled everyone when he did so.
Jones will likely win his third All-America honors in as many positions.
Anthony Steen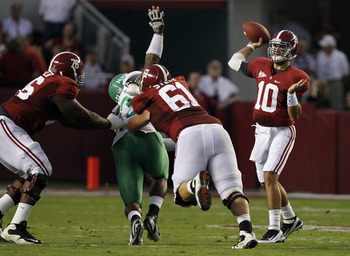 Butch Dill/Getty Images
Right Guard, 6'3", 303 lbs.
Strength: Strength
Raw muscle is Anthony Steen's strength. His pure strength is what helped him rise into the Tide's starting lineup.
Once Steen grabs hold of a defensive lineman there will be no plays made by said lineman.
Steen is a weight-room beast and he carries that strength onto the field.
Weakness: Misses Assignments
As powerful as Steen might be, he has a penchant for missing assignments. He gets confused at times and goes after the wrong target.
It's the main reason (not injury) he did not finish the 2011 season as the starting right guard.
When blocking for the run it's not really an issue, but when it comes to pass blocking it creates difficulty for his quarterback and fellow offensive lineman.
Secret Weapon: Nasty streak
Steen is like an avalanche. Once he starts bulldozing nothing can stop him.
He carries his momentum into subsequent plays with deadly effect.
As a true elephant, Steen also doesn't forget, and opposing defenses don't fool him twice.
Christion Jones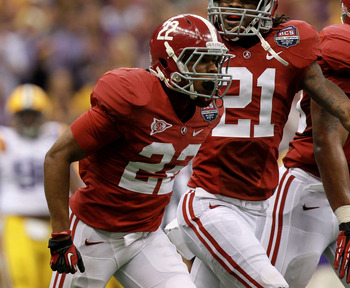 Ronald Martinez/Getty Images
Wide receiver, 5'11", 175 lbs.
Strength: Elusiveness
Christion Jones is one of the most elusive players on the roster, and it allowed him to jump to the top of the depth chart in return duties as a true freshman.
When Marquis Maze pulled a hamstring in the national title game Nick Saban put Jones on the field in a heartbeat.
In the second match with LSU he returned one kickoff from the end zone to the 32-yard line and returned a punt 15 yards.
Weakness: Size
Jones was recruited as a cornerback, but his lack of size combined with his slick nature convinced Saban to move him to wide receiver.
If he puts on a few pounds there could be a switch back to the defensive side of the ball if the new corners don't play to their potential.
Secret Weapon: Hands
Nick Saban seems bent on having an incredible receiving corps to litter the field with weapons so A.J. McCarron can do what he does best: Spread the ball around.
Jones would be the ideal slot receiver as he is more quick than fast. What he lacks in straight-line speed he makes up for with his elusiveness and his incredible hands.
He is the type of receiver that doesn't drop passes which might be a bad thing for him; he will likely be expected to take hard hits on catches through the middle without dropping the ball.
That's not a fun role, but someone will have to do it now that Darius Hanks has graduated.
Eddie Lacy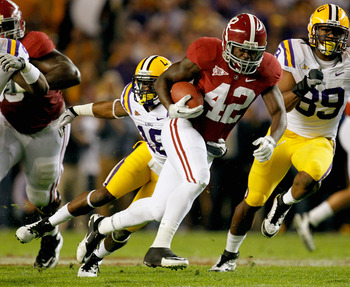 Streeter Lecka/Getty Images
Running back, 6'0", 220 lbs.
Strength: Spin Move
Eddie Lacy's spin move is already becoming the stuff of legends. His execution of it is lightning-quick and he's nearly impossible to grab hold of when he does it.
His move is most devastating when he is running down hill and it allows him to rack up a lot of yards after contact.
Lacy is not as strong as Trent Richardson (who is?), but he can be just as difficult for one man to bring down.
Weakness: Outside Runs
Lacy's ability to hit the perimeter is his only weakness. He can take off when there is an opening, but any errant linebackers that get a bead on him almost always stop him.
The nature of Lacy's spin move prevents him from using it when heading outside at an angle.
The best example was in the national title game. Lacy spun his way to two 10-yard first-down runs in a row, and then he got stuffed behind the line of scrimmage on an outside run immediately after.
Another interesting part about Lacy is that I don't recall ever seeing him spin to the right, only to the left.
Secret Weapon: Patience
When he is plowing between the tackles Lacy is a load to handle, but he doesn't try to carry the weight by himself.
As quick and elusive as Lacy is he always remembers the value of his blockers.
Numerous times in his past two seasons Lacy displayed excellent patience and waited to get his blocks set up before tearing into the defense.
A.J. McCarron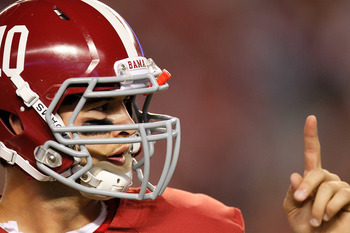 Kevin C. Cox/Getty Images
Quarterback, 6'4", 205 lbs.
Strength: Accuracy
A.J. McCarron was the most accurate quarterback in the SEC while fulfilling his role.
He completed 66.8 percent of his 328 passes with 16 touchdowns and only five interceptions. That would have been good for second in the SEC in 2010, as well.
McCarron is not asked to slash defenses for huge yardage, but he makes the most of the passes he is asked to make.
Weakness: Overlooking Open Receivers
Every quarterback occasionally looks past open receivers, and McCarron is no different.
He can have a habit of fixating on particular targets and doesn't see the wide-open man, but more often than not he finds a target.
Most of the time it is understandable, as the field looks a lot different behind an offensive line than it does with a bird's eye view from the couch.
Secret Weapons: The Long Ball, Field-Goal Holder
Some would say that the long ball is McCarron's weakness. I disagree.
It is a strength despite missing a few long passes in 2011, and it can be a secret weapon.
Both McCarron and the coaches aren't afraid to let him air it out (albeit sparingly). They trust him to make long throws that don't turn into interceptions.
When McCarron goes for a long pass he places it over his target's outside shoulder where only he has a chance to catch it.
Sure, he overthrows his targets quite a bit, but he never underthrows and those are the ones that become turnovers.
McCarron is also the Tide's field-goal holder. As a dangerous passer holding for the kicker the options are limitless for trick fourth-down conversions.
He also spins the laces perfectly every time for his kickers.
Keep Reading

Alabama Crimson Tide Football: Like this team?