Kevin Durant, Derrick Rose and the Top 5 Players Under Pressure to Win a Ring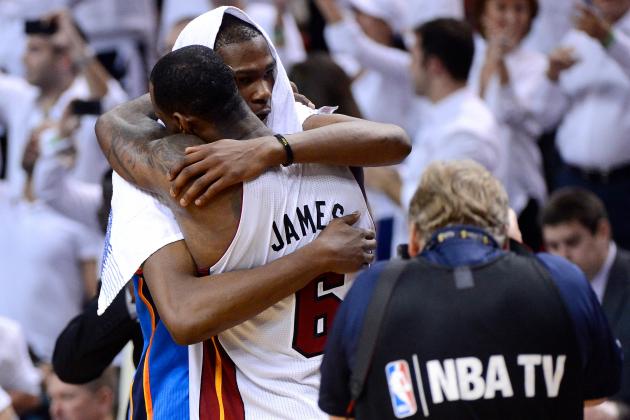 Ronald Martinez/Getty Images
Kevin Durant will someday face the same kind of pressure as LeBron James
Now that LeBron James got the championship monkey off his back, the media pressure on ringless NBA players will shift around the league. While none of these players will face an iota of the pressure, vitriol and hate that LeBron faced in his quest for a championship, they will face ridicule should they fail to get a ring.
It's long been a tradition to unfairly penalize those superstars who don't have a ring. Charles Barkley was the best player in the NBA not named Michael Jordan for several years, yet his legacy will forever be dominated by his lack of an NBA championship. The same thing applies for all-time great players like Patrick Ewing, John Stockton and Karl Malone.
We all saw what a difference a ring makes for a player's legacy last year. When Dirk Nowitzki got his first ring, he was propelled into the greatest power forward of all time debate.
The following players are all established superstars in this league, all possessing a big contract, a big name and a whole lot of game. Neither of them have a ring yet, and as the years pass by they will receive harsh criticism and see their legacies tarnished should they fail to win one.
Begin Slideshow

»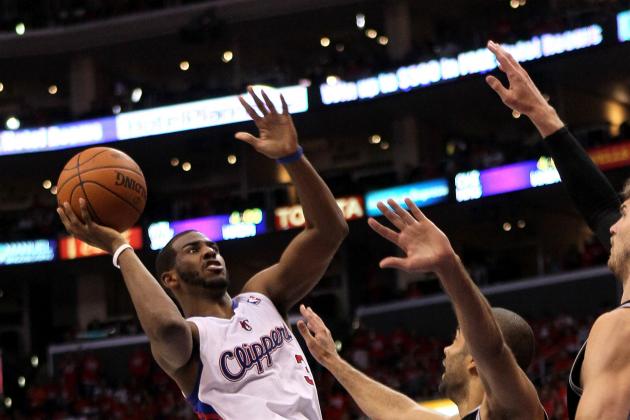 Stephen Dunn/Getty Images
If CP3 wants to compare to Isaiah Thomas, he will need a ring.
Years in the NBA: 7
Achievements: Rookie of the Year (2006), All-NBA First Team (2008)
Best playoff finish: Western Conference Semis (twice)
In my eyes, Chris Paul is the best point guard in the NBA and the best pure point guard since Isaiah Thomas. Yet his postseason resume doesn't quite match his individual greatness on the court. A combination of tremendous vision, a great iso game and a rare tenacity for a player his size, his lack of postseason success remains a large hole in his resume.
With CP3 now in Los Angeles with the Clippers, he has a fellow franchise player to build around in Blake Griffin. Along with DeAndre Jordan, these three form the foundation around which the Clippers will build their championship team. Further moves will be necessary, but the Clippers are a fairly talented team, and Paul will be looked at to lead them further through the postseason.
With several teams like the Lakers, Spurs and Mavs on the decline, the West is as weak as it has been in a few years. This is something that the Clippers and Paul should look to exploit.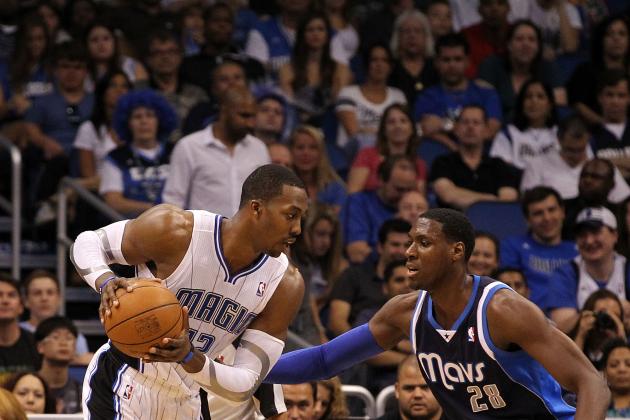 Sam Greenwood/Getty Images
Unlike the real Superman (Shaq), Howard has no hardware.
Years in the NBA: 8
Achievements: Defensive Player of the Year (2009, 2010, 2011), All-NBA First Team (2008, 2009, 2010, 2011)
Best playoff finish: NBA Finals (2009)
It seems like a lifetime ago, but just a few years back Dwight Howard had the Orlando Magic in the NBA Finals. They lost in five games to the Lakers in a much closer series than people give credit for.
Since then, Howard has piled up the accolades with numerous Defensive Player of the Year awards, All-NBA First Team selections and All-Defense First Team selections. But one thing he hasn't gotten close to is repeating the success he and the Magic achieved in 2009.
Outside of LeBron James and Kevin Durant, Howard is arguably the best building block in the NBA. A beast in the paint, Howard is seemingly a one-man defense at times. Despite having already been anointed the next dominant center in the vein of Shaq, Hakeem and Kareem, Howard's lack of championship hardware prevents him from being an all-time great center.
Maybe, like Shaq, he has to leave Orlando in order to position himself better for a run at a title. That seems the case this offseason, as he is leaning towards teaming up with Deron Williams in Brooklyn. Should this scenario play out, the pressure will ratchet up on Howard the same way it did on Shaq when he left to the Lakers.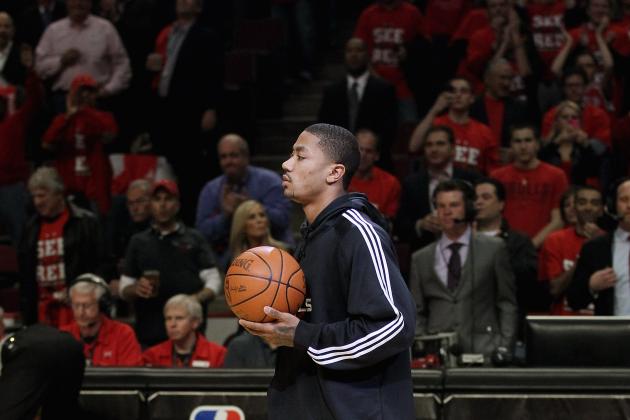 Jonathan Daniel/Getty Images
The Bulls won't contend for a title until Rose is 100 percent.
Years in the NBA: 4
Achievements: MVP (2011), Rookie of the Year (2009), All-NBA First Team (2011)
Best playoff finish: Eastern Conference Finals (2011)
A torn ACL suffered in this year's playoffs will give Derrick Rose a slight pass for the next year or two, but after that, the pressure will be right on. Playing in Michael Jordan's house brings along certain expectations, and Chicago Bulls fans expect championships from Rose.
A hometown kid, Rose has embraced the challenge of contending for a title the moment he put on his Bulls uniform. However, with LeBron James and the Heat in the same conference, it may take a while before Rose ever tastes that success.
Rose's ACL injury aside, the future for the Bulls looks great with All-Star caliber players in Joakim Noah and Luol Deng as well as solid pieces in Taj Gibson and Carlos Boozer. Consecutive No. 1-seed placings have increased expectations in Chicago for Rose.
Eventually, he will have to deliver.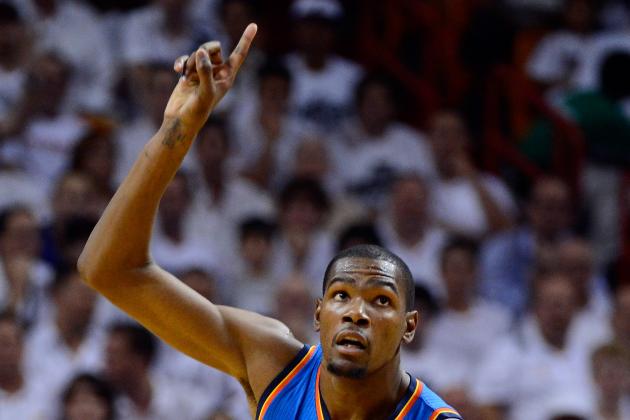 Ronald Martinez/Getty Images
Durant will need a title before he is No. 1.
Years in the NBA: 5
Achievements: Three-time League Scoring Champ, Rookie of the Year (2008), All-NBA First Team (2010, 2011)
Best playoff finish: NBA Finals (2012)
Widely regarded as the second best player in the league, Kevin Durant will face the same kind of pressure that LeBron James had to go through should he fail to win a championship in the next few years.
An absolute scoring machine, Durant can get his shot any time he wants. However, he needs to become a much more well-rounded player if the Oklahoma City Thunder are to reach the summit of the NBA.
After being completely outplayed by LeBron in the Finals, Durant will no doubt come back next year much stronger and more experienced.
The great news for Thunder fans is that Durant is just 23 years old, and along with fellow young guns Russell Westbrook (23), James Harden (22) and Serge Ibaka (22), their domination is just starting.
Outside of trying to top the Heat, the biggest challenge for the Thunder may be simply keeping this team together, as both Harden and Ibaka are in line for large contract extensions at the end of next year. Most experts agree that only one of the two will remain as the Thunder will not have the cap room to sign both.
If this is true, then next season will be of utmost importance for Durant and the Thunder. Kevin Durant has the opportunity to become one of the greatest players in NBA history, but like LeBron, he first needs to get the ring.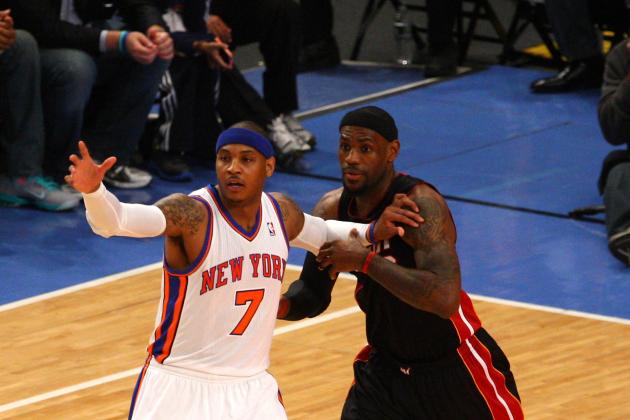 Chris Chambers/Getty Images
Now that LBJ has his title, Melo will be under pressure to get his.
Years in the NBA: 9
Achievements: All-NBA Second Team (2010)
Best playoff finish: Western Conference Finals (2009)
The moment Carmelo Anthony forced his way out of Denver to the New York Knicks to join forces with Amar'e Stoudemire, the pressure to deliver went way up. With the Knicks in disarray and fellow draft classmates LeBron James, Dwyane Wade and Chris Bosh all winning this year, the pressure is right on Carmelo Anthony.
Anthony came to New York to bring a title to Madison Square Garden, but consecutive first-round exits to the Celtics and the Heat have some Knicks fans debating whether Melo was worth it.
Outside of a terrific Game 4 performance, giving the Knicks their first playoff win since 2001, Anthony was completely dominated by LeBron, further highlighting the difference between the two superstar small forwards. Throw in the Knicks' uneven form since Anthony arrived and the firing of head coach Mike D'Antoni, and New York fans aren't too thrilled about their star player.
With Defensive Player of the Year Tyson Chandler, $100 million man Amar'e Stoudemire, point guard sensation Jeremy Lin as well as solid players in Landry Fields, Iman Shumpert and JR Smith, the Knicks roster is more than capable of making noise in a weak Eastern Conference.
Should Carmelo fail to deliver while LeBron, Wade and Bosh rack up title after title, his legacy will take a severe hit, and Anthony may be forced out of New York City.
Melo is definitely in an unenviable and pressure-packed situation at the moment.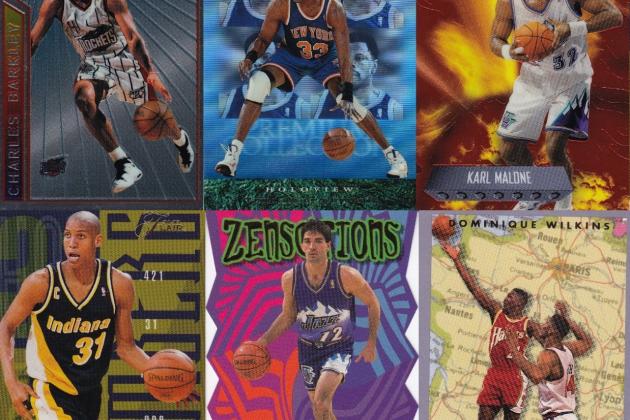 No one wants to join the "No Rings" club.
Comments?
Suggestions?
Someone I missed?
Thanks for reading!