Why Bill Belichick's Best Years Could Be Behind Him
June 29, 2012

Jeff Gross/Getty Images
New England Patriots head coach Bill Belichick may be one of the greatest masterminds the game has ever seen.
His $7.5 million salary makes him the highest-paid coach in the United States, according to Tom Van Riper of Forbes. And, based on his win-loss record, he deserves every penny.
However, one could argue that Belichick's best years of coaching are behind him.
It's time to play the role of devil's advocate and put the future Hall of Fame coach under the microscope.
Age
Bill Belichick is 60 years old. That's not ancient in the grand scheme of life. Although, it is in terms of NFL coaches.
Gregg Rosenthal of NFL.com reports that only four NFL head coaches are older than Belichick:
The stoic, cutoff sweatshirt wearing Belichick is one of the last men from a dying breed. Even though he remains one of the most polarizing figures in the sport, his age will become a factor sooner or later.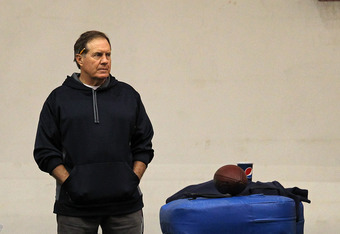 Jim Rogash/Getty Images
Based on ESPN.com's data, Belichick posted the best record of any coach with over 10 years experience in 2011. To put it in perspective, the Giants' Tom Coughlin was second after a 9-7 regular season. Granted, Coughlin won Super Bowl XLVI and is the oldest head coach to do so.
James Alder of About.com points out that only two other NFL head coaches over the age of 60 have won a Super Bowl—the St. Louis Rams' Dick Vermeil in Super Bowl XXXIV and the New York Jets' Weeb Ewbank in Super Bowl III.
So, if coaches don't necessary get better with age, then how much longer will Belichick be roaming the sidelines of Gillette Stadium?
In NFL Films' documentary, A Football Life, Belichick said that he didn't see himself coaching into his 70s, cites NFL.com's Rosenthal. With all Belichick's head coaching responsibilities, it's safe to assume his drive will deplete someday.
As ex-NFL coach Pat Kirwan points out in his book, Take Your Eye Off The Ball, coaching entails dedication for all 168 hours of the week. And, after the devastating losses Belichick has suffered, he won't be scouting, game planning and play calling 10 years from now.
A Super Bowl Victory Drought
The Patriots' dynasty won three out of four Super Bowls between February of 2002 and February of 2005. Since then, there has been no such luck.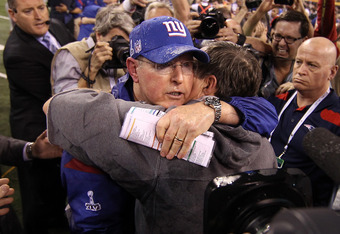 Ezra Shaw/Getty Images
It's hard to believe that seven years have passed since Coach Belichick and Co. have hoisted the Lombardi Trophy. But the team has had their share of chances.
The 2007-2008 magical 16-0 season ended as imperfect as possible—with a Super Bowl loss to the New York Giants.
During the 2011-2012 campaign, it was more of the same. The Giants defeated New England once again in the Super Bowl.
Is this merely a dry-spell or is it more?
Have Belichick and the Pats met their Kryptonite?
Not to say Belichick has lost his touch, but New England's recent misfortune is a trend worth keeping an eye on.
The final scores of Super Bowl XLII and XLVI are all that remain: 17-14 and 21-17. But those numbers don't do the disappointment justice. Losing the big game has a way of derailing a team's psyche.
Quarterback Tom Brady Will Be 35 in August
Tom Brady and Bill Belichick are the winningest quarterback-coach tandem in NFL history. Their 124 regular-season victories and five Super Bowl appearances go unmatched.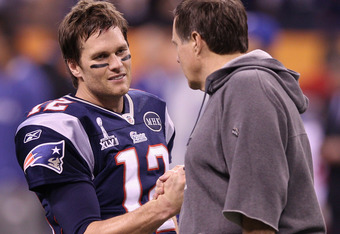 Elsa/Getty Images
Nevertheless, all good things must come to an end. When the 2012 NFL season kicks off in September, Brady will be 35.
Age will eventually catch up to the Canton-bound QB, but for now, he's still slinging the ball at an elite level. Brady threw for 5,235 yards last season—good for second all-time.
ESPN's Greg Garber assessed the future of the match made in Patriot heaven:
These two probably have a few years left together. Brady has said he wants to play until he's 40, which means five or six more seasons. Belichick just might stick around that long before he retires to fishing from his boat "V Rings." Or "VI Rings" or "VII Rings.
Without Brady, there would be no Belichick. And, without Belichick, there would be no Brady. Coach Belichick took a shot in the dark when he chose the Michigan QB at pick No. 199 of the 2000 NFL Draft. If Brady wasn't given that opportunity, one could argue that he would have never become what he is today.
Ultimately, the Patriots can be a contender as long as these two are at the helm. With that said, their window is closing. When Brady hangs his cleats up for the last time, Belichick will put away his Motorola headset.
The Outlook for Belichick and New England
Bill Belichick is 37 seasons into his NFL coaching career, and the chance to win another Super Bowl is dwindling with each passing season. 
At the end of the day; however, Belichick has racked up 177 total victories—10th all-time. It is a number that will certainly be added to in 2012 and beyond.
Anything less than a fourth Super Bowl win will be considered a failure for New England, and that's the way it should be.