LSU Football: ESPN's Bizarre Les Miles Interview Regarding Washington Huskies
June 24, 2012
Chris Graythen/Getty Images
Ivan Maisel, host of the ESPN U College Football Podcast, spoke with LSU head coach Les Miles in his June 19th episode. Though Maisel frequently interviews players, coaches and pundits throughout the country, he sounded out of touch with the game's current trends when he praised Miles for LSU's non-conference strength of schedule.
Is it possible that Maisel is stuck in the 1990s?  Hey, no crime in that. A friend of mine is cut from that mold. My buddy listens exclusively to Nirvana and Pearl Jam. His favorite TV show is Seinfeld. He shuns a stove in favor of his George Foreman Grill. The man loves the decade that culminated in Y2K.
Maisel seems trapped in a similar time warp. After some initial small talk, he and Miles, who is coming off a 13-1 season where his team lost the national championship game to Alabama, had the following exchange: 
Maisel:  Once again you've got a tough non-conference game, you've got Washington coming in the second week. In your philosophy you've liked tough non-conference games as long as I can remember. Why don't you work your schedule so that you ease into the SEC the way that others do?

Miles: I think the opportunity to have a pressure to execute on your team allows you to start fast. I think you have to start fast in a season and really build speed and hopefully get to the back end where you've accomplished a lot and can play your best in the final game. That's certainly the goal.

Washington will be a great challenge. They'll come in with a real quality quarterback and a very good defensive team. They just changed coordinators. They took the Tennessee coordinator (Justin Wilcox) and he did a great job there.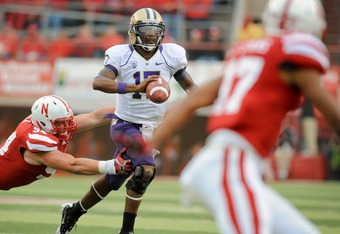 Eric Francis/Getty Images
Upon hearing this, I furrowed my brow in Frasier Crane fashion. What the heck did they just say?
For starters, did Maisel refer to the Washington Huskies as tough competition? Does he not realize that the Washington juggernaut of the 1990s faded from view many moons ago? That they've produced a 44-78 record in the past decade? That they've never topped seven wins in a season during that span?
Furthermore, LSU's non-conference schedule for 2012 is as follows: North Texas, Washington, Idaho and Towson State. All at home. In Death Valley. How many of you dear readers are chuckling out there?
Equally as inaccurate but more understandable was the response from Les Miles. He conversed in the language known as coach speak. In other words, being careful not to stir the pot while heaping praise on anyone and everyone.
Miles correctly alluded to Washington's Keith Price as an excellent quarterback. As a sophomore last year, Price threw for 3,033 yards and set a UW single season record with 33 touchdown passes.
But did Miles also refer to Washington as a "very good defensive team"? Last season, the Huskies produced the worst defensive stats in the proud program's history, even worse than anything submitted in the Tyrone Willingham era.
In the season-ending loss to Baylor in the Alamo Bowl, Washington surrendered 67 points and 777 yards. That Miles maintained a straight face while crediting the Husky defense as being "very good" would have given the stern Dan Rather a run for his money in a poker-face competition.
Miles did point out one important truth. Washington coach Steve Sarkisian fired most of his defensive staff last December and hired the promising Justin Wilcox from Tennessee as his new defensive coordinator.
Husky fans, of which I'm one, cling to hopes that the defense can become competitive again. We miss hard-hitting, violent football. But at this point, it's all speculation regarding Wilcox. After all, Sarkisian once referred to Nick Holt, the coordinator he just fired, as the best defensive coordinator in America.
Snake-bitten Husky fans that are thoughtful know that evidence is required before unbridled enthusiasm toward the '12 defense is warranted.   
As for LSU, Les Miles must smile broadly during his daily commute as he muses over his roster. One mock draft projects five Bengal Tigers being selected in the first round of the 2013 NFL Draft.
This includes four players on defense, three of whom (Barkevious Mingo, Sam Montgomery and Bennie Logan) will be squaring off against Washington's rebuilding and talent-thin offensive line.
With former star Husky running back Chris Polk now in the NFL, quarterback Keith Price will be running for his life against LSU's defense. Think back to old grainy footage of Minnesota's Fran Tarkenton scrambling to escape death in his own backfield, and you'll get the picture for Price. You can only hope he stays healthy and plays the game of his life.
Yes, this year's LSU-Washington game will be a Bayou Bloodletting. A mere speed bump on the expressway to gridiron glory. "Our program is set up to finish first," Miles said. "We look forward to victory on Saturdays and hopefully earning our way where hopefully we can play in that [national championship] game again and again and again."
The LSU Tigers will be just fine, thank you. But credit them not for tough OOC scheduling! They'll dispatch of those stiffs as readily as Patrick Swayze in a Roadhouse brawl.
Derek Johnson is the author of three books including Husky Football in the Don James Era, The Dawgs of War (Tuiasosopo's Rose Bowl Season), and Bow Down to Willingham: How White Guilt Enabled a Secretly Malicious Coach to Destroy the Once-Mighty Washington Huskies. He is currently at work on a new book due out in the fall of 2012. His website is www.derekjohnsonbooks.com