2012 NBA Draft
NBA Draft Order 2012: Teams in Position to Land Great Draft Classes

Ronald Martinez/Getty Images
June 23, 2012
Drafting well is how small-market teams become successful. Look at Oklahoma City for example. They didn't win the title, but they are set for years to come.
With the 2012 NBA draft, there are teams that are in line to be great for years to come. Here are three. 
New Orleans Hornets
Whether or not you believe in things being "fixed" in sports, this one did seem a little bit strange. After vetoing a Chris Paul trade to the Lakers, the NBA and David Stern were picked apart about making the wrong decision.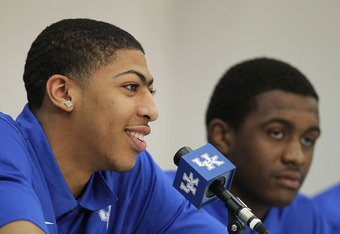 Andy Lyons/Getty Images
Now the Hornets have a great chance to rectify that decision by receiving the No. 1 overall draft pick. 
And the No. 10 pick.
Bingo!
New Orleans will draft Anthony Davis, stud power forward from Kentucky, the unanimous No. 1 selection. He will greatly improve New Orleans' frontcourt by his ability to block shots, grab rebounds and score offensively.
We are talking about an NBA All-Star for years to come.
With the No. 10 pick, New Orleans could go with Kendall Marshall or Damian Lillard as point guard. Lillard has more of a scorer's mentality, whereas Marshall is known for facilitating.
Whoever they pick will turn out nice for New Orleans.
Congratulations, Hornets, you just were put back on the map with one draft class.
Cleveland Cavaliers
Don't worry Cleveland, LeBron James winning his ring before the Cavaliers will quickly be an afterthought after this draft class.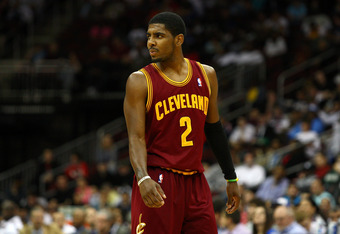 Chris Chambers/Getty Images
Cleveland is in great position (No. 4 and No. 24) to get themselves near playoff contention next season. Maybe they draft a Harrison Barnes, a guy who is vastly underrated. He can get his own shot in the mid-range game, he has great size and he did it at a premier school (North Carolina).
He would be my selection at No. 4.
As for No. 24, the Cavaliers could go in multiple directions. Maybe they look for another scorer, or maybe they look for an underrated big man like Meyers Leonard, if he is available. 
Cleveland is bound for a great draft class.
Golden State Warriors
Golden State receives pick No. 7 and No. 30. At No. 7, they could look for a player who has a great ceiling; a player who is more of a sure thing as well. 
With the No. 30 pick, however, the Warriors could go multiple directions.
They could try landing a potential star like Will Barton, maybe a European player who is a project like Evan Fournier or maybe they could grab a guy who could help them right away with intangibles.
Whatever the case may be, Golden State has a great opportunity to land a great draft class if they choose the right players.
That is and will always be the most challenging part. 
2012 NBA Draft 1st Round Order
1. New Orleans Hornets
2. Charlotte Bobcats
3. Washington Wizards
4. Cleveland Cavaliers
5. Sacramento Kings
6. Portland Trail Blazers (From Brooklyn Nets)
7. Golden State Warriors
8. Toronto Raptors
9. Detroit Pistons
10. New Orleans Hornets (From Minnesota Timberwolves)
11. Portland Trail Blazers
12. Milwaukee Bucks
13. Phoenix Suns
14. Houston Rockets
15. Philadelphia 76ers
16. Houston Rockets (From New York Knicks)
17. Dallas Mavericks
18. Minnesota Timberwolves (From Utah Jazz)
19. Orlando Magic
20. Denver Nuggets
21. Boston Celtics
22. Boston Celtics (From Los Angeles Clippers)
23. Atlanta Hawks
24. Cleveland Cavaliers (From Los Angeles Lakers)
25. Memphis Grizzlies
26. Indiana Pacers
27. Miami Heat
28. Oklahoma City Thunder
29. Chicago Bulls
30. Golden State Warriors (From San Antonio Spurs)
Like the new article format? Send us feedback!