Lopez TKO's Ortiz in Shocking Upset End of Round 9 on Stool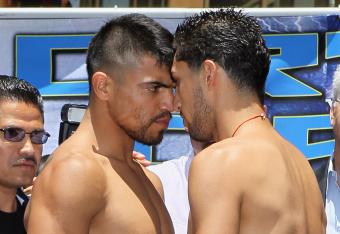 Jeff Gross/Getty Images
We are live at the world-famous Staples Center in Los Angeles for the Victor Ortiz vs. Josesito Lopez fight tonight.
Both Ortiz and Lopez made weight on Friday for their welterweight fight. Ortiz came in at 146.5 lbs, Lopez at 144.5 lbs.
The weigh-in staredown was intense, with Ortiz and Lopez getting in each other's faces, and things got real heated.
Lopez feels a bit disrespected that Ortiz is already looking past tonight's fight and on to his next big payday on the Mexican holiday weekend of Sept. 15 in a potential super pay-per-view fight against new Mexican sensation Saul "Canelo" Alvarez at the MGM Grand in Las Vegas.
Also on tonight's card is the fight that many, including myself, feel will be fight of the night and possibly fight of the year, with Humberto Soto vs. Lucas Matthysse who both made weight for their 140-lb title eliminator bout.
Ortiz has stated via Twitter that his after-fight party will be at Club Icon, which is a night club across the street from the mighty Staples Center, and that Bay Area rapper E-40 will be performing.
Lopez, although not a big-name fighter, is from the relatively close local town of Riverside, so he may bring in a decent neighborhood following, and he fights in an exciting crowd pleasing manner. If Ortiz is really overlooking him in tonight's fight, then this may be more competitive than we think.
Whenever a big fight comes to Staples Center, usually many of Hollywood's stars show up and sit ringside since it is in their backyard. Tonight's fight was initially supposed to be the highly anticipated rematch of Andre Berto vs. Victor Ortiz—their first fight in 2011 was awarded fight of the year by many publications.
It will be interesting to see which stars come out tonight to see the fights. I'll be updating this live blog through out the night with tonight's results and which celebrities and athletes are in the house, so keep checking back to this live blog.
Also for even more real-time updates and photos, make sure to be following me on Twitter: @KingJ323
Ortiz couldn't speak well after the fight Lopez busted his jaw and he couldn't close his mouth and it hurt every time he touched me.
He thinks he broke his jaw early in the fight.
Go to my Twitter I'll post a pic of the judges score card. Check out who was ahead on the judges score card at the stoppage!
HUGE upset Ortiz is being booed on the jumbo tron and the crowd is Cheering loud for Lopez!!!!!!!!!!!!!
Looks like Ortiz quit on the stool?????
Or his corner threw in the towel?????
THe referee just stopped the fight!
Looks like Lopez won?????????
Ortiz/Lopez
Round 9:
Ortiz is fighting cautiously with a high guard and waiting.
Ortiz opens up with a big combo.
In the final 20 seconds Lopez opens up big and lands huge shots sending Ortiz running and holding making his knees buckle.
Ortiz/Lopez
Round 8:
They trade shots tie up, Victor lands shot on the inside makes Lopez step back.
Lopez is stalking now lands big right with a big upper cut makes Ortiz head snap back!
Ortiz lands on him against the ropes and Lopez wisely ties up by leaning on him neutralizing the attack.
Lopez lands a 1-2.
Real good close round again.
We'll give it to Ortiz for being busier throwing more and pressing the action.
They show Canelo's face on the jumbo tron and the crowd goes wild!
Ortiz/Lopez
Round 7:
Ortiz stalking and Lopez looking to counter...
Lopez lands 2 big shots and Ortiz counters with a bigger shot of his own and crowd goes Ohh!!!!
Ortiz has him pinned against the ropes and lands big shots.
Lopez showboats as if to say that was nothing and the crowd starts laughing and cheering him on.
Then Lopez lands several big monster shots making Ortiz back up and run and stumble.
Lopez almost earns a standing TKO here!!!!
HUGE round for Lopez!!!!!!
Ortiz/Lopez
Round 6:
Lopez unleashes a hard 6 punch combo partially blocked Ortiz counters with a big uppercut.
Ortiz lands a big shot down the middle stuns Lopez makes him hold on.
They resume action, Lopez lands good combo hook gets thru for the most part.
They tie up and Ortiz goes down.
Lopez lands a big right hook.
Ortiz presses Lopez against the ropes and lands 2 shots.
Close round again. Could go either way. We'll give it to Ortiz
Ortiz/Lopez
Round 5:
continues!
Lopez lands hard with a combo.
Lopez is winning this round despite the brutal rabbit punch landed on him.
Lopez swings huge and misses and falls to the canvas. Ref waves it a slip.
Lopez round.
Crowd is BOOING hard here!!!!!
Ortiz/Lopez
Round 5:
They trade hard shots and Ortiz gets the best of the exchange they tie up and and Ortiz lands a big rabbit punch to the back of Lopez head and he goes down.
The ref splits them up and is about to make a ruling?
Round 4:
Ortiz/Lopez
Best round for Ortiz so far. Big shots down the middle pressing the action and backing up Lopez.
Lopez seemed to take most of the round off?
Ortiz round by far
Ortiz/Lopez
Round 3:
Ortiz just spit on Lopez????
Ortiz lands 3 jabs clean down the middle of Lopez no answer?
Lopez lands 3 huge shots makes the sweat fly off Ortiz head crowds screams!!!
They tie up against the ropes.
Ortiz goes straight to the body.
Lopez throws huge bomb and misses by a mile falling into the ropes.
Close round lot of unanswered jabs by Ortiz in the beginning but Lopez got the bigger harder shots.
Lopez round
Ortiz/Lopez
Round 2:
Ortiz opens up early and tries to land bombs Lopez blocks some and they trade against the ropes throwing huge bombs at each other Ortiz holds on to regain his legs.
Ortiz then fires away and lands hard against Lopez against the ropes.
Lopez fires back and lands huge right hand that hurt Ortiz.
Ortiz lands another straight shot that makes Lopez face move to the side.
Close exciting round could go either way.
Ortiz/Lopez
Round 1:
Feeling out opening round. Ortiz backs Lopez up and fires shots partially blocked, Lopez fires back shots as well partially blocked.
Lopez lands a clean hook to the side of Ortiz head and crowd loves it.
Lopez comes strong in the final seconds and stuns Ortiz and he holds on.
Lopez round.
They just showed Jack Nicholas on the jumbo tron!
Both Lopez and Ortiz are now in the ring and being announced. Ortiz is getting the much louder applause although many chanted: "Riverside" for Lopez as well.
Lakers Star Metta World Peace in the house tonight!
Soto/Matthysse
Round 5:
BIg dominant round for Lucas! Landing huge bombs wobbles Soto and floors him hard in the final seconds.
Referee goes to Soto's corner and waves off the fight!
Mattysse wins by TKO after round 5!!!!!!!!
Soto/Matthysse
Round 4:
Big dominating round for Lucas for the first 2minutes landing big shots and combos.
Soto came back around landing combos that were partially blocked but Lucas walks right thru them coming forward.
Soto lands some clean shots with 20 seconds to go but may not be enough to steal the round.
I'm wondering why Lucas took the last minute off?
Lucas round
Soto/Matthysse
Round 3:
Lucas lands a hard body shot presses Soto against the opposite side of the ring ropes and lands another hard body shot. You can hear the thud!
Soto comes back hard with a combo and the Mexican crowd loves it.
They trade in the center of the ring and the fight is getting real good.
Lucas lands two left hooks then presses Soto in the corner.
Lucas lands 2 punch combo.
Soto fires back with 1-2.
Soto flurries but Lucas partially blocks.
Close fun round but we'll give it to Lucas landing clean hard body shots and being more dominant.
Soto/Matthysse
Round 2:
Both trade bombs in the center of the ring.
Lucas digs into the body.
Soto has good movement dancing around Lucas and following with hooks.
Soto is throwing a combo ending with an uppecut, it looks partially blocked but it looks nice to the crowd and judges.
Soto comes strong with 45 seconds left and crowd is alive cheering him on.
Lucas lands great combo left and upper cut and a hook sends Soto to the canvas as the bell rings but the ref declares it NOT a knockdown WTF???
close round we'll give it to Lucas for coming strong at the end
Round 1: Soto/Matthysse
Soto is down? Ruled a slip?
Soto is opening up with strong jabs down the middle but Lucas blocks.
Lucas lands a big left hook and Soto goes wobbling and the ref intervenes for some reason? Crowd is pissed? Why?
Lucas getting stronger Soto backing up.
Soto gets in a flurry and upper cut at the end.
Close round but Soto was far more active mostly with the jabs.
OK national anthems sung (Mexico and USA) we are going live on Showtime next Soto vs Matthysse on deck fight fans!
Alright fight fans we are now ringside here at the Staples Center. So far I see Mia St. John, Abner Mares in the house tonight.
In all honesty it is pretty dead here at the mighty Staples Center so far. Lot of seats open, lots of sections in fact. It will be interesting to see how it fills up as we get closer to the main event.
I'll start posting pics via my Twitter. Check back soon.
We are supposed to go live on Showtime around 6:45PM Pacific Time.
This article is
What is the duplicate article?
Why is this article offensive?
Where is this article plagiarized from?
Why is this article poorly edited?