6 Biggest Trouble Spots on the Minnesota Vikings Roster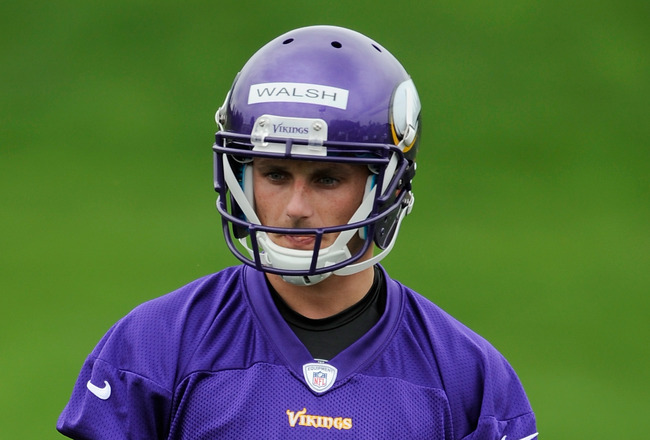 The Minnesota Vikings cut veteran kicker Ryan Longwell because they believe in rookie Blair Walsh.
Hannah Foslien/Getty Images
It was an offseason that attracted no attention from the national media. It was an offseason that had no major acquisition.
But it was also an offseason Minnesota used to fill many depth issues and younger, cheaper players who could develop into good talent.
All that being said, Minnesota, as a team coming off a 3-13 season, has plenty of question marks and positions that need more help.
This slideshow assesses Minnesota's six biggest positional concerns.
No. 6: Right Guard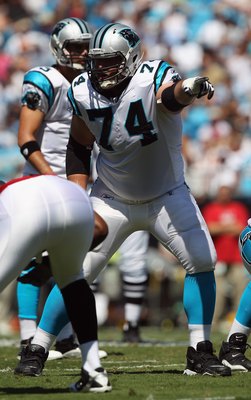 The 25-year-old Geoff Schwartz was signed in the offseason and should be the front runner for the starting right guard position.
Streeter Lecka/Getty Images
Minnesota's projected offensive line features three players from the 2011 line, a rookie and a newbie.
The potential newbie: Geoff Schwartz, Brandon Fusco or Joe Berger.
Schwartz has an early edge, as the Vikings signed him from the Carolina Panthers this offseason. The former Oregon Duck missed 2011 with a hip injury, but Jeremy Fowler of the St. Paul Pioneer Press said Schwartz was set for a "breakout" season in 2011 if not for the injury.
Meanwhile, Berger has bounced around the NFL for seven seasons, and Fusco has three NFL games under his belt.
Based on the resumes of the three men, Schwartz is the clear choice at this stage.
Regardless, the position is a big question mark. There are multiple options to choose from, but none scream, "I'm the right guard of a Super Bowl contender!"
No. 5: Kicker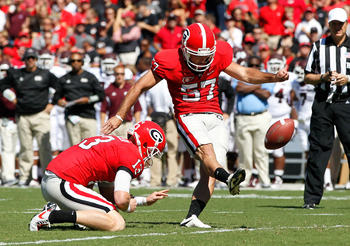 In 2011 Blair Walsh made 21-of-35 field goals and 46-of-46 extra points at Georgia.
Kevin C. Cox/Getty Images
Ryan Longwell manned Minnesota's kicker position from 2006 through 2011 and was as stable as they came at his position. The 2012 campaign could go down as the least stable the position has been since before Gary Anderson took over the kicking duties in 1998.
Yes, Longwell lost the ability to drive the ball into the end zone on kickoffs, and the missed six field goals were the most he had missed since 2005.
But Longwell was reliable from inside of 40 yards, whereas Blair Walsh, Minnesota's sixth-round pick in 2012 from Georgia, missed 14 field goals (21-of-35) in 2011. Leg strength isn't a concern with Walsh, but accuracy is his problem.
Walsh made Georgia's all-decade team and set Georgia's all-time scoring record (412 points), which is also second most in NCAA history.
He has a strong overall college resume, but his 2011 season is troublesome. Walsh could be a solid acquisition long-term, but in the short term he is a big question mark.
No. 4: Safety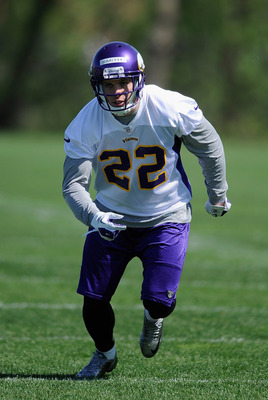 Minnesota thought so highly of Harrison Smith that it traded back into the first round to acquire him. He should start at one safety position on Sept. 9.
Hannah Foslien/Getty Images
It says "safety" for a reason atop this slide and not free or strong safety. Both safety positions are still of concern entering the 2012 season.
Yes, the Vikings traded back into the first round to acquire Notre Dame's Harrison Smith. Yes, one day he will be a difference maker in the secondary. But that's "one day." That "one day" isn't likely to be in 2012.
He won't be terrible and should be better than what Minnesota put onto the field in 2011 at the position, but that isn't saying much. He may not even start...but I expect him to.
Mistral Raymond is the other expected starter. The sixth-round pick from South Florida in 2011 has coaches and fans excited to watch him progress in 2012.
Regardless of what you think of Raymond, I'm not nearly as high on him as many are, as he is still a young player. At the age of 24, he is only a second-year player and will continue to make mistakes synonymous with younger players, many of the same mistakes he made in 2011.
Minnesota hopes that the return of Antoine Winfield to one cornerback spot and Chris Cook to another will bring stability and improvement to the secondary. The Vikings need those two to be a stabilizing presence to the two young safeties.
No. 3: Middle Linebacker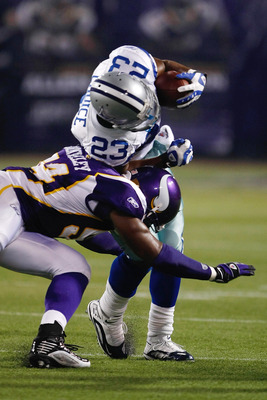 Jasper Brinkley started six games in 2009 and since then he's been a minimal contributor for Minnesota.
Scott Boehm/Getty Images
Oh boy.
The middle linebacker is the quarterback of the defense, yet it's Minnesota's second biggest question mark on the defensive side of the ball entering the season.
E.J. Henderson is still a free agent. Some suggest he should be brought back to anchor the position. Others, like yours truly, say it's time for the 31-year-old to move on or accept a lesser role with the Vikings.
The ideal scenario would allow Jasper Brinkley to earn the starting position, but he's still an unproven commodity having started six games in 2009 when Henderson fractured his femur. He missed 2011 with a hip injury.
Brinkley showed similar abilities to Henderson in the run game and lacks strong pass coverage abilities, much like Henderson at this point in his career.
The former South Carolina Gamecock may not be the answer at middle linebacker, as someone like rookie Audie Cole could take the position, and I do expect him to struggle this season (if Brinkley earns the starting spot). But those struggles will help Minnesota see if Brinkley can become anything other than a role player in the league.
No. 2: Wide Receiver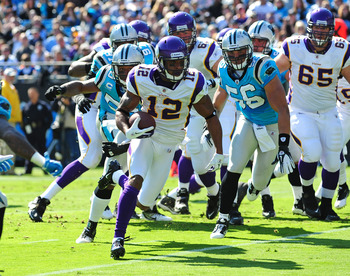 If Percy Harvin is in purple and gold on Sept. 9 he will be Minnesota's No. 1 receiver. If not, the position becomes that much weaker.
Scott Cunningham/Getty Images
This position, as a whole, was a problem before Percy Harvin's tantrum. Now...whoa Nelly!
The Vikings maintain that they will not trade Harvin, which is the right stance to take as of now, but if he stays, who knows if he'll give 100 percent (disputes with the front office often end in poor on-field performances).
Greg Childs wants to make himself the steal of the 2012 NFL draft—but he's a question mark just like Jarius Wright. Both receivers are rookies, and rookies are unreliable.
Devin Aromashodu has never been an impact player at the wide receiver position but has always had the potential. Potential is the word that gets coaches fired and drives fans insane.
Michael Jenkins has proven himself to be merely an average wide receiver in this league. He's worth having on a roster because he can make the basic plays, but don't expect much else from him.
Jerome Simpson is suspended for the first three games of the season but could be a breakout wide receiver in the NFL this season.
After that, the final one or two wide receiver spots will be given to Emmanuel Arceneaux, Stephen Burton, Kamar Jorden, A.J. Love and Bryan Walter. None of those receivers are expected to see the field too often this year, barring injury.
It's a position to keep an eye on, especially if Harvin is not in purple and gold on Sept. 9.
No. 1: Quarterback
In his rookie campaign Christian Ponder completed 54.3 percent of his passes for 1,853 yards with 13 touchdowns and interceptions.
Hannah Foslien/Getty Images
Christian Ponder is expected to be the long-term solution at the position, but he isn't at the point where he can lead Minnesota to the postseason yet.
Ponder showed promise in 2011.
He threw for 381 yards and three touchdowns against the Denver Broncos on Dec. 4. He completed 17-of-25 passes (68 percent completed) for 186 yards and one touchdown.
He also had his low points.
Against the Green Bay Packers on Nov. 14, Ponder threw an interception while completing 16-of-34 passes (47.1 percent completed) for 190 yards with an interception. On Nov. 20, he threw three interceptions while completing 57.6 percent (19-of-33) of his passes for 211 yards.
Ponder has the arm strength and the ability to make any throw but didn't handle the pass rush well in the pocket. He jumped the pocket too quickly but did throw well outside the pocket.
ESPN's Ron Jaworski ranked him as the 28th best quarterback in the NFL entering the 2012 season.
The former Florida State quarterback has the potential to develop into a top-tier quarterback, but he won't be there in 2012 and will be part of Minnesota's struggles in 2012.
Keep Reading

Minnesota Vikings: Like this team?