Spain vs. France Euro 2012 Match Report: Xabi Alonso Double Sends Spain Through
June 23, 2012

Martin Rose/Getty Images
A Xabi Alonso double on the night of his 100th cap was enough to guide Spain past a mediocre France and into the semi-finals of Euro 2012 on Saturday, 2-0.
The man who had never scored at a UEFA European Championship tournament until tonight powered an unstoppable header past Hugo Lloris in the first half before sealing the deal for Spain with a late penalty.
Vicente del Bosque decided to stick to his six midfielders formation with Cesc Fabregas playing the "ghost striker" role for Spain, while Fernando Torres and Fernando Llorente were both left on the bench.
Laurent Blanc, on the other hand, opted to move to a more defensively aligned 4-5-1 formation with Lyon right-back Anthony Reveillere making his first appearance in the tournament.
Blanc left Manchester City's Samir Nasri on the bench for the important tie, instead opting to put Mathieu Debuchy in the midfield to help provide support for the Lyon fullback.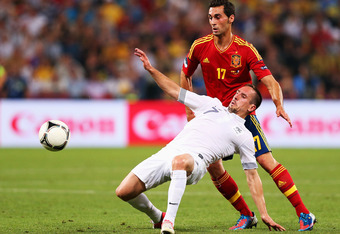 Alex Livesey/Getty Images
The French tactician's plan, however, failed to pay off and it was from France's right flank that La Roja opened the scoring.
The reigning World and European champions took control of the game immediately and were unlucky not to be awarded a penalty after six minutes when Fabregas was clumsily tripped by Gael Clichy as they chased a loose ball.
Eventually, as Spain prodded and probed France's defenses, cracks began to appear thanks to the work of Andreas Iniesta and David Silva.
Iniesta, on the left touchline, managed to find a streaking Jordi Alba on the overlap.  The Valencia left-back was able to beat a flailing Debuchy to the bye-line before lofting a pin point cross to the back post where he found an unmarked Xabi Alonso. The Madrid midfielder's header flew back past Lloris and into the bottom corner to give Spain an edge they would never look like losing.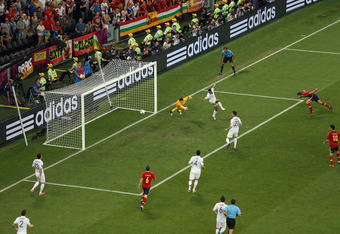 Jasper Juinen/Getty Images
The front four of Xavi, Fabregas, Iniesta and Silva continued to cause havoc in the midfield, their tici-taka style of football mesmerizing the French.
Iker Casillas was eventually forced into making a save on the half-hour mark on a Yohan Cabaye free kick shot toward the top corner, but Karim Benzema and Franck Ribery were unable to influence the game before the interval.
Blanc's men seemed to have renewed vigor after the break and Ribery in particular tried to run at, and harass Spain's back four. Benzema too looked more involved on the hour mark, but his final ball was lacking, as it often has throughout the tournament.
Spain continued to play their neat touchy football, but their ruthlessness in front of goal was replaced by their usual ambition to walk the ball into the back of the net.  Their defensive line, though, began to look stretched as France pushed forward
Chances became rare, with a Debuchy being one of few notable chances in the second half.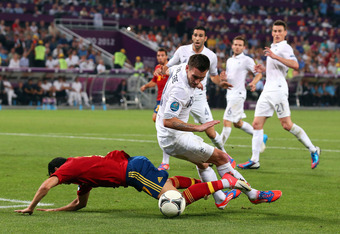 Alex Livesey/Getty Images
Both managers made tactical substitutions with Laurent Blanc first bringing on Jeremy Menez and Samir Nasri to try an up his side's attack, while del Bosque responded by bringing on Pedro and Torres as they looked for the killer blow.
The fresh changes seemed to cancel each other out as France cooled their jets and lost a sense of urgency and Spain became content to just play out the second half, keeping possession as much as possible.
Even the introduction of Olivier Giroud failed to find a more aggressive attacking threat as France looked tired and beaten in the closing minutes.
The night would belong to Spain, and it was the man making his 100th cap that would get to hammer the final nail into France's coffin.
Pedro's fresh legs were taken away from him by a clumsy challenge from Reveillere as he flashed through the French defense and Alonso stepped up to coolly tuck home the resulting penalty, doubling his, and Spain's, goal tally and sending his side through to a semi-final date with Portugal.