World Cup of Softball Schedule 2012: Dates, Times, Live Stream, TV Info and More
June 23, 2012

Mike Ehrmann/Getty Images
The seventh annual World Cup of Softball will bring the world's best fast-pitch action to Oklahoma City starting June 27. 
The U.S. will be battling to defend their title. They beat Japan in the 2011 championship game to win the crown, and they won't have to contend with the Japanese this time around.
Japan will not be in this year's event, but the U.S. will be joined by Australia, Brazil, Canada, Puerto Rico and Netherlands.
Last year's championship was the Americans' fifth in six tries. Canada took third in 20011 and Australia was fourth. They both are ready to give the U.S. a run for their money this year, and the Canadians actually beat the Americans in a preliminary game last year. 
These teams will be joined by newcomers Brazil and Puerto Rico—this is the first appearance in the World Cup for both. 
The championship game is scheduled to be held on July 2.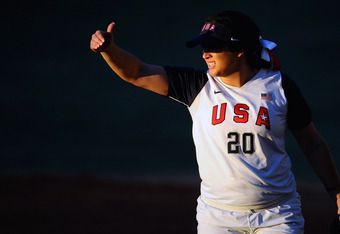 Dennis Grombkowski/Getty Images
The Americans will be expecting big things from Valerie Arioto. The former Cal standout is a fantastic hitter and pitcher. In 2010, her final season at Cal, she hit .333 with 19 home runs and driving in 60 RBI, but it is not just her hitting that should have U.S. fans excited. 
Arioto is also a fantastic pitcher. In that 2010 season at Cal she posted a 1.43 ERA with an impressive 264 strikeouts. 
Check out the schedule below complete with when and where you can catch the action on your TVs and computers.
Live Stream: ESPN will be live streaming select games on ESPN3.com (they will be noted below).
Schedule
Thursday, June 28 - Preliminary Day 1

Puerto Rico vs. Brazil at 10 a.m. on ESPN3.com 
Canada vs. Netherlands at 12:30 p.m. on ESPN3.com
Australia vs. Brazil at 3 p.m. on ESPN3.com 
USA vs. Puerto Rico at 7 p.m. on ESPN2 

Friday, June 29 - Preliminary Day 2

Brazil vs. Netherlands at 10 a.m. on ESPN3.com
Canada vs. Australia at 12:30 p.m. on ESPN3.com
Netherlands vs. Puerto Rico at 3 p.m. on ESPN3.com 
USA vs. Australia at 7 p.m. on ESPN 

Saturday, June 30 - Preliminary Day 3

USA vs. Netherlands at 1 p.m. on ESPN2
USA vs. Canada at 7 p.m. on ESPN 
Puerto Rico vs. Australia at 9:30 p.m. on ESPN3.com

Sunday, July 1 - Preliminary Day 4

USA vs. Brazil at 1 p.m. on ESPN2
Netherlands vs. Australia at 3:30 p.m. on ESPN3.com
Puerto Rico vs. Canada at 6 p.m. on ESPN3.com
Canada vs. Brazil at 8:30 p.m. on ESPN3.com

Monday, July 2 - Placement Round

Consolation Match No. 1 at 2 p.m. on ESPN3.com
Consolation Match No. 2 at 5 p.m. on ESPN3.com
Championship Match at 9 p.m. on ESPN2