2012 NBA Mock Draft: Teams Who Will Have to Make Tough Decisions on Draft Day
June 23, 2012
Streeter Lecka/Getty Images
The Charlotte Bobcats will have to make a tough decision Thursday when the 2012 NBA draft tips off. Charlotte finished the regular season with more losses than any other team in the NBA but missed out on the No. 1 pick in May's NBA Draft Lottery.
Now the Bobcats must decide who they will call upon at No. 2 to help turn around their luck. Charlotte isn't alone in the difficult-decision boat, however. 
Here is a look at my latest first-round 2012 NBA mock draft and teams who will be in store for some tough choices on draft night. 
*2012 NBA draft order courtesy of NBA.com.
1. New Orleans Hornets: Anthony Davis, Kentucky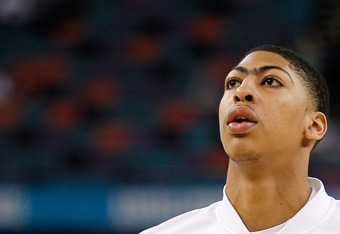 Chris Graythen/Getty Images
There will be no surprises on Thursday night when David Stern calls the first selection. 
2. Charlotte Bobcats: Thomas Robinson, Kansas
The Charlotte Bobcats will have to make the toughest decision of all on draft day as they pick No. 2 in a draft that features just one franchise-changing talent in Anthony Davis, who is expected to go first overall to the New Orleans Hornets. 
After Davis, the draft becomes far less predictable, and any number of prospects could go No. 2. At the moment, though, it seems Kansas' Thomas Robinson will be the second player taken on Thursday night. 
3. Washington Wizards: Bradley Beal, Florida 
Washington already has its point guard of the future but still needs a dominant 2-guard. Bradley Beal is their guy. 
4. Cleveland Cavaliers: Michael Kidd-Gilchrist, Kentucky
The Cavaliers would love to move up to No. 2 in this draft if they could because it would mean they could draft a solid backcourt player like Bradley Beal. They can still get a solid one at No. 4, though, in Kentucky's attacking Michael Kidd-Gilchrist. 
5. Sacramento Kings: Andre Drummond, Connecticut
The Kings could pair Andre Drummond with the talented DeMarcus Cousins to form a dominant frontcourt. 
6. Portland Trail Blazers (via Brooklyn Nets): Damian Lillard, Weber State
The Blazers need a point guard, and if Steve Nash isn't impressed enough with their roster to sign there this offseason, they will need to acquire one through the draft. 
7. Golden State Warriors: Harrison Barnes, North Carolina 
Harrison Barnes has all the physical attributes that scouts love, and that's why he will be a Top 10 pick this summer. 
8. Toronto Raptors: Dion Waiters, Syracuse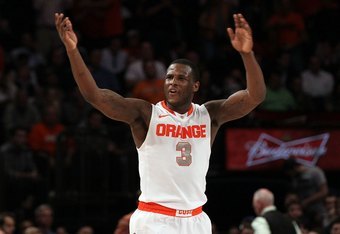 Jim McIsaac/Getty Images
Toronto will have some tricky decisions to make on draft night as they are one of the NBA's worst teams with plenty of holes to fill. The Raptors could use everything from a point guard to a big man.
Assuming that Harrison Barnes is off the board at No. 8, watch for the Raptors to take Syracuse's Dion Waiters, a player who can create his own shot and attack the rim with reckless abandon. 
9. Detroit Pistons: John Henson, North Carolina 
John Henson has some improving to do offensively and must get stronger if he is to hold his own in the NBA, but nonetheless he is a prospect with size and length that cannot be taught. 
10. New Orleans Hornets (via Minnesota Timberwolves): Kendall Marshall, North Carolina
The Hornets still haven't addressed the loss of Chris Paul at point guard. At No. 10, they can find a solid passer to feed Anthony Davis the ball for years to come in UNC's Kendall Marshall. 
11. Portland Trail Blazers: Terrence Jones, Kentucky
Terrence Jones can play small forward for a team that traded Gerald Wallace last season.
12. Milwaukee Bucks: Meyers Leonard, Illinois
After trading 2005's No. 1 overall pick Andrew Bogut to the Golden State Warriors at the trade deadline last season, the Bucks need to retool in the paint. Illinois' Meyers Leonard is a risky choice, but one with tons of potential.
13. Phoenix Suns: Terrence Ross, Washington
The Phoenix Suns will love the scoring prowess that Washington's Terrence Ross brings to the table. 
14. Houston Rockets: Arnett Moultrie, Mississippi State
Mississippi State's Arnett Moultrie is a relatively unknown prospect who can bring a gifted offensive presence to the NBA hardwood. 
15. Philadelphia 76ers: Tyler Zeller, North Carolina
The Sixers will have their eye on a big man this June, so why not North Carolina's Tyler Zeller? Zeller can run the floor better than most seven-footers. 
16. Houston Rockets (via New York Knicks): Jeremy Lamb, Connecticut
Jeremy Lamb's length makes him a unique prospect who will find a home right outside of the lottery.
17. Dallas Mavericks: Quincy Miller, Baylor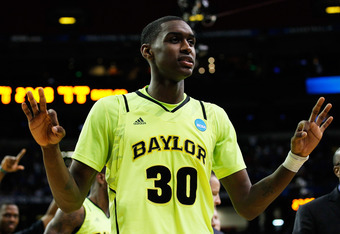 Kevin C. Cox/Getty Images
Dallas must get younger and more athletic if they are to challenge for the Western Conference throne in 2013. Enter Baylor's Quincy Miller. 
18. Minnesota Timberwolves (via Utah Jazz): Austin Rivers, Duke
The Timberwolves could use Austin Rivers as a score-first 2-guard, especially since they already have their point guard of the future in Ricky Rubio.
19. Orlando Magic: Jared Sullinger, Ohio State
The Orlando Magic will have to make a tough decision on draft night as they ponder the future of All-Star center Dwight Howard. The one they call Superman is likely finished in the Magic Kingdom, and that means Orlando should target a big man with their first-round pick.
There have been several concerns about Jared Sullinger's health as of late, but at No. 19 he is worth the risk, especially considering his production in two seasons at Ohio State. 
20. Denver Nuggets: Perry Jones III, Baylor 
Perry Jones' on-and-off play will likely cost him a spot in the lottery this summer. 
21. Boston Celtics: Andrew Nicholson, St. Bonaventure
The Boston Celtics are another team that will have to make a couple of difficult decisions on draft day. Boston is in the midst of rebuilding after missing out on the NBA Finals. Rajon Rondo and Paul Pierce will surely be back in Beantown next season, but the futures of Ray Allen and Kevin Garnett remain uncertain.
At No. 21, the Celtics could go with St. Bonaventure's Andrew Nicholson to help take over power forward duties for KG, whether he retires or leaves in free agency this offseason or next. 
22. Boston Celtics (via Los Angeles Clippers): Royce White, Iowa State
Royce White makes sense for Doc Rivers and the Celtics at No. 22. If any franchise can get the most out of White, it's Boston. 
23. Atlanta Hawks: Tony Wroten Jr., Washington
Point guard play is paramount to winning in the NBA, and the Atlanta Hawks could use a more dynamic floor general to get them over the hump in the first two rounds of the NBA playoffs. 
24. Cleveland Cavaliers (via Los Angeles Lakers): Moe Harkless, St. John's
Moe Harkless is relatively unknown by many, but he can attack the rim and score on his own, a trait that will take him far at the next level. 
25. Memphis Grizzlies: Doron Lamb, Kentucky
Kentucky's Doron Lamb is a knock-down three-point shooter who hit nearly 47 percent of his long-range jumpers last season. The Grizzlies need a boost from beyond the arc, and Lamb is their guy. 
26. Indiana Pacers: Evan Fournier, France
The Pacers will have a tough decision to make on draft night as they can opt to pick France's Evan Fournier and keep him overseas for a while, or draft a late-first round prospect who would be unlikely to produce a whole lot in his first season. 
Based on the win-now attitude in Indiana and their solid roster of role players, don't be surprised if the Pacers decide to go with the first option and take Fournier. 
27. Miami Heat: Fab Melo, Syracuse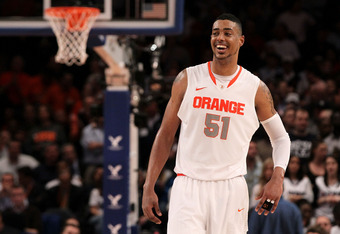 Jim McIsaac/Getty Images
The Miami Heat won the NBA title without a dominant shot-blocker, but that doesn't mean they won't need one next season. Fab Melo can develop into a dependable defensive presence next season.
28. Oklahoma City Thunder: Draymond Green, Michigan State
Draymond Green is a unique talent who can do it all on the basketball court. Green would be a solid addition to any team, but an especially nice complementary piece for the Thunder.
29. Chicago Bulls: John Jenkins, Vanderbilt
John Jenkins can provide the Bulls with another brilliant outside shooting touch. 
30. Golden State Warriors (via San Antonio Spurs): Scott Machado, Iona
After trading Monta Ellis to Milwaukee last season, the Golden State Warriors could use a change of pace at point guard. Iona's Scott Machado can pass as well as any point guard available this June, and he also shoots the ball at a high percentage. 
Follow Patrick Clarke on Twitter for more on the 2012 NBA draft.