2012 NHL Draft: Grading and Analyzing Each Philadelphia Flyers Selection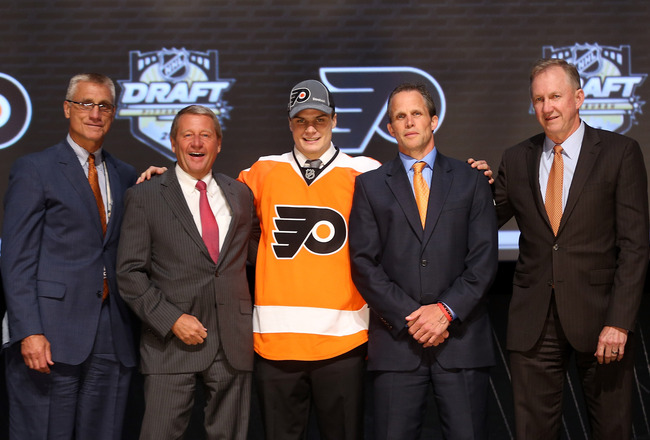 Bruce Bennett/Getty Images
The Philadelphia Flyers made a splash before the draft, trading goalie Sergei Bobrovsky to Columbus for their second and two fourth round picks.
The Flyers were the subject of multiple draft-day rumors, including trades involving some combination of Bobby Ryan, Rick Nash and James van Riemsdyk. But no moves were made, and the Flyers stayed at the 20 slot.
After that, the Flyers had six more picks to try to find some NHL-caliber talent. They made a few interesting decisions but also got some good value.
Here is analysis and a grade for each of the Flyers' draft picks.
Round 1 (20): Scott Laughton, C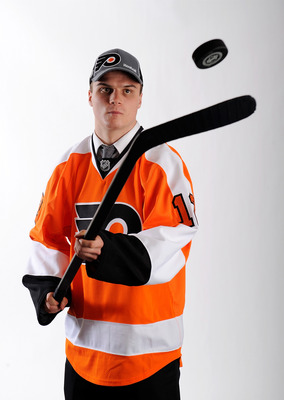 Jamie Sabau/Getty Images
When Holmgren announced that the Flyers had selected Laughton, many people, including myself, did a bit of a double take. Nobody had linked Laughton with the Flyers before the draft, but the pick makes sense in many ways.
Laughton is a two-way center who never gives up on a play. His style of play will fit in very well in Philadelphia. He played last season for the Oshawa Generals of the OHL and tallied 21 goals and 32 assists last season.
The hardworking Laughton also registered 101 penalty minutes for the Generals. Though the Flyers passed on a few good defensemen to take him, the selection makes a lot more sense now that the Flyers have traded James van Riemsdyk to Toronto for defenseman Luke Schenn.
Grade: This was a B earlier today, but after the trade for Schenn, I'll make it a B+.
Round 2 (45): Anthony Stolarz, G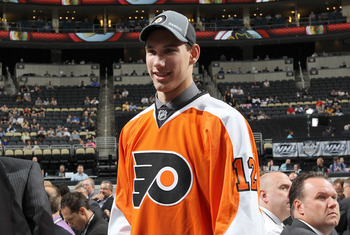 Bruce Bennett/Getty Images
Stolarz is a goalie from the Corpus Christi Ice Rays of the NAHL. After being cut by two Eastern Junior Hockey League teams last year, Stolarz went to an open camp and worked his way onto the Ice Rays this past season.
He started 50 games for Corpus Christi and was impressive enough to be the only NAHL player invited to the NHL Combine. The New Jersey native was ranked as the fourth North American goalie by Central Scouting.
At 6'5", Stolarz says he models his game after the Nashville Predators' Pekka Rinne. The netminder is committed to the University of Nebraska-Omaha and flew straight from the draft to begin his training there.
Grade: B
Round 3 (78): Shayne Gostisbehere, D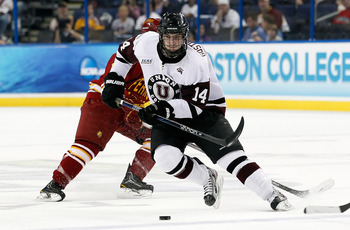 J. Meric/Getty Images
Gostisbehere is a defenseman from Union College in New York. He is a little undersized at 5'11", 160 lbs but is a good skater and has great stick skills.
The kid they call "Ghost" had 13 points in the team's final 16 games this past season and was an ECAC Hockey All-Rookie Team selection. Gostisbehere is only the sixth player to ever be drafted out of Union, but don't expect the feisty defenseman to be intimidated.
Gostisbehere was invited to the USA Hockey National Junior Evaluation Camp this August in Lake Placid, N.Y, where he will be auditioning for a roster spot on the U.S. National Junior Team that will play in the 2013 International Ice Hockey Federation World Junior Championship.
Grade: B+
Round 4 (111, 117): Fredric Larsson, D and Taylor Leier, LW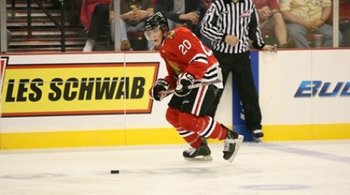 LW Taylor Leier--Image courtesy of winterhawks.com
Larsson is a relatively unknown defenseman from Brynas IF team in Sweden. After looking him up and finding almost nothing other than this profile, I have to rely on Bill Meltzer's tweet of his scouting report.
In it, Meltzer tweeted that "Fredde Larsson is one of the more physical defensemen in the Swedish junior leagues. Big frame, high PIMs, low points." So the verdict is still out on Larsson.
Leier is a left winger from the Portland Winterhawks of the WHL. He scored 13 goals and added 24 assists in 72 games for the Winterhawks this past season.
Although only 5'11", Leier is pretty stocky at 178 lbs and is not afraid to drop the gloves. He should compete for a top-line spot on the Phantoms next season.
Grade Larsson: C+
Grade Leier: B+
Rounds 5 and 7 (141, 201): Reece Wilcox, D and Valeri Vasiliev, D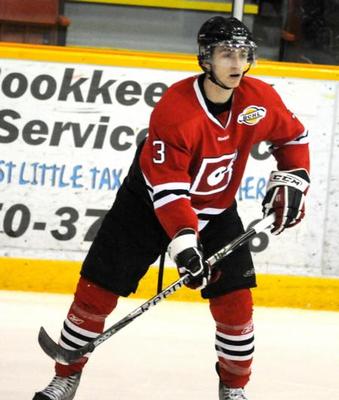 D Reece Wilcox--Image courtesy of centscentral.blogspot.com
Wilcox is a defenseman for the Merritt Centennials of the BCHL. This past season, he was named to the BCHL Interior Conference Second All-Star team.
The 18-year-old is committed to play for Cornell next year and has the potential to develop into a solid defenseman. At 6'2", 185 lbs, Wilcox has the frame to bulk up and be a real force for Cornell. He could come in and surprise people in Adirondack when he decides to make the jump from the NCAA.
Valeri Vasiliev is a defenseman from Spartak Moscow in the Russian Junior League. A stay-at-home defenseman, Vasiliev has an NHL body but probably does not have a real chance to make it to the NHL.
He was injured this past season, and if he recovers fully then his combination of size and mobility may land him a spot in Adirondack if he doesn't stay in Russia.
Grade Wilcox: B+
Grade Vasiliev: C+
Keep Reading

Philadelphia Flyers: Like this team?