Predicting All 35 College Football Bowl Games Heading into Summer
Chris Graythen/Getty Images
The heat of summer may be on, but it's never too early to start looking at bowl season.
It may be a little early to book your hotel and buy your tickets, though—that is unless you're a fan of BYU or Navy. However, looking at where your team might end up can't hurt.
And now that the college presidents in charge of the postseason have approved a playoff starting next season, the days of the BCS are numbered.
So, where will your favorite team end up after the 2012 season? Read on.
New Mexico Bowl: Fresno State vs. Bowling Green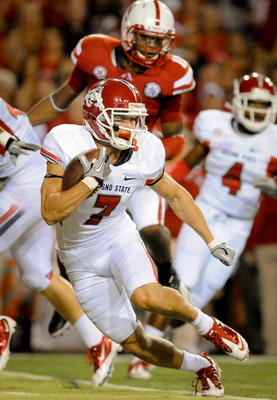 Eric Francis/Getty Images
Fresno State should be able to make it to a bowl game in their first season without Pat Hill on the sideline.
But only just.
They'll face a Bowling Green team that will have to sweat it out a bit in hoping for a bowl invite due to the MAC's limited bowl tie-ins.
Famous Idaho Potato Bowl: NIU vs. La Tech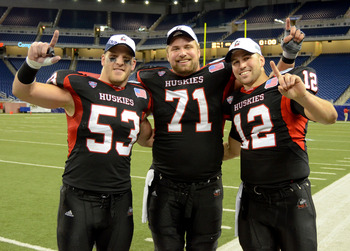 Mark A. Cunningham/Getty Images
The WAC has only one firm bowl tie-in left, and La Tech should be the one taking it before leaving for C-USA next season.
Of course, the WAC won't have any tie-ins in 2012, as there won't be a WAC.
They'll face the post-Chandler Harnish NIU. If this matchup does come to pass, this might be one to skip...
Poinsettia Bowl: Air Force vs. Brigham Young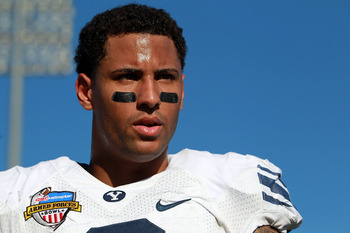 Ronald Martinez/Getty Images
There's only two unlikely scenarios where BYU doesn't end up in San Diego.
1. The Cougars fail to become bowl eligible. That hasn't happened yet under Bronco Mendenhall, and it won't happen this season.
2. BYU runs the table for the first time since 1984 and busts the BCS for the first time. With road games at Utah, Boise State, Georgia Tech and Notre Dame, I wouldn't count on that either.
So BYU fans, go ahead and plan your trip to the Poinsettia Bowl now.
The Cougars will likely get old MWC rival Air Force. So, BYU's bowl game is going to be what used to be a typical conference game?
Honestly, that's not very appealing.
Beef 'O' Brady's Bowl: Pitt vs. Southern Miss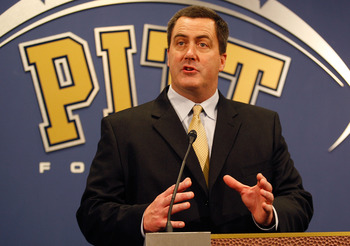 Jared Wickerham/Getty Images
I really feel sorry for the players at Pitt. They've had so many different coaches over the last couple of years, the most disappointing being Todd "Texting is the Best Way to Break-Up" Graham.
Paul Chryst is going to have a tough time earning the players trust after all that, but I do expect Pitt to come together enough to get here.
Meanwhile, Southern Miss has some adjusting to do with a new head coach and a new starting quarterback after taking the C-USA championship away from Houston. Still, C-USA isn't exactly the SEC, so they should get to this bowl game without too much problem.
New Orleans Bowl: Tulsa vs. FIU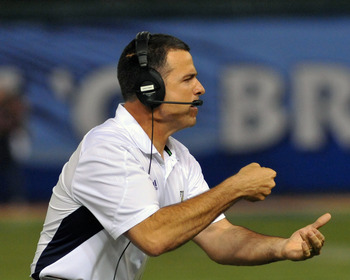 Al Messerschmidt/Getty Images
Mario Cristobal hasn't been poached away by a bigger name program as of yet, so until someone else picks him up FIU will continue to make it to bowl games.
This time, the Golden Panthers are projected to take on the Tulsa Golden Hurricane. Fitting to find all this gold in New Orleans...
Maaco Las Vegas Bowl: Boise State vs. Cal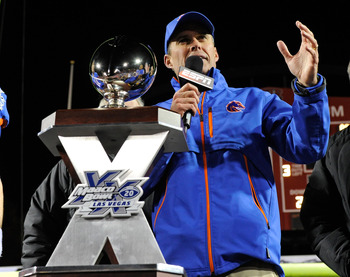 Ethan Miller/Getty Images
Chris Petersen and Boise State are facing a rebuilding year as only three starters return from last year, but the Broncos shouldn't have too much problem making it back to Vegas.
Except this year, it won't be a gross disappointment, as Boise State won't have high BCS bowl hopes.
Meanwhile, Cal should make it here as well, but it may be without a head coach. Jeff Tedford is clearly on the hot seat, and making it to the Maaco Las Vegas Bowl probably won't be enough to save his job.
Hawaii Bowl: UCF vs. Hawaii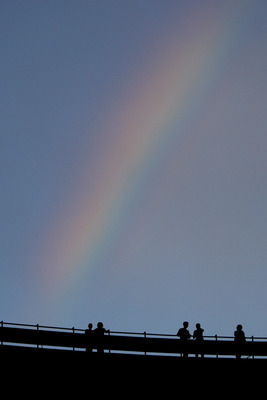 Kent Nishimura/Getty Images
The Hawaii Bowl is essentially an extra home game for Hawaii if they can make it to six wins. That's going to be a bit tricky this season with the Warriors breaking in a new quarterback, but they'll still be there.
While playing in Hawaii is routine for the Warriors, UCF should enjoy their stay in the islands. Out of all the meh bowl games, this one is certainly a good one to try for.
Little Ceaser's Bowl: Ohio vs. Utah State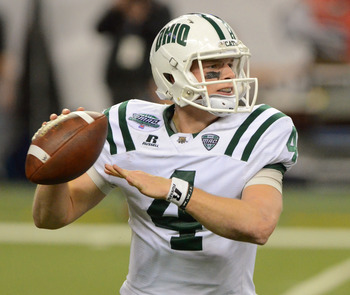 Mark A. Cunningham/Getty Images
Sound familiar? It should.
Last season, these two teams met in the Famous Idaho Potato Bowl. Tyler Tettleton found a way to lead his team to victory like he had all season with a last-second score.
Utah State, on the other hand, found a way to lose at the last second like they had all season.
It would be an interesting rematch to be sure.
Belk Bowl: Notre Dame vs. NC State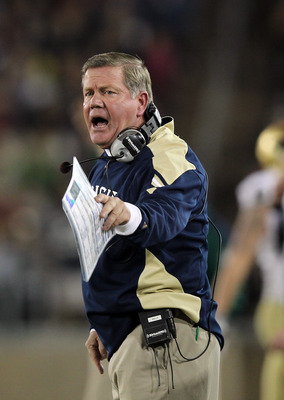 Ezra Shaw/Getty Images
Will Brian Kelly and Notre Dame finally break through and make it back to a BCS bowl?
In a word: No.
Instead, the Fighting Irish will have to settle for the Belk Bowl, as they can only go to the Russell Athletic Bowl once every four years.
Notre Dame will face NC State, one of the ACC's most resilient teams.
Military Bowl: East Carolina vs. Toledo
Streeter Lecka/Getty Images
While Army has the automatic bid here, I doubt that the Black Knights will get the six wins required to claim this spot.
Toledo should thank their lucky stars if this does happen. The MAC just doesn't have enough bowl tie-ins for all the teams that get bowl eligible.
Meanwhile, East Carolina needs to figure out life without Skip Holtz. However, they'll do at least good enough to get here.
Holiday Bowl: Kansas State vs. Washington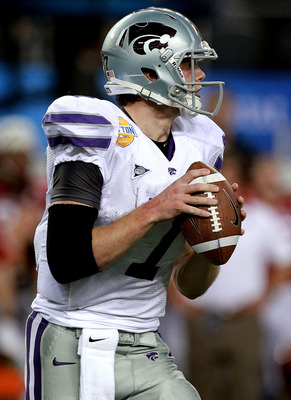 Ronald Martinez/Getty Images
Colin Klein and the Wildcats took some Big 12 teams by surprise last season, but it's going to be much harder for Kansas State to do the same this year.
That is, unless Klein can develop his throwing arm a bit more.
Keith Price and Washington have shown us that the Huskies can score a lot of points, but their suspect defense lost them some games. I think this would be a pretty even matchup if indeed this happens.
Independence Bowl: Miami (FL) vs. Nevada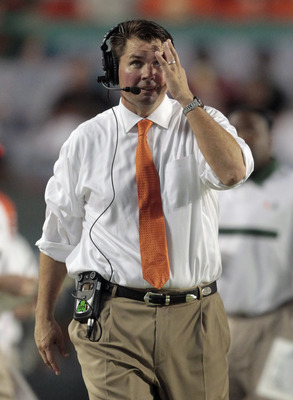 Joel Auerbach/Getty Images
We still don't know how the NCAA will rule on the Nevin Shapiro allegations against Miami, but for the purposes of this sideshow we'll suppose that the Hurricanes don't get a bowl ban.
Miami has a lot of young talent, but they'll need a bit more seasoning before they can compete for an ACC title. A bowl game against Nevada's pistol offense should help...if they're allowed to go.
Meineke Car Care Bowl of Texas: Baylor vs. Penn State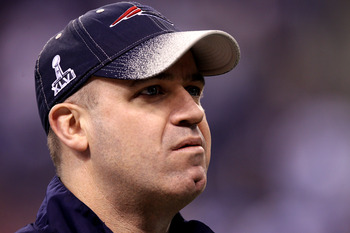 Elsa/Getty Images
Bill O'Brien's first year as head coach at Penn State is going to be anything but easy. The Sandusky scandal and the loss of Joe Paterno has deeply hurt the Nittany Lions, and it's going to take some time to heal.
A bowl win should help.
On the other hand, Baylor is coming off one of the most successful seasons in their history, but they've got to figure out how to win without their first and only Heisman Trophy winner.
Russell Athletic: Clemson vs. Rutgers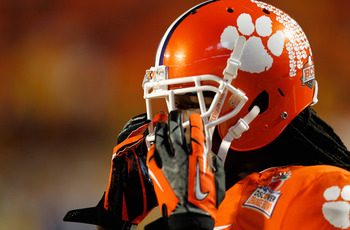 Mike Ehrmann/Getty Images
Clemson hasn't made a decision yet about if and how long star wide receiver Sammy Watkins will be suspended after getting arrested, and Dabo Swinney has certainly left some wiggle room for his return.
However, even with him back I doubt that the Tigers have the defense it would take to return to a BCS bowl.
Nonetheless, Clemson should have no problem getting revenge on the Big East by beating poor Rutgers if this should happen.
Pinstripe Bowl: Texas Tech vs. Cincinnati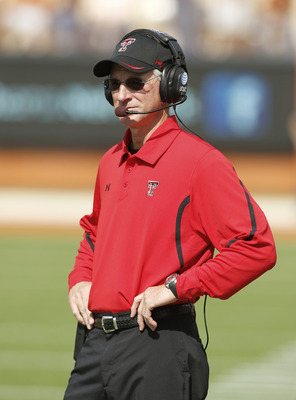 Erich Schlegel/Getty Images
Tommy Tuberville and Texas Tech have their offense figured out as they were No. 26 in points scored, but they also are in the bottom 10 in scoring defense. If they can just elevate their defense out of the basement, the Red Raiders might be a more dangerous team and get to a better bowl.
Cincinnati is just one of a lot of meh teams in the Big East sans West Virginia. They've got an uphill battle to face if they're going to beat that "Big (L)East" stigma.
Insight Bowl: Oklahoma State vs. Northwestern
Bob Levey/Getty Images
Pat Fitzgerald has done a minor miracle by getting the Wildcats to four straight bowl games. Unfortunately, Northwestern has gone 0-4 in those games.
However, I got a feeling that they'll get another shot for that elusive first bowl win against Oklahoma State. However, getting this win won't be easy even though Brandon Weeden and Justin Blackmon are gone to the NFL.
Alamo Bowl: Utah vs. TCU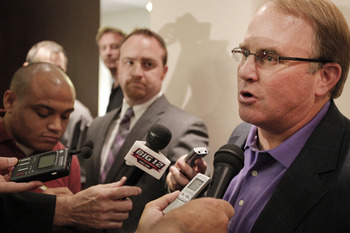 Brandon Wade/Getty Images
How about this for a reunion of former MWC rivals?
I'm sure Gary Patterson and Kyle Whittingham would like to face off in a BCS bowl, but the Alamo Bowl certainly isn't a bad bowl game. And who knows? Maybe in this future playoff system the Utes and Horned Frogs will meet in a semifinal or even a national championship game.
But for now, the Alamo Bowl will do, and this will still be a great game to watch.
Armed Forces Bowl: Houston vs. Wyoming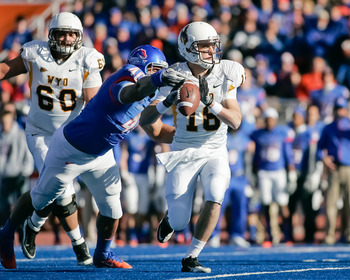 Otto Kitsinger III/Getty Images
Wyoming was a bit of a surprise last season. They certainly weren't top notch, but they still won eight games and came in third in the Mountain West behind Boise State and TCU.
Freshman Brett Smith gives the Cowboys at least some cautious optimism, although historically Wyoming doesn't maintain success very well.
They'll face a Houston team looking to move on after losing perhaps their best quarterback of all time in Case Keenum as well as head coach Kevin Sumlin. All things considers, this could be an even fight.
Kraft Fight Hunger Bowl: UCLA vs. Navy
Rob Carr/Getty Images
If you're a fan of the Midshipmen, you might as well make your travel arrangements to go to the Kraft Fight Hunger Bowl. Navy is the kind of team under Ken Niumatalolo that you can count on to win six games but just don't have the firepower to bust the BCS.
On the other side, Jim Mona may not be ready to break USC's monopoly on L.A. football. However, an appearance in the Kraft Fight Hunger Bowl is certainly feasible.
Music City Bowl: Virginia vs. Missouri
Jamie Squire/Getty Images
Gary Pinkel and Missouri are going to find things a bit difficult in their new home in the SEC, but they still should be able to make it to the Music City Bowl. Pinkel is just too good a coach to let his team give in to the pressure.
Virginia is a team on the rise in the ACC. Mike London seems to have the Cavaliers going in the right direction, which means another bowl game is in order.
Sun Bowl: Georgia Tech vs. Stanford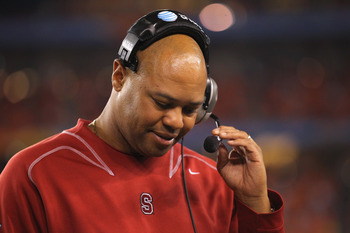 Doug Pensinger/Getty Images
After an amazing run as a top-10 team the last two years running, it's time to see what Stanford is made of without Andrew Luck.
I don't think it'll be top-10 quality in year one, but who knows what the Cardinal will be in 2-3 more years.
Georgia Tech continues to wear down defenses with their old school triple option, but I think that ACC defenses are starting to get accustomed to it. They'll need to add a few new wrinkles to win their division.
I wonder how the Cardinal would deal with the Yellow Jackets if this game were to happen...
Liberty Bowl: SMU vs. Vanderbilt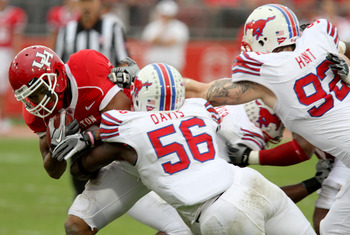 Thomas B. Shea/Getty Images
SMU is on the verge of doing something special, as they might win a conference championship for the first time since they got the NCAA's "death penalty." A trip to the Liberty Bowl would be their reward if they can pull it off.
Vanderbilt is also doing unprecedented things under James Franklin. The Commodores have never been to back-to-back bowl games, and 2012 might be the year they do just that.
Chick-fil-A Bowl: Auburn vs. Virginia Tech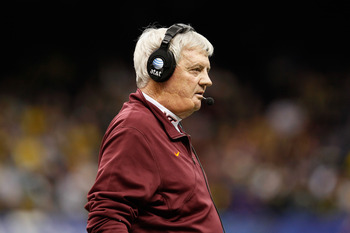 Kevin C. Cox/Getty Images
You can count on Frank Beamer's Hokies to win 10 games year in and year out. Yes, Virginia Tech doesn't have David Wilson anymore, but Beamer's consistency is unparalleled.
Auburn, on the other hand, is building its way back up to a national championship after winning in 2010. It's going to take a bit longer, but the Tigers do seem to be going in the right direction.
If only they could just find a reliable quarterback...
TicketCity: Purdue vs. San Jose State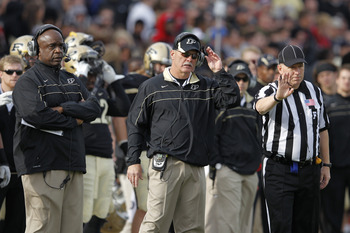 Joe Robbins/Getty Images
Purdue got to a bowl game last season by the skin of their teeth, including an OT win over Ohio State. Similarly, they won the Little Caesar's Bowl by a mere five points.
It looks like the Boilermakers like to live on the edge, and I expect them to do so again next season.
And while normally you wouldn't expect San Jose State to make a bowl game, this team has what it takes (in their case a soft schedule...) to make it to six wins.
Capital One Bowl: Alabama vs. Michigan State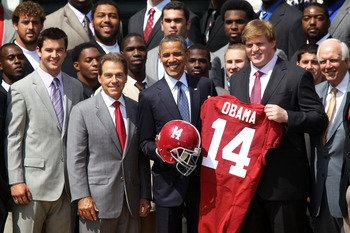 Alex Wong/Getty Images
Lately, it looks like the Nick Saban model of playing football involves winning the national championship every other year.
Step one: You win the national championship with an extremely talented team.
Step two: You watch as most of those talented players leave for the NFL after winning the national title.
Step three: You take one year to season the young talented players that remain.
Step four: You finally win the national championship again.
Gator Bowl: Iowa vs. Florida
Scott Halleran/Getty Images
Will Muschamp shot himself in the foot by hiring Charlie Weis as his offensive coordinator. Weis stuck around only one year before he took a head coaching job at Kansas.
While Muschamp begins his head coaching career, it may be time for "Captain" Kirk Ferentz to start thinking about bringing his to a close. The Hawkeyes have the talent to do so much more in the Big Ten, but they seem to underachieve.
Maybe this year will be different.
Outback Bowl: Nebaska vs. South Carolina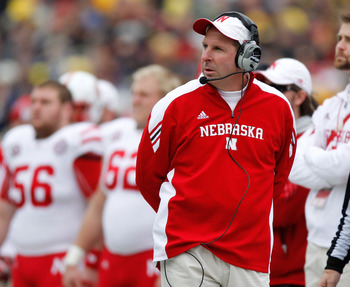 Gregory Shamus/Getty Images
Holy deja vu, Batman!
You know, Bo Pelini and Steve Spurrier are a lot alike in that they have their respective programs so close to BCS glory. Still, I think anyone who saw these two teams take on each other last year would agree that Spurrier is closer than Pelini.
Will that still be the case at the end of this season? We just might be able to find out.
Cotton Bowl: Texas vs. Arkansas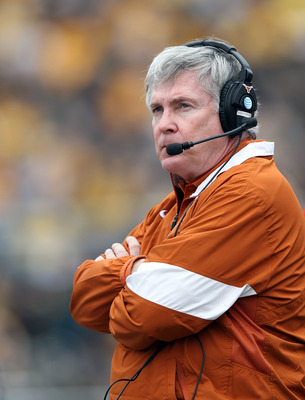 Jamie Squire/Getty Images
Time is running out for Mack Brown. He's got to take the Longhorns back to glory or he's going to be put out to pasture.
While the Cotton Bowl isn't a BCS bowl, getting here and winning certainly would be enough glory for Brown to live to coach another year.
Arkansas has BCS-level talent but they don't have a great head coach anymore, as Bobby Petrino is gone. Still, I wouldn't underestimate the Razorbacks. Knile Davis and Tyler Wilson headline what might be the best offense in the SEC.
BBVA Compass Bowl: South Florida vs. Mississippi State
Al Messerschmidt/Getty Images
After going 4-0 in their first four games last season, the Bulls would go on to win only one game in the Big East.
That's precisely why the Bulls stayed home last bowl season.
South Florida should be back, and they'll have some fun taking on Mississippi State in Birmingham. Whether or not Mississippi State has the same level of fun is debatable.
GoDaddy.com Bowl: Western Michigan vs. University of Louisiana Lafayette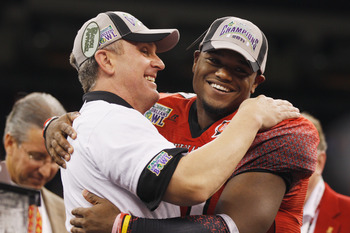 Chris Graythen/Getty Images
After an entertaining win in last year's New Orleans Bowl, the Ragin' Cajuns should be ready for more. However, they won't have the benefit of taking on Western Michigan in the Big Easy.
Still, they'll definitely be more at home in Mobile, Alabama, than the Broncos will.
Orange Bowl: Florida State vs. Louisville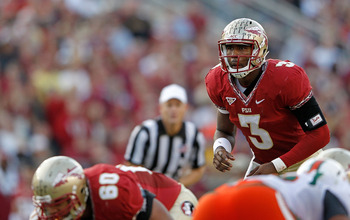 Mike Ehrmann/Getty Images
It's coming a year late, but E.J. Manuel and Florida State should be making their big return to a BCS Bowl.
As they say, better late than never.
The Seminoles should have no problem beating up projected Big East champ Louisville. We'll probably see a repeat of 2010 in which the Big East champion ends the season outside of the top 25.
Rose Bowl: Michigan vs. Oregon
Matthew Stockman/Getty Images
It took just a single season for Brady Hoke to take Michigan to a BCS bowl and win.
With Ohio State on a bowl ban, Michigan appears to be the favorite to win the Big Ten and play in the "Granddaddy of them All" with Denard Robinson back for one more year.
And they'll likely face defending Rose Bowl champion Oregon. The Ducks will likely face USC in the Pac-12 championship game. If they beat the Trojans, they'll likely end up here. If they lose, they'll still likely end up here if USC goes on to play for the national championship.
Sugar Bowl: Georgia vs. West Virginia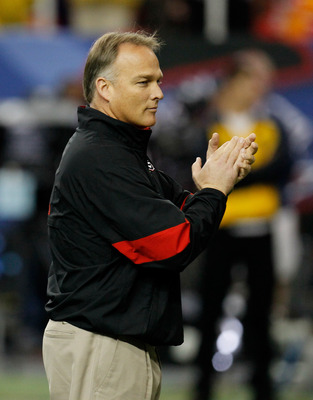 Kevin C. Cox/Getty Images
Amazing to think that Georgia head coach Mark Richt was on the hot seat just one year ago. Now, the Bulldogs look like a top-five team coming into 2012 with a great and balanced high-powered offense led by Aaron Murray and terrific defense anchored by Jarvis Jones and Bacarri Rambo.
They probably won't win the SEC, but they're certainly capable of winning the SEC East. And if they manage to not get totally killed by whoever wins the West (likely LSU again), the Sugar Bowl just might be in their future.
The Bulldog defense would surely be tested by new Big 12 member West Virginia. The Mountaineers just might steal the show in their new conference, and they just might be able to upstage Georgia if the Bulldogs aren't too careful.
Fiesta Bowl: Oklahoma vs. Wisconsin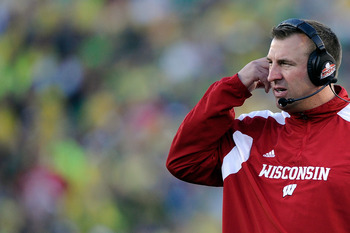 Kevork Djansezian/Getty Images
Wisconsin has become a common guest in the BCS since Bret Bielema took over as head coach. However, he's still looking for that elusive first BCS win.
With Montee Ball back, I've got a sneaking suspicion that Bielema will get another shot at winning a BCS bowl in 2012.
And while I doubt that Oklahoma will win a national championship in 2012, the Sooners should once again accomplish what they excel at:
Winning the Big 12 and getting an automatic BCS bid.
BCS National Championship Game: LSU vs. USC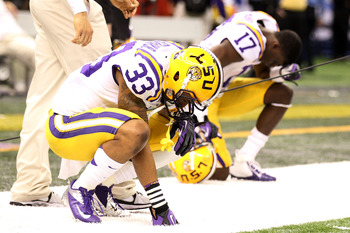 Andy Lyons/Getty Images
After a disappointing end to what could have been a championship season, I expect LSU to rebound strong. They have the best defense coming into the 2012 season, and defense wins championships.
Nowhere is that more true than in the SEC.
After last season's drop in TV ratings, I don't expect another SEC vs. SEC national championship game, so the Tigers will probably take on USC.
After serving a two-year bowl ban, the Trojans have the offense to run the table. With Matt Barkley and Robert Woods both coming back, USC just might have the best offense in the nation.
Could we see the No. 1 defense take on the No. 1 offense? Sounds like a winner to me.
Keep Reading