2012 NHL Draft Picks: New York Islanders and Teams That Bolstered Their Defense
June 23, 2012

Bruce Bennett/Getty Images
With the 2012 NHL draft in the books, the time to analyze which teams made the biggest improvements on defense is upon us.
Not every team had to target defenders, but the teams that did were forced to go through dozens of potential busts before finding the right fit. The New York Islanders and other teams did that to perfection.
All of the following teams have to be considered winners after their impressive showing at the draft. For complete 2012 NHL draft results, check out NHL.com's tracker.
New York Islanders
No. 4 Overall: Griffin Reinhart, D, Edmonton Oil Kings (WHL)
Not only did the New York Islanders snag the best pure defender in the 2012 NHL draft with Griffin Reinhart, the trade that brought defenseman Lubomir Visnovsky has helped them enter a possible era of playoff contention.
As for Reinhart, the big defender stands 6'4" and weighs in at 200 pounds—not to mention his lineage with his father, Paul Reinhart, being a long-time NHL defender.
While he isn't the smoothest-skating defender in the draft, his skills will be an incredible asset to the Islanders. Reinhart might not come to the Islanders in 2012, but the move is smart for the future.
Columbus Blue Jackets
No. 2 Overall: Ryan Murray, D, Everett Silvertips (WHL)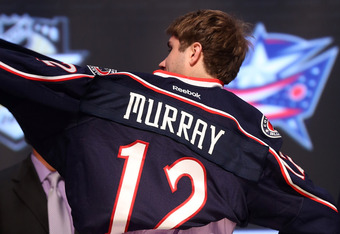 Bruce Bennett/Getty Images
With the Columbus Blue Jackets' obvious consideration of rebuilding, the need to build from the foundation up was clear. That's why the team took the safest pick at No. 2 in Everett Silvertips defender Ryan Murray.
Murray will be ready to join the team as soon as he can, and he will be an instant improvement to depth and skill.
Columbus must give the young star plenty of help to ensure that he doesn't burn himself out trying to do too much. The team is going into long-term rebuild mode, so Murray will have time to develop into the star most experts believe he can be.
Minnesota Wild
No. 7 Overall: Mathew Dumba, D, Red Deer Rebels (WHL)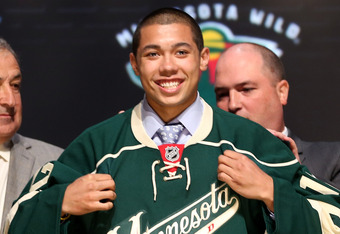 Bruce Bennett/Getty Images
The Minnesota Wild drafted themselves one of the most intriguing of all the defensive prospects in the 2012 NHL draft with Red Deer Rebels star Mathew Dumba.
Dumba is by far the rawest prospect on this list, but his talent and upside are higher than anyone coming out this season. If the Wild can cater to his needs and develop their young star properly, he will rise to the upper echelon of defenders.
Minnesota needed to upgrade their defense in a big way, and the drafting of a potential All-Star like Dumba is a great start. If the Wild can take advantage of free agency, there is no doubt that they could contend for a playoff spot.
Check back for more on the National Hockey League as it comes, and don't miss Bleacher Report's NHL page to get your fill of all things hockey.