Nail Yakupov: Young Star Will Make Oilers Offense Dangerous
June 23, 2012

Bruce Bennett/Getty Images
With the first overall pick of the 2012 NFL draft, the Edmonton Oilers drafted right winger Nail Yakupov, and with that one decision, they instantly made their offense incredibly dangerous.
To be fair to the Oilers, they were already working with a decent offense before they decided to draft Yakupov, especially on the power play. With this pick, they've really put themselves in a great position for an all-around dangerous offense in 2012.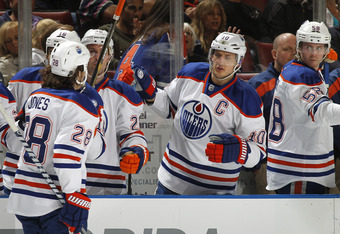 Joel Auerbach/Getty Images
In 2011, the Oilers could really hang their hat on one thing, and that was the power play. They ranked third in the NHL with a 20.6 power-play percentage, and when you consider they only scored 2.5 goals per game, it was obviously a very important aspect of their offense.
By drafting Yakupov, not only did they set their offense up for more success in 2012, but they also fortified an already strong power play.
What Does Yakupov Bring to the Table?
Yakupov is a dangerous left-handed shooter who's going to bring a huge scoring touch to the Oilers' offense. He scored 69 totals points for his OHL club, Sarnia, in 2011-12, which included 31 goals and 38 assists, and this was in only 42 games due to injury.
For those worried that those numbers were a fluke, he put up 49 goals and 52 assists in 65 games in 2010-11. Two years of high-octane scoring is enough proof for me, and obviously, it was enough for the Oilers to take him No. 1 overall.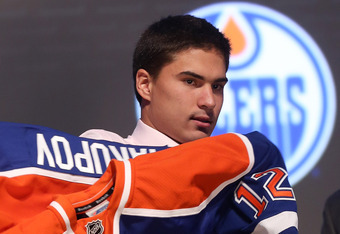 Bruce Bennett/Getty Images
If he can even bring half of that production to the Oilers, he's going to be a huge addition to the offense, but fans should be most excited for the potential addition he can bring to the power play. He led Sarnia with 12 power-play goals in 2011-12. Adding him to an already dangerous power-play group could give Edmonton the best power play in the NHL.
That, plus the improvement that he can bring to the team's regular offensive game, had to have made this an easy pick for the Oilers.
Yakupov may be young, but he's going to be a star in the NHL. The Oilers are going to be very dangerous offensively in 2012 because of his addition.