2012 NHL Draft Grades: Capitals and Teams That Hit Home Runs in 1st Round
June 23, 2012

Bruce Bennett/Getty Images
The Washington Capitals were one team that did very well in the first round of the 2012 NHL Draft.
The Capitals drafted players who have immense talent and will address weaknesses on their roster. It doesn't get much better than that.
Let's look at three teams that hit a home run in the first round of the draft.
The Penguins were able to add the No. 8 pick in the draft to their arsenal thanks to a trade with the Hurricanes that centered around Jordan Staal going to Carolina. They also had the 22nd overall pick.
Pittsburgh addressed their weakest position with their first-round picks by drafting two defenseman, Derrick Pouliot (No. 8) and Olli Maata (No. 22).
Both are impressive offensive players and will be able to give the team what veteran Paul Martin couldn't last season, and that's reliable scoring from the blue line.
The Penguins made two smart choices with their first-round picks.
Grade: B+
Buffalo Sabres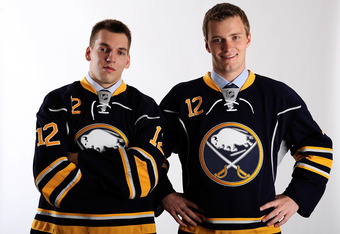 Jamie Sabau/Getty Images
The Buffalo Sabres must have been full of joy when top center prospect Mikhail Grigorenko fell to them at No. 12. He will help the players around him be much more productive offensively.
With the 14th pick the Sabres took Zemgus Girgensons, who is another sensational goal scorer at the center position.
Whenever a team selects two top six centers in one round, that team has done well at the draft.
Grade: A
Washington Capitals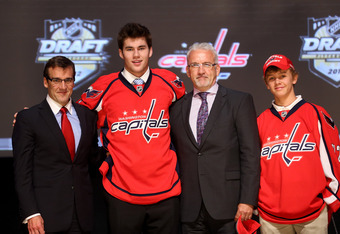 Bruce Bennett/Getty Images
The Capitals drafted two players who will be top six power forwards for a long time at the NHL level.
They were incredibly lucky that Filip Forsberg fell to them at No. 11. He was considered by many as the third or fourth best player in this draft. I thought he was the second best forward in this class. This player will be a 35-plus goal scorer early in his career and will make a very dangerous combo with Alexander Ovechkin.
With the No. 16 pick, Washington chose Tom Wilson from the Plymouth Whalers, whose draft stock had risen in the last few weeks. He's one of the biggest forwards in this draft class and is not afraid to drop the gloves if necessary.
The Capitals will be a much better team over the next few years thanks to these two great first-round selections.