Freddie Roach and the Best Trainers of All Time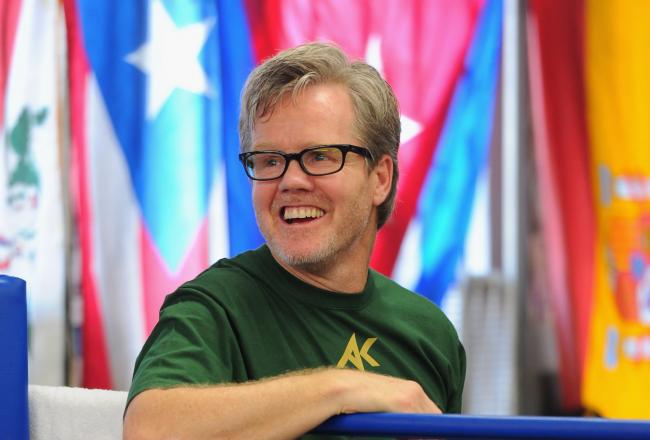 Freddie Roach is one of the best trainers of all time.
Alberto E. Rodriguez/Getty Images
Today, Freddie Roach is viewed as a magical boxing shaman. He's the trainer of choice, the Yoda that fighters climb to the mountain top and seek out to cure their problems, detect any slight flaw and smooth their technique.
There's no doubt Roach is a Hall of Fame trainer, freshly minted as part of the newest class that was inducted into the International Hall of Fame in Canastota, N.Y.
But is Roach the best trainer ever?
Even Roach himself wouldn't admit that.
Here's a list of the top 10 boxing trainers of all time.
1. Eddie Futch
There would be no Roach without Futch, who trained Joe Frazier, Larry Holmes, Ken Norton and Alexis Arguello. Perhaps one of Futch's more stirring moments came in a loss, when he told the brave, courageous, swollen Frazier before Round 15 in the "Thrilla in Manila" in his soft voice that "It's all over. No one will forget what you did here today."
Roach wouldn't be the trainer he is today without the tutelage of Futch, learning at the foot of the master.
2. Ray Arcel
Could arguably be the best, having honed the skills of Roberto Duran and Ezzard Charles.
3. Angelo Dundee
A true, old-school master. He worked and shaped Muhammad Ali, Sugar Ray Leonard and helped resurrect George Foreman in his second incarnation. Dundee had an innate ability to motivate his fighters at the right time. He also believed in them more than they may have believed in themselves.
When Ali implored Dundee to cut off his gloves during the first Sonny Liston fight, Dundee kept him out there, and when Leonard was being out-boxed early by Tommy Hearns in their first fight, Dundee got him going with the famous "You're blowing it, son."
4. Emanuel Steward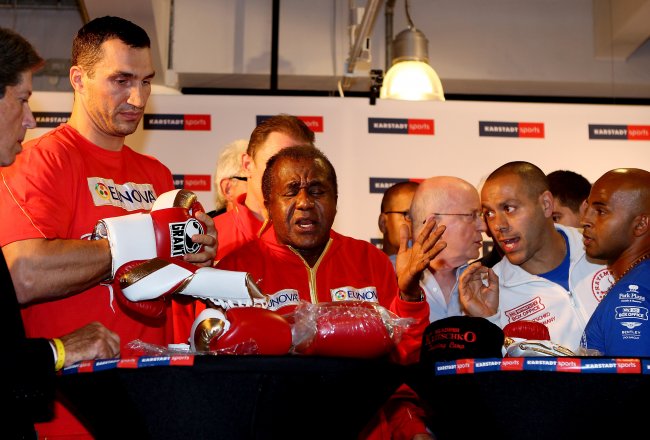 Emanuel Steward is the best trainer today.
Scott Heavey/Getty Images
Another who learned from Futch. It's a shame he's more known today as a Johnny-come-lately problem solver. But it was Steward who created Tommy Hearns, pulled out the killer instinct in Lennox Lewis and has made Wladimir Klitschko almost unbeatable.
5. Freddie Roach
He may be a little down on this list right now, but his sterling work with Manny Pacquiao could be enough to propel him upward as time passes. It was Roach who got "Pacman" to find his right hand.
Amir Khan and Julio Cesar Chavez Jr. are two other fighters whose progress is worth watching. Let's see what Roach is able to do with them.
6. Gil Glancy
He made Emile Griffin. He also worked with George Foreman, Gerry Cooney and Oscar D La Hoya.
7. Cus D'Amato
The creator of the high-guard peek-a-boo style. It worked for Floyd Patterson, the first-time two-time heavyweight champion, and later with a budding young blaster named Mike Tyson.
If there was one knock on D'Amato, it was scurrying away from Sonny Liston when he had Patterson. It didn't exactly generate a lot of confidence in his fighter, who arrived at fight night in a disguise in a suitcase because he didn't think he could win. By then, D'Amato and Patterson had split.
8. Jack Blackburn
Is credited with making Joe Louis one of the all-time greats. Can anyone argue "The Brown Bomber" wasn't?
9. Ignacio Beristain
"Nacho" belongs to the old-school gurus who shaped and molded future Hall of Famer Juan Manuel Marquez from scratch and also trained Hall of Famers Ricardo Lopez and Humberto Gonzalez.
10. Charley Goldman
His greatest feat was converting an awkward former baseball catcher into one of the greatest punchers of all-time—Rocky Marciano. Goldman also shaped Kid Gavilan, Marty Servo, Lou Ambers and Fritzie Zivic.
This article is
What is the duplicate article?
Why is this article offensive?
Where is this article plagiarized from?
Why is this article poorly edited?