WWE/TNA/ROH: My Top 10 Moments of the Week (June 17-22)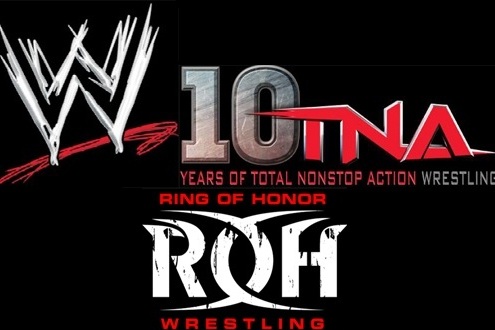 logos copyright to wwe.com, impactwrestling.com and rohwrestling.com
Another week of professional wrestling has ended and it was an overall good week.
WWE No Way Out was last Sunday and it was a good show. It had its low points, but overall WWE delivered a solid show.
WWE Monday Night Raw was a decent show. It had a few good moments, but WWE's flagship show continues to be lackluster as they approach the big 1000th episode.
TNA Impact Wrestling started out as a good show, but things seemed rushed throughout. They really packed way too much into one, two-hour show.
Ring of Honor's June 16 episode of ROH Wrestling was quite good. It featured two good matches, a solid in-ring segment with ROH champion Kevin Steen and a great main event between Roderick Strong and Tommaso Ciampa. Unfortunately I couldn't find a place for ROH on the list this week.
WWE Friday Night SmackDown was a good show. It featured a number of good matches that overshadowed any cons the show had.
When it comes to "Show of the Week," I will not be deciding. I want you, the readers, to decide! Check out this poll and cast your vote for what you thought the best show was. Superstars and NXT will be included as even though I didn't get the chance to watch them, that doesn't mean others didn't. The results will be posted in next week's article.
Speaking of Superstars and NXT, moments from both shows will be included starting next month. With their inclusion, the number of moments per week may be bumped up to 15 instead of 10.
We're still in this week, though, so here are my top 10 moments of the week!
Begin Slideshow

»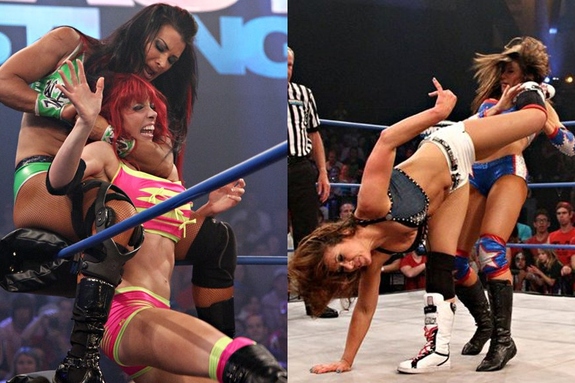 Both photos from facebook.com/ImpactWrestling
Despite the overall rushed feeling of Thursday's episode, the Knockouts of TNA had a good night. I'm going to ignore Brooke Hogan pretending to know something about wrestling and just go straight to the matches.
This month's Gut Check featured its first woman in Taeler Hendrix. She was put up against the veteran Tara and she performed very well. She seems like a very talented wrestler, and if they were given more time, I think they could have had a really good match.
The Knockouts division needs a fresh face as TNA uses the same women over and over again. I think Hendrix would be a nice addition to the roster.
The Knockouts appeared again later when Miss Tessmacher defended her Knockouts Championship against Mickie James. I was surprised how good this match actually was.
Tessmacher, while a lot better than she was, isn't the greatest wrestler. I don't know if they just meshed well together or if Mickie carried her, but this match delivered.
Pinning someone like Mickie James gives Tessmacher some more credibility as champion. TNA seems to be building her up strong as she beat former champion Madison Rayne last week as well.
The big thing in this match, though, was Mickie. After she lost, she got a crazed look in her eyes. It was a look I haven't seen since her crazy days with Trish Stratus six or seven years ago.
She has been a face for far too long; she's so stale in that role! A heel turn is exactly what she needs to rejuvenate her career.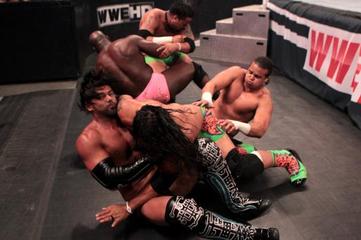 wwe.com
I wasn't expecting much from this match. I figured that it would last five minutes and be the typical WWE tag-team match. I was dead wrong in my assumption.
This turned out to be quite the good match. All four teams were impressive here with the team of Justin Gabriel and Tyson Kidd being the most impressive.
Both of them are great in-ring performers by themselves, but their styles mesh really well together and they make a good team as a result.
I wanted to see the Usos win this match as they are well overdue for a title shot and a push in general. The Usos are always performing well in the ring and are especially impressive live.
I was expecting to see Primo and Epico win the match, though, so I was surprised to see the Prime Time Players get the win.
I don't think they're quite ready for a push to the titles, but their "millions of dollars" gimmick seems to be taking off. Pairing them up with A.W. was certainly a smart move. Where Darren Young and Titus O'Neil lack in mic skills, A.W. will pick up the slack left behind.
The tag-team division seems to be on the right track for once and this match was proof of that.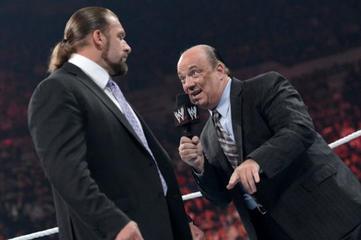 wwe.com
Since the days of ECW, Paul Heyman has been a master on the microphone. When Heyman grabbed a mic and stood in the middle of the ring, the fans shut up and listened to what he had to say. Once he did start speaking, the fans would hang on every word he was saying.
It's been 11 years since ECW was shut down and Heyman still has people hanging on every word.
The former ECW head returned to the WWE after Extreme Rules as the representative of Brock Lesnar and appeared on Raw this past Monday to address Triple H's challenge for SummerSlam.
After denying the challenge, Triple H came out to try to goad the match out of Heyman. Heyman is a master manipulator, though, and he knows the tricks of the trade.
Heyman's mic work was great here as he dug into Triple H and threw out insults. His facial expressions during his promos are priceless and really add to what he's saying.
If it wasn't for Heyman, this segment would have fell flat in a big way.
It's promos like the one he delivered that make me want a verbal exchange between Heyman and CM Punk. My dream scenario would be a Piper's Pit, but I'm happy just as long as they go at one another on the mic.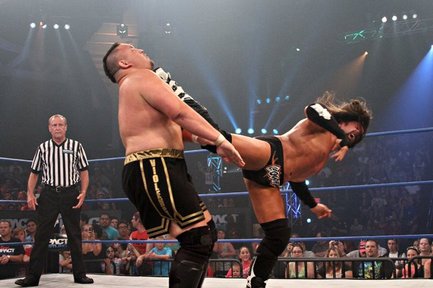 facebook.com/ImpactWrestling
Despite a few hiccups, Thursday was a good night for the Bound for Glory Series. It started out strong with a good match between Mr. Anderson and Christopher Daniels, but then Robbie E got squashed by Kurt Angle.
Magnus and A.J. Styles had another good match, though it felt a bit rushed, and the focus of the Bully Ray/D'Angelo Dinero matchup was the bully's feud with Abyss.
Samoa Joe and James Storm had the best match of the night as they delivered a nice amount of action. The final match was Rob Van Dam vs. Jeff Hardy, and while it was good, it was the typical match the fans have come to see from these two.
At least half of the matches made the series' invasion of Open Fight Night a good one.
I'm on the fence about the 10-minute time limit on the matches. On one hand it'll give matches a good pacing, but on the other hand, some matches will feel rushed and that'll hurt the quality of them.
Some of the matches here felt a bit rushed so that was the downside of featuring all six matches on one show. Hopefully they'll get the pacing down at house shows so they won't seem rushed on live television.
Right now, James Storm has a commanding lead with 27 points thanks to the Gauntlet Match last week. Kurt Angle stands in second place with 10 points while Anderson, Magnus, Daniels and Hardy are all tied for third with seven points.
All of that will certainly be different next Thursday, though, due to the BFGS taking place at house shows this weekend.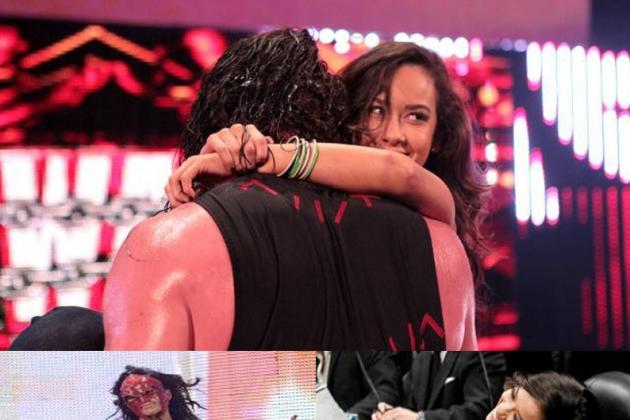 All three photos from wwe.com
A Diva has never stayed on the list this long before. She may have moved down on the list, but A.J. just keeps getting better and better.
At No Way Out, Kane knocked her off the apron which distracted the Big Red Monster enough for CM Punk to hit the GTS for the win. As A.J. was being helped by Kane, she peered over his shoulder smiling at Punk.
It seems like she put herself in harm's way to help Punk retain.
On Raw, her craziness took a new turn. During a tag-team match between the WWE title contenders and Sheamus, her music hit and she simply skipped around the ring wearing Kane's mask.
Her outfit was reminiscent of Harley Quinn from the Batman comics. For those not familiar with the Batman universe, Harley Quinn is a woman who's obsessed with the Joker to the point of being crazy. The Joker is a homicidal maniac and Kane is supposed to be.
The main difference, though, is that unlike Harley, A.J. may not actually be obsessed with Kane.
On SmackDown, she continued her strange behavior when she was the special guest time keeper for the Kane/Bryan match. She prematurely rang the bell making Bryan think he won, and after seeming like an accident, she gave her creepy smile after Kane won.
On Raw, her distraction caused Kane to leave, thus forcing Bryan to face Punk and Sheamus alone, and on SmackDown, her distraction caused Bryan to lose.
Is she just using both Punk and Kane to get back at Bryan? It sure seems that way. At the same time, it's hard to tell what's going on inside her head.
A.J. is the highlight of the WWE Championship feud, and she continues to be one of the highlights each week on Raw and SmackDown.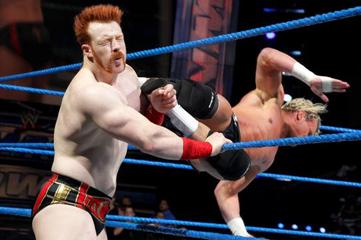 wwe.com
This Friday's episode of SmackDown was quite the good show. It's started off decent enough with a Big Show promo. He was solid on the mic, but he didn't say anything we hadn't heard before.
Him being in Money in the Bank will certainly be interesting. He was in the 2010 MITB match so it's not a farfetched idea. I just hope he doesn't win as the briefcase really should be going to someone who has never had a title shot, or just deserves one.
Ryback squashed two local talents, so there's no real need to go into more than that.
Christian and Alberto Del Rio put on the first real match of the night and they delivered a good one. Both wrestlers performed well here and I was especially impressed by Del Rio. He usually bores me to death, but working with Christian brought out the best in him.
Kane and Daniel Bryan went at it next. They too delivered a good match with some nice involvement from A.J. She didn't do anything major, but it was big enough to keep the fans guessing as to what's going on in her head.
Heath Slater vs. Zack Ryder was up next. They put on a decent match, but it wasn't anything too special. I believe that if they had more time they could have had a good match.
The tag-team division rose back up after the horrid finish to Monday's match as the Prime Time Players defeated the Usos in another good match. This is the first time I've had real hope for WWE's tag-team division.
Afterwards, Primo and Epico knocked out A.W. and started to beat down the Prime Time Players. The Colon cousins finally have some intensity! They're solid performers but a certain amount of intensity is something they lacked.
The main event between Sheamus and Dolph Ziggler was another great match between the two and capped off this episode quite well.
SmackDown also had its downsides, including the ridiculous segment with Santino Marella. Overall, though, SmackDown was a solid show that was so much better than Raw.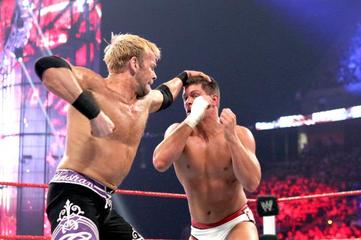 wwe.com
The Intercontinental Championship match at No Way Out was another good contest. Christian and Cody Rhodes delivered a lot of great action throughout their 11-minute match.
I especially liked the ending of the match with Rhodes missing two Disaster Kicks and Christian having a Killswitch reversed before connecting with a second one.
These two wrestlers showed that the WWE mid-card is very much alive and on its way to glory.
The mid-card hasn't been the greatest over the past couple of years. Santino Marella isn't helping matters on Raw by holding the once prestigious United States Championship.
The only good thing about the mid-card over the past year has been Rhodes. He has really been holding it together by himself.
Christian's return to the mid-card has been great. He really thrives in that position! He and Rhodes had a good feud thanks to great mic work and good matches.
It's time for Rhodes to move on, though. Unless he takes the United States Championship away from Santino, there's nothing else for him to do in the mid-card. He should move onto facing more top level talent while Christian carries the mid-card until at least the end of the year.
Christian can bring out the best in his opponents and his matches, while trading the title with someone, could bring the mid-card back to its past glory.
Christian and Rhodes started it and Christian is the perfect person to continue it. Rhodes may still be hunting the title, but I don't think he'll win it back.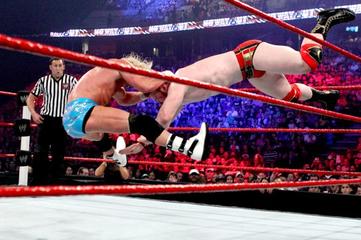 wwe.com
The World Heavyweight Championship match opened No Way Out and it set the bar for the other matches on the card.
Sheamus and Dolph Ziggler delivered a very good match here as the two of them produced some great back-and-forth action.
Sheamus continues to impress as world heavyweight champion. When he first debuted I wasn't too big a fan of his. He seemed green to me and he was being carried in his matches by the likes of John Cena, a man who can carry someone to look like a star.
Over the past year or so, Sheamus has improved a lot. He has evolved into one of WWE's best in-ring talents and a true superstar.
Speaking of superstars, Ziggler certainly looked like one during this match. He has been impressing people with his talent for a while now, and with the shortage of main event talent right now, WWE seems to finally be taking notice.
The WWE Universe are taking notice as well as the crowd at Now Way Out was very much behind the Showoff during the match.
I really hope that WWE doesn't end this push once everyone returns. Ziggler has worked hard to get where he is now.
Assuming that Alberto Del Rio is getting the title shot at Money in the Bank, I'd like to see Dolph Ziggler win one of the Money in the Bank Ladder Matches.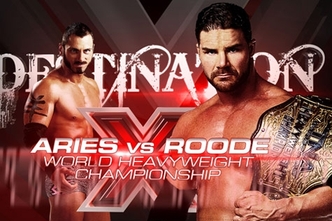 impactwrestling.com
TNA Wrestling was built on the X-Division. While some fans tuned in because they heard their favorite WWE, WCW or ECW star was appearing, they got hooked due to the high-flying action of the X-Division.
Guys like A.J. Styles, the Amazing Red, Jerry Lynn and Christopher Daniels delivered a show each and every week, and they were always the highlight of the show.
Over the past few years, though, it's been a shell of its former self. Whether guys were leaving TNA or were moving onto bigger things, the X-Division was lacking in a big way.
Then Austin Aries won the X-Division Championship in September and the division got a shot in the arm. Just as it started to get good, Aries began to move onto bigger things while still being champion.
The X-Division may have gotten kicked back into gear this past Thursday, though.
Hulk Hogan had made Aries an offer: give up the X-Division Championship for a shot at the World Championship or remain the champion of the X-Division.
Aries had another choice and that was giving up the title and making it a yearly tradition. Every year at Destination X, the champion could give up the title if he wanted to and would get a world title shot in return.
Hogan liked the idea and the deal was made.
I think this was a great move by TNA. This will make the X-Division Championship important again and a much sought after title.
It's also perfect since 12 of TNA's wrestlers won't be able to challenge for the title during the summer due to the Bound for Glory Series, so this creates a new challenger.
The X-Division is going to mean something again and I couldn't be more excited. Now TNA just needs to start rebuilding it.
As for the Roode/Aries match, I can't wait for it! It should be a great match.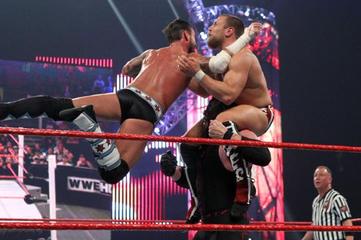 wwe.com
My expectations for this match were pretty high. All three superstars have had very good matches over the past few weeks, especially Kane and CM Punk, so I thought it would transition well into a triple threat match.
Punk, Daniel Bryan and Kane delivered a great match here. With back-and-forth action and great storytelling, these three put on what was certainly the Match of the Night at Now Way Out.
What can I say about these three that I haven't already said before? All three have been featured so much each week that I'm running out of things to say!
A.J.'s involvement was genius and good timing. I thought that she would inadvertently cost Punk the title, giving it to Bryan, but she cost Kane the match instead.
The smile she gave as Kane was helping her to the back showed that she planned it. She knew that she was in Kane's head and if he accidentally took her out, he'd get distracted.
A.J.'s involvement provides fuel for this feud to continue, which is great. Whether it's between all three of them or just two, the storyline is far from over.
No complaints here about that either. This storyline is one of the few good things WWE is doing right now.