2012 NHL Mock Draft: Grading Expert Predictions from Around the Web
June 23, 2012

Bruce Bennett/Getty Images
NHL mock drafts didn't turn out well this year after a first round that included teams making strange predictions very few would have expected.
Top players such as Filip Forsberg and Mikhail Grigorenko slipped past pick No. 10 when many experts had them both going in the Top Five, which threw off a lot of mock drafts.
Let's look at some mock drafts from hockey experts and grade them on their predictions.
Kevin Allen, USA Today
Great hockey writer Kevin Allen did a mock draft this year and made two selections in his Top 10 that turned out be correct. They were Nail Yakupov at No. 1 to the Edmonton Oilers, and Griffin Reinhart at No. 4 to the New York Islanders.
Allen also predicted that the San Jose Sharks would take Czech Republic forward Tomas Hertl, which was a pick many Sharks fans were not pleased about.
His best pick was the Buffalo Sabres taking Grigorenko at No. 12. Many experts thought of him as a Top Five or even a Top Three pick.
While he failed to predict a third of the picks correctly, Allen did make some solid predictions that came true, which is impressive in a draft that unfolded in a way few of us could have expected.
Grade: B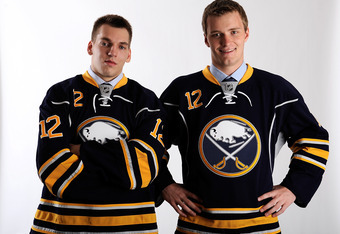 Jamie Sabau/Getty Images
Pierre McGuire and Craig Button, TSN
Pierre McGuire and Craig Button did a mock draft together for TSN and got six of the Top 10 picks correct. They got the first four right as well as Minnesota's pick at No. 7 and Winnipeg's selection at No. 9.
The next 10 projections were a problem since they had no selections correct from Nos. 11-20, including a strange pick at No. 17 with the Sabres taking Grigorenko. They didn't fare much better in the last third of the draft, again making no correct picks.
After a strong start to their mock draft, McGuire and Button weren't able to carry that success into the last two-thirds of their picks.
Grade: B-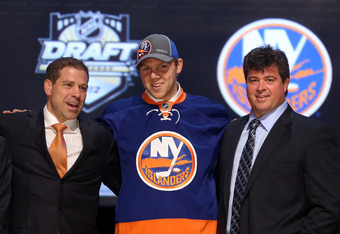 Bruce Bennett/Getty Images
Allen Muir, Sports Illustrated
Allen Muir did a mock draft for Sports Illustrated and got the first three picks right, but got the next seven in the Top 10 wrong.
He accurately predicted that the Buffalo Sabers would select Zemgus Girgensons in the first round, but he got the pick wrong. The Sabres took the young forward with the 14th pick, which they acquired in a trade with the Calgary Flames. To Muir's credit, no one saw that trade coming.
Like the two mock drafts mentioned above, Muir's projections were not very accurate in the No. 21-30 range, but that's been a common result following the first round.
Grade: C+
The three mock drafts above prove just how challenging it is to make these types of rankings. In my final mock draft, I accurately predicted three of the first 10, which unfortunately turned out to be the only three picks I got right.
The 2013 draft class projects to be a bit deeper and more talented at forward, so hopefully those mock drafts will turn out a bit better than this year's did.