Cristiano Ronaldo vs LeBron James: Whose Legacy Needed a Championship Most?
June 23, 2012

This week a global superstar helped cement his legacy by winning his first championship title.
This week another global superstar took an extra step toward winning his first international championship.
At 27 years of age, Cristiano Ronaldo and LeBron James are two of the most recognizable, talented, richest and opinion-dividing athletes on the planet.
Both are men of undoubtedly sublime talent, yet they seemingly attract as much mocking and ridicule as they do applause and adulation.
LeBron has been in the public eye since being called "The Chosen One" on the cover of Sports Illustrated just two months after his 17th birthday. He was drafted No. 1 overall by the Cleveland Cavaliers only a year and a half later.
He entered the NBA as a good guy savior to the league that had just seen its main superstar, Kobe Bryant, face criminal charges for rape in Colorado.
In his first seven years in Cleveland he lived up to the hype of being one of the most sublimely talented athletes in the game. An man whose freakish athleticism could see him excel in just about any position on the court. A man who almost single-handedly took the Cavs to their first NBA Finals in 2007.
Then came "The Decision." The collusion of free agent talent at Miami. The "not one... not two..." speech.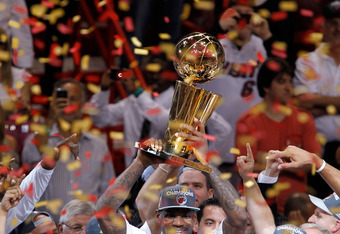 Mike Ehrmann/Getty Images
The Chosen One had become the villain of the NBA and the most pressurized and scrutinized athlete in America.
His talent landed him three league MVP trophies, but many critics in the media refused to give him his dues and talk about him on an all time scale until he won a ring.
In 2012 he finally managed that.
While he is still five rings short of Michael Jordan (who incidentally, didn't win his first title until he was 28, a year older than LeBron), the fact that he is now a champion has put him in the conversation of greatest ever.
Cristiano Ronaldo is technically already a champion.
He has won three Premier League titles, a La Liga title, a Champions League title, a FIFA World Club title, multiple domestic cups and several individual honors.
Despite these personal and team achievements, the moments of outrageous skills and sublime goals, Ronaldo still struggled to generate the level of respect and appreciation his talent perhaps deserves.
Part of the reason for that is that he happens to be playing in the same era as Lionel Messi who has beaten Ronaldo to the Ballon d'Or trophy for the world's greatest player for the past three years and is regarded by many to be a better player.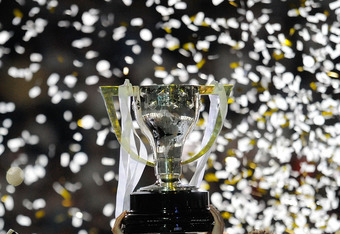 Denis Doyle/Getty Images
The other part is that, like Messi, Ronaldo has thus far failed to consistently shine on the international stage and win a major trophy for his country.
Pele, Maradona, Van Basten, Platini, Beckenbauer, Zidane and most other players in the conversation as greatest of all time shone for their national teams and won either the World Cup or European Championship (or both) during their career.
A sure-fire way for Ronaldo to enter this conversation would be to help lead his country to a major championship and despite Germany and Spain being favorites, Portugal have made the semifinals of Euro 2012 and have a legitimate chance of winning.
If Ronaldo can lead Portugal to victory in the Euros, it will be just 11 days since LeBron's historic finals performance clinched the NBA championship for Miami, and it would mean that two of the planet's enigmatic talents have proved they can deliver at the very highest level and belong in the conversation of greatest ever despite both being just 27.
While important, championships in soccer are not quite as important to a player's legacy as championships in basketball since one player on a five man team can influence the outcome of a game more than one man on an eleven man team.
This, alongside the pressure LeBron placed on himself with his free agency move and championship promises meant gaining at least one championship was essential to his legacy and proving he isn't deficient of the 'clutch gene' ESPN's Skip Bayless often refers to.
If Ronaldo fails this attempt and future attempts to win a major international trophy, he will still have his club honors, individual honors and lengthy highlight reels to fall back on. If his career continues as it has, the simple eyeball test rather than international honors should have him in the conversation as greatest ever.
While Johan Cruyff is regarded as an all time great, his lack of a championships for the Netherlands may be the reason why he is often ranked behind the likes of Pele and Maradona.
And while Ronaldo may end up in that conversation, a win for Portugal will help enormously in pushing him up that list.
Whatever happens with the remainder of LeBron's and Ronaldo's careers, we as sports fans can sit back and enjoy the brilliance of two elite talents striving to be the greatest.
LB6 has reached the pinnacle of his sport; now, can CR7 do the same?