Predicting the Oakland A's 2013 Starting Lineup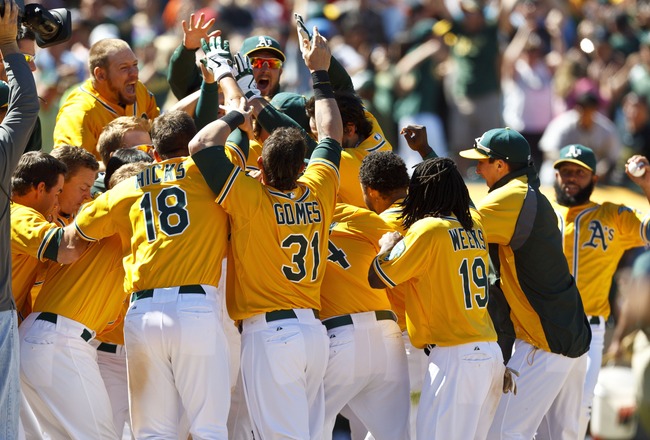 Jason O. Watson/Getty Images
With the Oakland Athletics 10 games back in the AL West coming up on the halfway point of the 2012 season, it's never too early to look at who will be in the lineup next year.
Typically, the A's are sellers.
It's not uncommon for the team to ship a player or two out around the trade deadline, then make a few more trades around the winter meetings.
Then there's the matter of who among the arbitration eligible players will be offered a contract and who will be allowed to walk.
The 2013 season could literally go either way; per the norm, the players filling in 2013's lineup may not have been traded to the A's yet.
On the other hand, this lineup is already young and inexpensive as it is. There's a decent chance it holds together for one more season.
Here's a look at next year's lineup card—stocked, surprisingly, with many familiar faces.
Leadoff: Jemile Weeks (2B)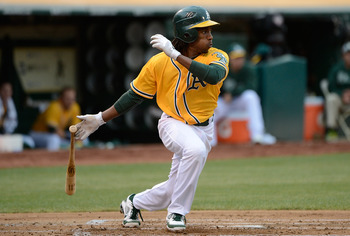 Thearon W. Henderson/Getty Images
After hitting .303 in his rookie season, second baseman Jemile Weeks is suffering from a sophomore slump.
He's only hitting .221 this year, but the Oakland Athletics have stuck with him in the leadoff spot.
There's not much reason to give up on him now.
For starters, he's very young. Likewise, he's still fresh to playing at the Major League level.
If Weeks can return to his 2011 form—and with his speed and base running ability—Weeks should remain the leadoff batter.
Lastly, there's no one that serves as a better option in this spot.
No. 2: Cliff Pennington (SS)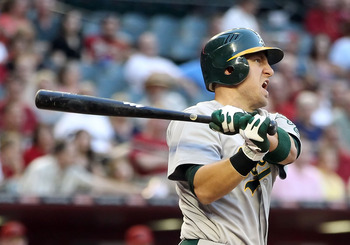 Christian Petersen/Getty Images
Cliff Pennington opened the season in the two-hole.
Manager Bob Melvin declared Pennington's success during spring training as the key reason for the move:
"I think the spring that 'Penny' had probably warrants him hitting '2'."
Since then, Pennington's been dropped to hitting ninth for the Oakland Athletics.
In that spot, he is hitting .178. Hitting second, his batting average was .237.
He—like Jemile Weeks—hits decently for average and possesses speed. Should Coco Crisp not return—which I believe he won't—Pennington is one of the best options to fill in. He's a veteran player who has experience hitting second.
No. 3: Josh Reddick (RF)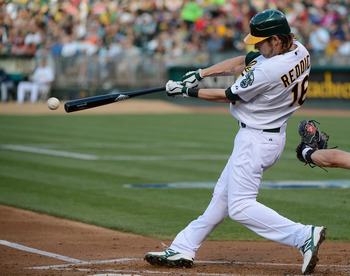 Thearon W. Henderson/Getty Images
At 25 years old, Josh Reddick is outplaying the $485,000 he's making this season by about two million bucks.
He's young and he's a bargain.
Though both of these attributes make him a quality trade chip, I think Reddick has shown the Oakland Athletics enough to consider building around him.
He's safe for now.
That being said, he should continue to thrive hitting third in the lineup. There's no point altering a good thing.
No. 4: Yoenis Cespedes (CF)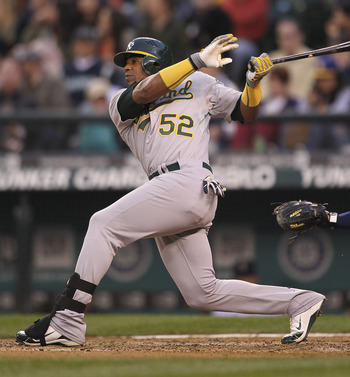 Otto Greule Jr/Getty Images
Like Josh Reddick, Yoenis Cespedes is young and incredibly talented, making him another quality trade target.
Just like Reddick though, the Oakland Athletics would be foolish to dump Cespedes after one year of a four-year, $36 million deal.
He too should be safe—this year.
As the most feared hitter in the lineup with possibly the most potential for power, Cespedes will remain in the fourth spot.
No. 5: Seth Smith (DH)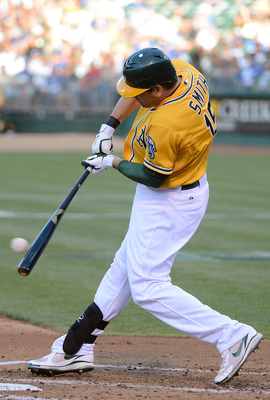 Thearon W. Henderson/Getty Images
The Oakland Athletics let someone new try out at the DH position each year.
This year it's Seth Smith.
Before him—dating back to 2000—it was Hideki Matsui, Jack Cust, Frank Thomas, Mike Piazza, Scott Hatteberg, Erubiel Durazo, Ray Durham, Jeremy Giambi and John Jaha.
Only Cust and Durazo did it in consecutive years.
Throw in Manny Ramirez—penciled in earlier this season to DH—and the list of aged veterans serving as Oakland's DH grows.
There's a slew of players that fit the A's DH bill: older guys with nothing left to prove, just playing for fun or in an attempt to go out with a bang rather than a whimper. They're unable to play the field full-time and can be had for near-league minimum.
Or there's guys who hover in between potential and mediocrity, looking for a lowly team who will take a chance on them so they can prove themselves (think Josh Willingham and Brandon Inge).
All of that being said, I still think Smith is next year's DH.
He's similar to Willingham in that he should only make around $2 million and even though he turns 30, he's still capable of playing the field if necessary.
Unlike Willingham, he hasn't hit overwhelming enough to garner much attention.
No. 6: Scott Sizemore (3B)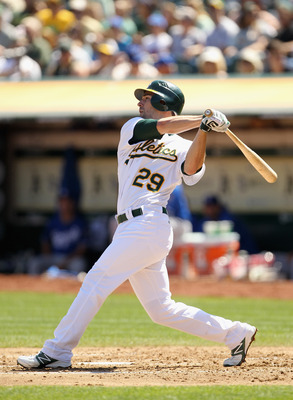 Ezra Shaw/Getty Images
Scott Sizemore arrived in Oakland as a role player hoping to compete for third base.
He hit well enough last season and in spring training this year to earn the starting spot.
That is, until he went down with a devastating knee injury.
He's still under contract though and he's definitely still young. Even better for his odds, unless Grant Green makes the jump to the majors (which is a possibility) or Brandon Hicks impresses this season, there's no one else ready.
Brandon Inge, the current starter, has far exceeded expectations and should receive attention from multiple teams (still on a one-year deal, but Oakland will be out-priced).
Green may ultimately take over in 2013, but Sizemore should begin another season as the starter.
No. 7: Brandon Moss (1B)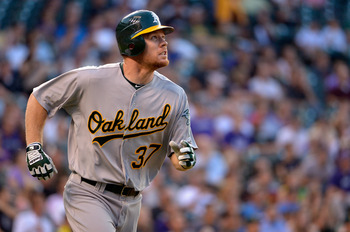 Doug Pensinger/Getty Images
So far, Brandon Moss has 14 hits in 19 games. Seven of them are home runs.
He's also scored 12 RBI.
With Kila Ka'aihue designated for assignment and sent to Triple-A outright, Chris Carter failing to gain a spot on the 25-man roster early and Daric Barton eventually sent down as well, first base is Moss' to lose.
I don't see him hitting fifth or sixth simply because of his lack of time in the majors. The A's likely will put a veteran hitter or two ahead of Moss to make sure he's comfortable in the lineup.
Although, if—and it's a big if—he continues to hit this well, it wouldn't be a surprise to see him hit one or two spots higher.
No. 8: Derek Norris (C)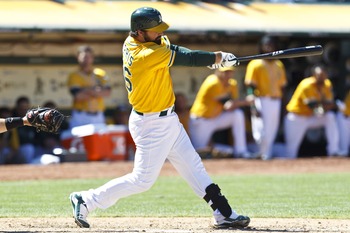 Jason O. Watson/Getty Images
Kurt Suzuki's time has passed.
Suzuki is an intelligent catcher who calls games very well. He's been an invaluable piece to building the Oakland Athletics' young pitchers.
But he can't hit. A .213 batting average isn't getting it done.
The Oakland Athletics recently called up prospect Derek Norris as a solution. Though Bob Melvin claims Norris will only split time with Suzuki, Susan Slusser of the San Francisco Chronicle points out a similar situation occurred in 2007:
"When Suzuki came up in May 2007, he spent five weeks learning the ropes from an experienced catcher, Jason Kendall, and Kendall—also doing little at the plate—was traded once Suzuki showed he could do the job."
It doesn't look good for Suzuki.
Peter Gammons even tweeted that Suzuki makes "sense for Marlins, Mets or Rays."
Norris has only played in four games, but thus far is hitting .250 with one home run and four RBI.
No. 9: Collin Cowgill (LF)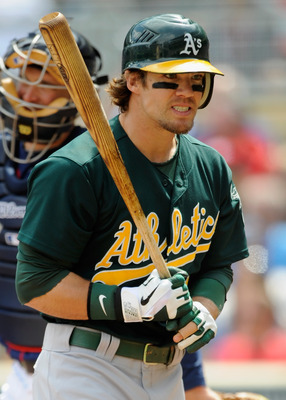 Hannah Foslien/Getty Images
Collin Cowgill earned a spot as a starter for eight straight games when incumbents Coco Crisp and Yoenis Cespedes suffered injuries.
Cowgill certainly did well for himself in the small showing he had, hitting .271 with one home run and nine RBI.
He's yet another young and inexpensive player who—barring being traded in a package deal—should stick around.
In 2013, I see Cowgill taking over left field in place of Crisp.
He's a solid nine hitter: speedy, hits for average, lacks pop and still needs time to develop plate discipline.
If he finds consistency, fans could see him slide into the two-hole before the end of the year.
Keep Reading

Oakland Athletics: Like this team?