NHL Draft 2012 Results: Philadelphia Flyers and Round 1's Biggest Winners
June 23, 2012

Justin K. Aller/Getty Images
The 2012 NHL draft is a very important time for teams, as it marks the beginning of the next year of hockey.
There is no better time for organizations to start winning than the entry draft.
While many teams are still just coming off their playoff hangover, these are the kind of decisions that can make or break a franchise. All of the following teams came out of Round 1 as winners.
For complete 2012 NHL Draft Results, check out NHL.com's tracker.
First-Round Picks: No. 20—Scott Laughton, C, Oshawa Generals (OHL), traded Sergei Bobrovsky for a second and fourth-round pick in 2012 and a fourth-round choice next year.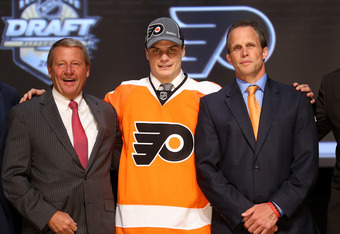 Bruce Bennett/Getty Images
While the Philadelphia Flyers didn't make any landscape-shifting moves this season, they quietly had themselves a perfect first round.
Not only did the Flyers trade their young, but overrated goalie Sergei Bobrovsky for a plethora of draft picks, the team was lucky enough to draft a star two-way center in Scott Laughton.
With comparisons to Mike Richards, Laughton will walk onto the Philadelphia roster and be a third-line starter. That's getting value at No. 20.
Buffalo Sabres
First-Round Picks: No. 12—Mikhail Grigorenko, C, Quebec Remparts (QMJHL), No. 14— Zemgus Girgensons, C, Dubuque Fighting Saints (USHL)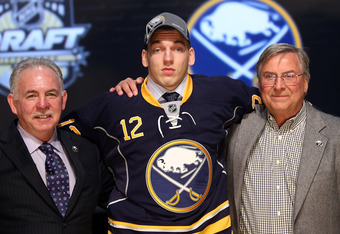 Bruce Bennett/Getty Images
Any time a team gets two first-round picks, they are already considered winners. With that said, teams can still screw it up.
Buffalo did not.
While Mikhail Grigorenko went exactly where most experts thought he would end up going (No. 12), this is a player that has the talent to be a star in the NHL if he applies himself fully. If…
Zemgus Girgensons is the exact opposite. This is a kid full of grit and ready to mix it up in the offensive and defensive zones. There are no questions about effort or talent here.
Buffalo hopes that a steady mixture of the young duo and their veteran counterparts will get the Sabres to the next level.
First-Round Picks: No. 11—Filip Forsberg, RW, Leksands (Sweden), No. 16—Tom Wilson, RW, Plymouth Whalers (OHL)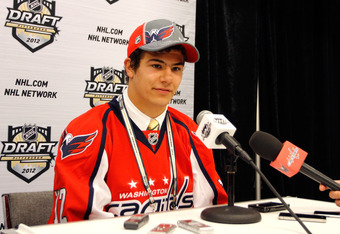 Justin K. Aller/Getty Images
The Washington Capitals were lost, but now they are found. With a big thanks to the 2012 NHL draft, of course!
With the selection of Filip Forsberg at No. 11, the Capitals addressed the future as much as the present.
In a franchise that has seemed completely lost at times, they are getting back to fundamentals and building for the future.
As in any case of building a strong franchise, one move for the long-term is counteracted by a move for right now. That's where drafting NHL-ready right wing Tom Wilson and his ability to play a tough style that will get him playing time with the big boys comes in.
Check back for more on the National Hockey League as it comes, and don't miss Bleacher Report's NHL page to get your fill of all things hockey.