Hard Lesson Is Good for OKC'S Dynamic Duo Kevin Durant & Russell Westbrook
June 25, 2012

Ronald Martinez/Getty Images
When LeBron James won his first title on Thursday night, the aftermath was all about him and the Heat. As it probably should be. The superstar finally won a championship, something most of us thought would have happened already.
An idea that might be somewhat lost in all the LeBron chatter is that this loss is a victory in a way for the Thunder. In the grand scheme of things, most great teams and players alike have to go through some growing pains. 
Kevin Durant is a great player, as you saw during the entire playoffs. He is also still a very young player. When a guy is as talented as Durant, it is easy to forget he is just 23 years old. A student of the game, KD will spend his summer watching film and working on his game. 
Russell Westbrook is the most offensively-gifted point guard in the NBA, with my apologies to Derrick Rose. While he was brilliant in some games, he also made some very silly mistakes. He definitely will learn from this year and be stronger next season.
As a team, OKC is clearly very good. What they lack is team chemistry when they start to get down. Much of that will come with experience. Losing in the NBA Finals can be a positive thing, if they choose to look at it that way.
If not, they could regress and continue to make the mistakes that cost them a title this season.
Hard lessons are often painful but more often are helpful in the end. Few teams have just come on the scene and started winning titles right away. Losing can only help this young group. Having a veteran like Kendrick Perkins will be a huge help going forward. He won't let his squad forget about this series loss.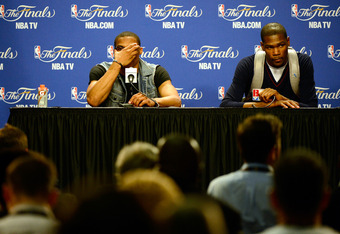 Ronald Martinez/Getty Images
The Thunder will realize that basketball is a game of runs, and if they keep their composure and just run their offense when their opposition goes on one, they can dig themselves out of most of those situations. Too often during the finals, they stopped moving the ball and settled for one-on-one basketball. That usually will not win a series. 
When you start playing one-on-one, you tip the scales in favor of the defense. In order to keep defenders moving and rotating, you have to keep the ball moving. When it stops, defenders can sit back on their heels and catch their breath.
Being one of the youngest teams in the league should be an advantage. Next season I would expect them to play better as a team. More passing, less jump shooting. That's how they will run teams down.
If they had moved the ball more against Miami, you can bet the Heat's older roster would have gotten much more tired, and maybe veterans like Battier and Miller wouldn't have shot so well from distance. 
Durant is one of the smartest players in the NBA. Like all the great ones, he will work on his craft tirelessly. It took LeBron almost a decade and a makeshift all-star team to win, so Durant shouldn't feel down about losing on his first try. The experience he gained is going to fuel him next season for sure.
The rest of the Western Conference is aging quickly, and the Thunder are in a great position to establish a dynasty.
The only real hurdle for Durant, Westbrook and the rest of the Thunder is themselves.  
Oh yea, and some guy named LeBron.