Texas A&M Football: What You Need to Know About Aggies WR Uzoma Nwachukwu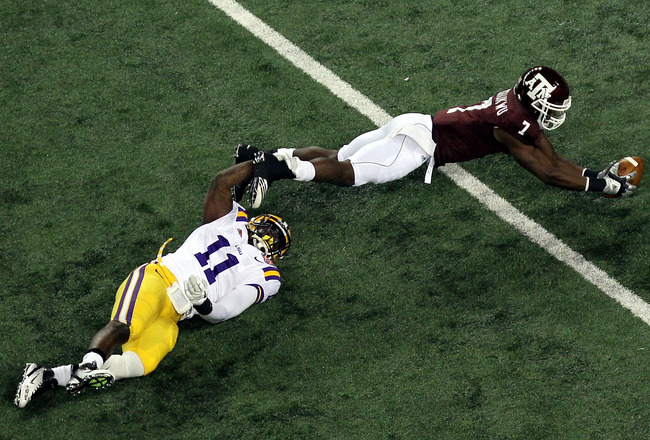 Ronald Martinez/Getty Images
The Texas A&M Football team enters its inaugural season in the Southeastern Conference and should have one of the stronger receiver corps in the league.
Senior wide receiver Uzoma Nwachukwu will look to improve on a disappointing junior season as he helps lead A&M into a new era.
Nwachukwu is a very gifted receiver with the size and speed to dominate in college. He has never been able to put it all together on the field for an entire season for the Aggies. The 2012 season is his last chance to leave his mark on the program.
This is a look at what you need to know about Nwachukwu as he enters his senior year in Aggieland.
Nwachukwu Is a Great Athlete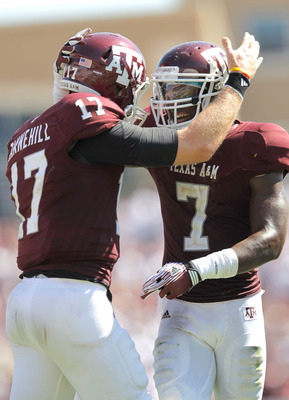 Sarah Glenn/Getty Images
Nwachukwu is a tremendous athlete with great speed and leaping ability. In high school, he led the Dallas area high schools with a time of 21.19 in the 200-meter sprint. He also high-jumped 6'5" as a senior.
Nwachukwu excelled as a freshman at going up and out-jumping defenders for balls in the air. As a freshman, he stepped in when Jeff Fuller went down to injury and played a big role on the 2009 Independence Bowl team.
He excelled as a deep threat when the quarterback would put the ball out there and let Nwachukwu go out-athlete the defensive back for the ball. He has not been asked to do that ever since Fuller got healthy.
Now that Fuller is gone, he should see an expanded role in the offense.
Inconsistency Has Been His Downfall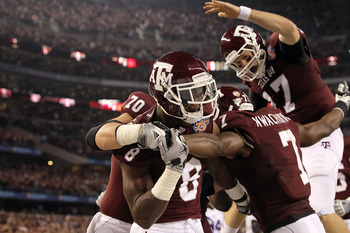 Ronald Martinez/Getty Images
At 6'0", 190 lbs., Nwachukwu has the prototype size that NFL scouts are looking for. He has great speed and athleticism. The only thing keeping him from being an elite college receiver has been inconsistency with his hands.
Nwachukwu has not been able to consistently catch the ball since his freshman season. A sophomore slump is somewhat understandable, but there is no excuse for some of the drops Nwachukwu had as a junior.
New wide receiver coach David Beaty will not tolerate any drops. Nwachukwu will get better at catching the ball because he will be forced to. When you catch up to 500 footballs per day in practice, you have to get better.
Nwachukwu had a tremendous start to the 2012 spring practice, but tailed off towards the end. He needs to show the coaches more consistency with his hands or he will be passed over by the wide receivers who do.
A summer spent catching tennis balls from a jugs machine should cure what ails him.
He Is a Record-Setter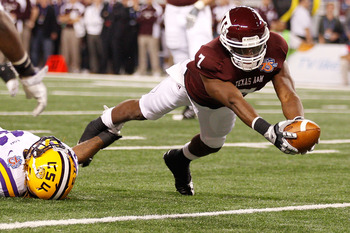 Chris Graythen/Getty Images
As a freshman, Nwachukwu set or tied multiple school records.
He set the school record for touchdowns in a game for a freshman with four against Utah State. In the same games, he tied the then overall school record for touchdown receptions in a game with three.
He tied a then school record in 2009 with three 100-yard receiving games.
Nwachukwu has the ability to be a difference-maker in the SEC, he just needs to get it done on the field.
He Has Played Well Against SEC Teams Before
Ronald Martinez/Getty Images
Nwachukwu has shown that he can be effective against SEC defenses in the past. In the 2011 Cotton Bowl against LSU, he had two receiving touchdowns.
If you can get open against a defense that features the Honey Badger and Morris Claiborne, you can get open against anyone in the country.
Once again, for Nwachukwu, it is just a case of him needing to show the coaches that he can be counted on to get it done on every play in every game.
He Would Have Been One of the Top Receivers in the SEC in 2011
Doug Pensinger/Getty Images
Nwachukwu caught 50 passes for 639 yards and two touchdowns in 2011. If he had put up those numbers in the SEC in 2011, then he would have ranked fourth in the league in receptions behind Rueben Randle.
He would have ranked ninth in receiving yards behind Arkansas' Joe Adams.
Nwachukwu had a disappointing 2011, but if he puts up similar numbers in Kevin Sumlin's pass-heavy offense in 2012, then he will rank as one of the SEC's best.
Nwachukwu Can Help Lead the Ags to 4 Straight Bowl Games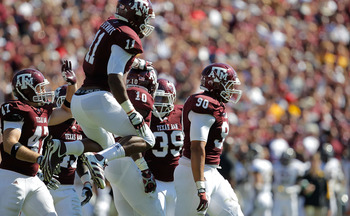 Sarah Glenn/Getty Images
Nwachukwu was one of 18 members of his recruiting class eho played as true freshmen. They were instrumental in helping the Ags get into the Independence Bowl.
If Nwachukwu and his classmates can lead the Ags to seven wins in 2012, then they will have led A&M to bowl games in four consecutive seasons. That will be the first time that has happened in a decade.
The 2009 recruiting class will have proved instrumental in getting the Texas A&M Football program back on the right track.
Keep Reading

Texas A&M Football: Like this team?