Manchester United Transfer Talk: 10 Big-Name Possible Signings This Summer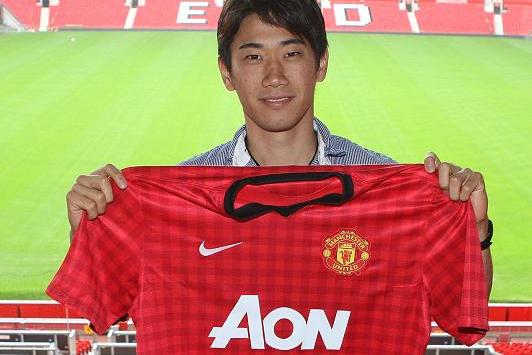 Shinji Kagawa will not be the last big signing for Manchester United this summer.
At any one time, Sir Alex Ferguson and his team of scouts will have hundreds of players under surveillance. So it is no surprise how many have been rumoured to join the Red Devils this time around.
It is well known that Sir Alex is still in the process of rebuilding, making it all the more creditable that United lost the EPL on the highest points score ever for second place. But being second is never enough for a still hungry 70-year-old.
Most people seem to think that Kagawa is the long-term replacement for Paul Scholes, despite him being a very different player. He is not.
Every player coming to Old Trafford and those emerging from the Academy have to accept that they need to be versatile and that no player has a God given right to be in the first team. Sir Alex believes competition for places is healthy, but it also results in a squad that is the fittest in the second half of the season.
So Kagawa may play in the hole, or he may play in a central midfield duo; he may also crop up on either wing as needed. He will have understood all that before signing. He is willing to back himself to succeed; Eden Hazard was not, citing the competition in the United dressing room as a reason to go to Chelsea.
What Kagawa does bring is the ability to make and score goals at the highest level, for the best team in Germany, in intense competition. He also brings pace, intelligence, humility and exactly the right attitude to fit in with the long traditions at Old Trafford.
So which other "Big Names" could join him? After all, before United showed interest he would not have been considered a "Big Name" alongside the likes of Wesley Sneijder.
Begin Slideshow

»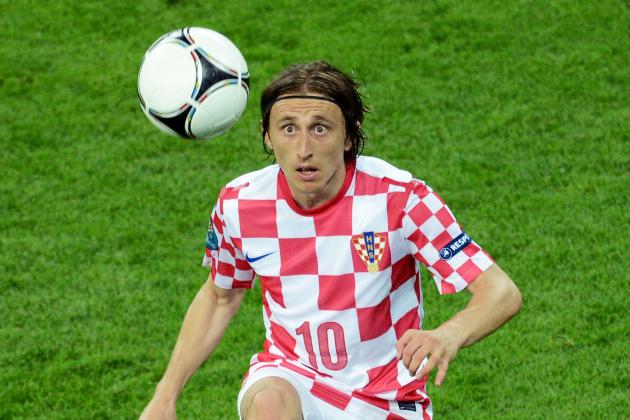 Jasper Juinen/Getty Images

Shinji Kagawa is not Paul Scholes, and given that players like Iniesta rate the Ginger Prince as one of the greatest midfielders ever, either Sir Alex needs the next best thing, or he will have to consider different formations until a Scholes type player emerges.
Alternatively, if he could find a defensive or holding midfielder, Michael Carrick could for the time being be deployed in the Scholes role.
There seems no doubt that the nearest thing in Sir Alex's mind is Luka Modric. He has apparently made the Croatian his top transfer target and, now that the Boss is back from holiday and Modric home from the Euros, things will begin to move.
United have a preseason tour to South Africa and China kicking off in mid-July and Sir Alex prefers to have his major signings completed by then.
We can also expect a number of departures, apart from on loan. Some have already been trailed, like Kuszczak's move to Brighton, Owen and Berbatov's likely departures, etc.
Most of these may well be later in the window, as the need for signings by lesser teams hots up. The Tour at least gives Sir Alex a chance to reappraise players he may well wish to or be prepared to discard, making way for new signings.
What more can be said about Modric? He may not be the regular goalscorer that Scholes used to be, nor even that Kagawa has been in the Bundesliga. He was more prolific with goals and assists at Dinamo Zagreb than he was at Spurs. But as with Cristiano Ronaldo, Valencia, Nani and others, Sir Alex can make more of a player.
Modric's value won't have been enhanced by Croatia's showing at the Euros, but the tough nut to crack is Daniel Levy.
If the Spurs Chairman accepts that he will lose his midfield star, he will want as much money as possible to finance rebuilding for the incoming manager.
Having turned down Chelsea last summer and committed to Tottenham for one more year, Modric himself will have the deciding say in where he goes.
All the rumours now are about Real Madrid, but Modric likes the Premier League. Sir Alex has the wit and charm to persuade him that he will build the team around him. That would turn anyone's head.
So if the wily Scot can win Modric's heart, the only stumbling block could be a £30 million fee. For such a key player, he will gladly pay.
Some of you may by now be wondering what promises Kagawa was made and how he would fit in with Modric as well?
Kagawa is like Ji Sung Park Mark Two. He may want to play in the hole, but he is versatile and could also be played on either wing. In any case, Modric is more likely to play in a midfield two, as Carrick and Scholes did last season.
Furthermore, Sir Alex is moving closer to more of a "total football" approach, with attacking players able to wander.
Regardless, if Modric says yes, the manager will make all the pieces of the jigsaw fit.
Jasper Juinen/Getty Images

Michael Steele/Getty Images

Modric may be Sir Alex's top target, but in my opinion Javi Martinez should be.
If United don't have Scholes' successor lined up, they have never replaced Roy Keane. This has been particularly unfair on Michael Carrick and, to a lesser extent, Darren Fletcher.
Carrick gets bad press for being too defensive and he had the misfortune to be signed as Keane was on his way out, prompting a false connection.
If Sir Alex can't sign Modric or Alcantara, then Carrick is the next best thing. Darren Fletcher may very well not come back from his bowel condition. In that case, with no shortage of attacking midfielders, the priority should be a world class defensive, or holding, midfielder.
Ever since I saw the two matches against Athletic Bilbao, Javi Martinez has ticked all the boxes. He is not only an excellent and skilful holding midfielder, but he has actually played much of his recent career in central defence.
And if there's one thing Sir Alex loves, it's versatility. Having had problems in defence for much of last season and, once again having to play Carrick at centre back, Martinez offers a very attractive package.
He may not be able to get into the Spanish side easily at present, but he would walk into United's first team and, if push comes to shove, that could be the deciding factor in him moving to Old Trafford rather than City, Barca or anywhere else.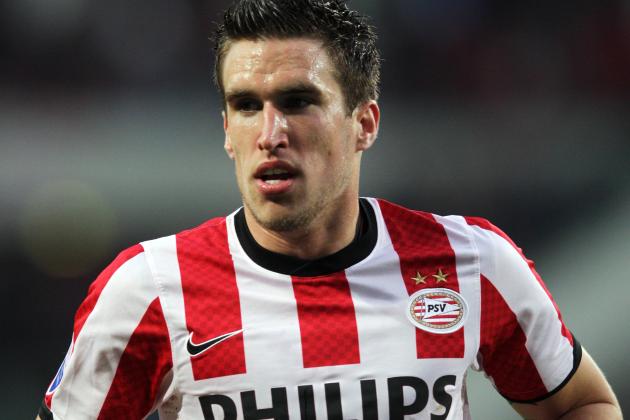 Dean Mouhtaropoulos/Getty Images

Kevin Strootman has been described as the new Roy Keane.
While he did not feature on my first pass of potential United signings, he has the main virtue that he would cost probably no more than £15 million, compared to Martinez's probable £25-£30 million.
While he did not make it onto the pitch at the Euros, Van Marwijk is a big admirer and Strootman already has 11 Dutch caps at just 22.
One virtue of his non-appearance is that he wasn't able to catch the eye, with consequent effect on his resale value.
If United don't land either of these defensive midfielders, they may have to turn to Ryan Tunnicliffe or even Phil Jones as an eye to the long term.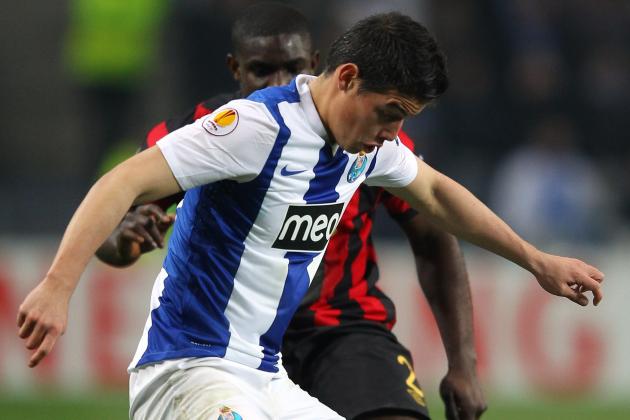 Alex Livesey/Getty Images

A few weeks ago, nobody was contemplating Nani leaving Old Trafford.
The media has represented the story as United not being prepared to meet Nani's wage demands. He is widely reported to be on £80,000 a week and deserves more than that if he stays.
His performances for Portugal have shown how good he is. It may be that this was masked last season by his injuries and the need to play Ashley Young as well. Indeed, Nani prefers to play on the right wing and in this respect, a fit Valencia may often get in his way.
The trouble is that Nani still occasionally infuriates Sir Alex and his teammates, especially Wayne Rooney, with his errors of judgement. While the Portuguese winger is much less wasteful and selfish than when he first arrived, he still seems too intent on impressing everybody.
The way to impress the Boss is to knuckle down, work for the team, keep his personal ambitions to himself and accept £120,000 if that is on offer.
Now it may be a teasing motivator to re-sign, but there is clearly strong interest in James Rodriguez, the Porto winger.
If Nani went, Rodriguez would be a straight replacement. The trouble is that with a reputed buy-out clause at £40 million and supposedly having had a £30 million bid for the Colombian winger turned down, Sir Alex could end up having to pay more for him than he would get for Nani in the market.
Even if Rodriguez is four years younger than Nani, he is relatively less proven, so this would not seem like good business. Nani has shown himself to be one of the few players capable of breaking down Premier League defences.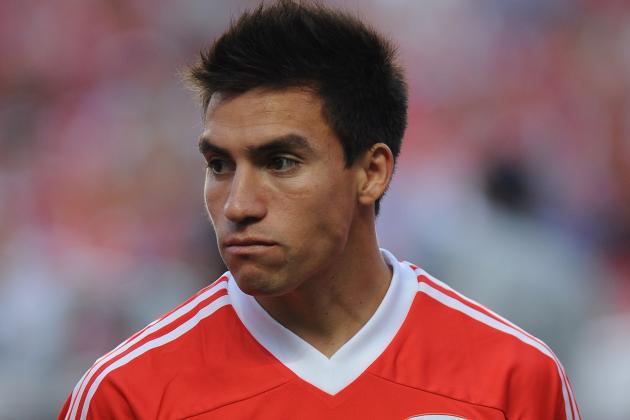 Valerio Pennicino/Getty Images

Nicholas Gaitan seems to have dropped off the radar since Kagawa's arrival and the spotlight has switched towards James Rodriguez, despite his buyout clause being almost £40 million.
Sir Alex has admired Gaitan for at least a couple of years. He is still looking for the natural successor to Ryan Giggs. Gaitan can play on either wing or in central midfield.
The talk about Rodriguez has escalated since Nani's contract came under review. Personally I believe a way will be found for the two parties to meet in the middle and Nani will stay. But Jesse Lingard may not make it and if he was available, Gaitan may well come anyhow.
Ashley Young has shown his own versatility; he can play in the hole and he hasn't even been tried on the right wing, where both Valencia and Nani can play. If Giggs isn't surplus to requirements then there is room for Gaitan instead.
He would certainly cost much less than Rodriguez and could also be part of a player-exchange deal, with say Anderson and £15 million going to Benfica.
According to The Telegraph, a similar deal was struck two months ago, involving Fabio and Macheda.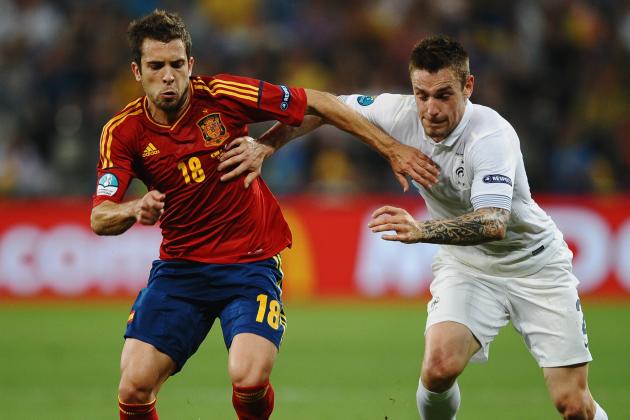 Laurence Griffiths/Getty Images

Jordi Alba has shown up well in the Euros so far. Left back is one position where Sir Alex urgently needs an understudy. He is known to admire the Spaniard.
There has also possibly been a change in fortune that could help United's chances of signing him. Valencia have just lost two under 11s to Barcelona and Valencia are unhappy. Furthermore, Barca are balking at the price.
Pep Guardiola has left but Sir Alex is still in post. Barcelona's finances may also be constrained if they can't sell players. Ironically if United bought Alcantara this could fund Alba's buy.
Patrice Evra has played too many matches in the last few seasons. He needs a rest and his judgement was suspect in, for example, the City and Everton matches. Alba is a ready-made replacement who can step right up to the mark.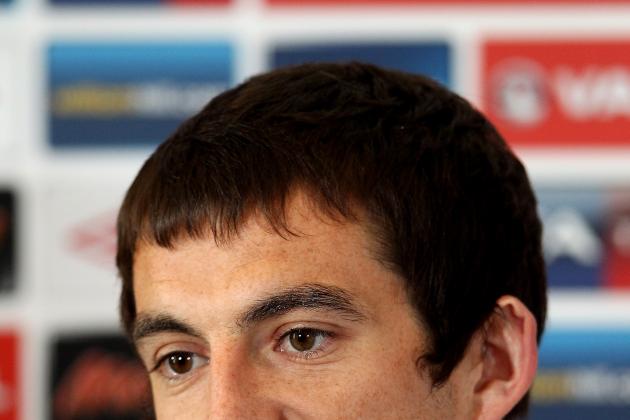 Scott Heavey/Getty Images

Leighton Baines was coveted by Sir Alex when he went to Everton. The rumours about him simply refuse to die down and he isn't getting any younger.
Baines is the England number two left back and he must surely want to test himself at the very highest level before he gets too old.
Again, he is ready-made and Sir Alex can offer him an immediate opportunity. He is not only a sound defender, but can take free kicks. He may be sold over David Moyes' dead body but he is one of the hottest transfer stories this summer, probably only waiting for England's return.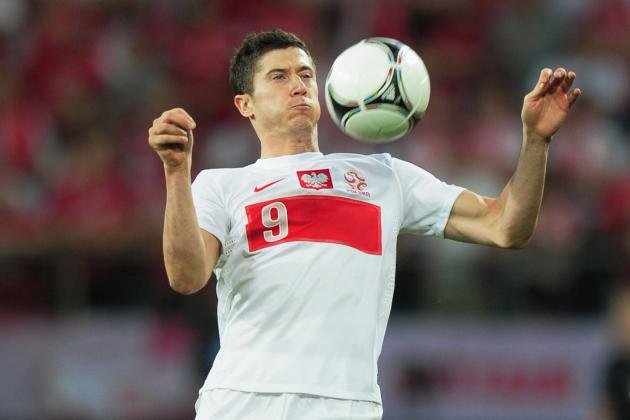 Jamie McDonald/Getty Images

If Ferguson can't strike a deal for Modric or Alcantara, a different strategy may evolve.
Wayne Rooney has shown that he would be highly competent in either a No. 10 role or as a central midfielder. He also has the advantage in the latter case that he is excellent at tracking back defensively.
This would leave room for an additional top striker. Some people have compared Robert Lewandowski to Ruud van Nistelrooy in style. Certainly he would give United four very different striking options.
Danny Welbeck is a good target man with excellent ball skill who is competent with either foot. He also has good pace.
Javi Hernandez is the classic poacher. He is possibly the fastest player in the Premier League and can break offside traps. He is lethal in and around the six-yard box.
Rooney is an all-round striker and creator. If Modric doesn't come Ferguson will, in my opinion, build United around Wayne Rooney for the next five years.
Sir Alex has made it very clear that he would have put Will Keane straight into the first team squad had he got a cruciate knee ligament; and there is always the option of Federicho Macheda as a fourth striker.
Sir Alex has always stressed the need for four strikers, going back to the days of Cole, Yorke, Sheringham and Solskjaer, for example.
The problem is that if those four are Rooney, Lewandowski, Welbeck and Chicharito, someone may feel his nose pushed out of joint.
Nevertheless, when the Polish coach says Lewandowski is on his way to Manchester United you have to take the rumours seriously.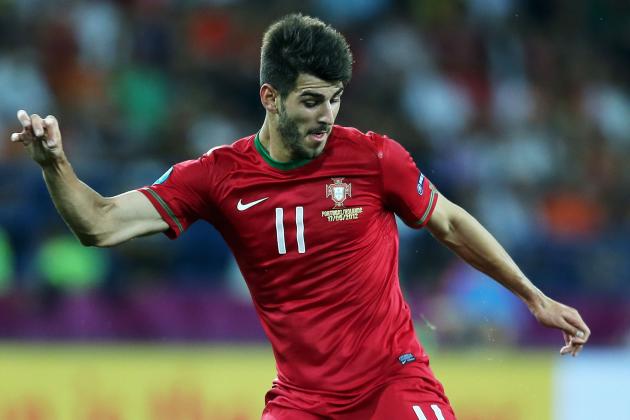 Ian Walton/Getty Images

Finally, while we're talking strikers here, this one has come up on the rails.
Coaches are always watching major tournaments to see who has the class to play at the highest level, especially in the Champions League.
So it would be no surprise if Nelson Oliveira has caught Sir Alex Ferguson's eye. The Benfica player is just 20 but already has six full caps for Portugal.
Like Will Keane and Robert Lewandowski, he is the complete striker. Portugal have had to make do with the mediocre Helder Postiga and even worse Hugo Almeida at the Euros. In the future Oliveira will inevitably be first choice.
Again, he fits with Sir Alex's policy of buying talent young, would not cost more than £15 million probably and is a better bet than the aging Huntelaar or the developing Van Wolfswinkel.
If Oliveira arrives, however, Macheda will probably join Owen and Berbatov in the departure lounge from Old Trafford.