US Olympic Track Trials 2012: Ashton Eaton Breaks Two Records on Decathlon Day 1
June 23, 2012

Christian Petersen/Getty Images
No decathlete has ever started a competition as well as Ashton Eaton did in the first two events of the decathlon at the 2012 U.S. Olympic Track Trials.
With eight events still to go, Eaton had already set two all-time decathlon records.
It may have been a rainy day in Eugene, Ore., but the weather conditions sure did not slow down Eaton. After the first of two days in the decathlon, Eaton has emerged not only as the favorite to win trials, but also as the favorite to win gold at the London Games.
The competition began with the 100-meter dash, in which Eaton ran a time of 10.21 seconds, the fastest ever run in a decathlon. His record-breaking time earned him 1,044 points.
Eaton's 100 time was tremendous, but his start became even more incredibly special with his performance in the long jump.
On his first jump, Eaton jumped a staggering 27 feet, the longest jump ever in a decathlon. Having already jumped a distance that earned him 1,120 points for the event, Eaton smartly made the decision to pass on his last two attempts.
Team USA's top long-jump specialists also competed on Friday in their qualification round. Willie Claye finished first in qualification, with a best jump of 26 feet, 2 1/4 inches.
Comparing Eaton's jump and Claye's jump truly puts Eaton's accomplishment into incredible perspective. In comparison to the nation's best long-jumpers, athletes who specialize in that event, the decathlete beat them all by 9 3/4 inches.
As a result of his leap, Eaton also now ranks among the top 10 long-jumpers in the world this season.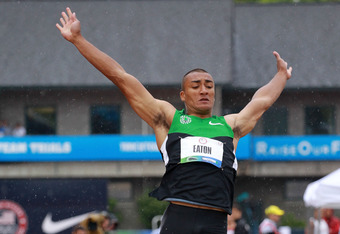 Andy Lyons/Getty Images
Eaton started the day out with 2,164 points through two events, more points than any athlete has ever had that early in a decathlon.
He was done setting records for Day 1 at that point, but his incredible performances certainly did not end there.
Of the five events contested on Friday, Eaton won four of them. In addition to the 100 and long jump, Eaton also had stronger performances in the high jump and the 400-meter dash than all other decathletes.
Eaton won the high jump, with a best jump of 6 feet, 8 3/4 inches, which earned him 850 points.
In the 400, Eaton ran a time of 46.70 seconds, a time faster than two finishing times by 400 specialists in that event's Friday preliminaries. His 400 performance earned him 973 points.
Throws are considered to be Eaton's weakness, but although the shot put was the only event in which he did not beat the field, he still performed well. Eaton's throw of 46 feet, 7 1/4 inches was the fourth-best among decathletes and earned him 741 points.
In total, Eaton finished Day 1 with a whopping 4,728 points—322 points better than his closest competition, Trey Hardee.
Sports Illustrated's Tim Layden pointed out that Eaton's Day 1 score makes him the second-best first-day performer in decathlon history, behind only Dan O'Brien.
In the bigger picture, the incredible pace Eaton has set puts him in position potentially to break O'Brien's meet record of 8,726 points, along with his U.S. record of 8,891 points.
The U.S. decathlon contingent has been talked about for years leading up to these trials, as the nation has three potential gold-medal winners in Eaton, Hardee and Bryan Clay, the gold-medal winner of the 2008 Games.
Hardee and Clay, who sit 2nd and 3rd, look to be in comfortable positions to move forward to London, but in one day, Eaton has emerged as the overwhelming gold-medal favorite going forward to the Olympics.
Day 2 will not bring in as many points as Day 1 did for Eaton. Many of Eaton's best events (100, long jump, high jump, 400) came on Day 1, and Eaton may not score great point totals in the day's two throwing events, discus and javelin.
That said, Eaton should be expected to score big points in both the 110-meter hurdles and 1,500-meter run, and as long as Eaton avoids disaster in the discus, javelin and pole vault, he should have little trouble holding on for a trials decathlon victory.
Just 24 years old, Eaton is an emerging star in track and field, not only stateside but worldwide.
Halfway through the trials decathlon, Eaton has already put the world on notice for what he could do in London, and if he concludes his trials performances by setting yet another record, he will truly have earned his place among the brightest stars in track and field.
Eaton is an incredible all-around athlete who has already set the world record in the indoor heptathlon, so it comes as little surprise that he is standing out among U.S. decathletes.
That said, it is unlikely anyone predicted that his Day 1 performance would be as incredible as it was.
Prior to the trials, I ranked Eaton as the No. 2 medal hopeful on the U.S. men's track-and-field team, stating that he "could be primed to win his first gold medal in London."
One day later, my only regret is not ranking him No. 1.
Thanks for reading!
Follow me on Twitter @Dan_Hope.