NFL Rookies Worth Early-Round Fantasy Consideration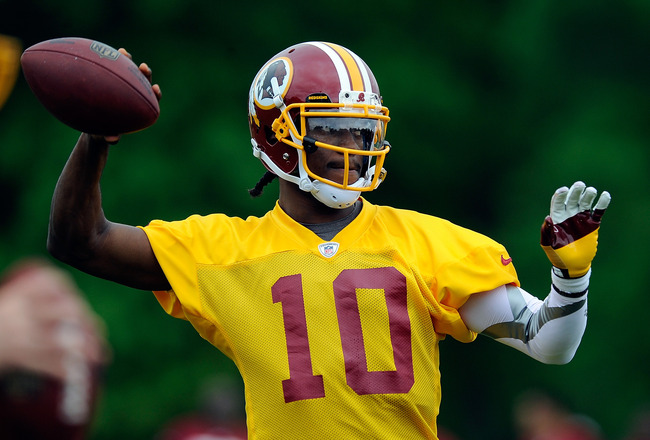 Patrick McDermott/Getty Images
Every approaching NFL season offers a special opportunity for those truly dedicated to the game: fantasy football.
Every season, experts weigh in and those participating study magazine after magazine, analysis after analysis. Every year, there is that can't-miss prospect that you want on your team.
But the one setback: he is a rookie!
Rookies are usually passed up in the first round because their production is unknown and they are unproven in the big leagues. One may choose to pass up on a rookie in the first three rounds in favor of a veteran player, but experience shouldn't be the only factor.
The 2012 NFL draft was loaded with playmakers and saw plenty of game-changers selected. So while you may hesitate to take a rookie, depending on where you are picking or how many people are in the league, they are a high-risk, high-reward investment.
Every year, rookies are big risks when they are drafted high. But some rookies are destined for greatness, even in their first seasons.
Here are five intriguing rookies that may very well be worth a draftee's top three selections in fantasy drafts across the nation.
Trent Richardson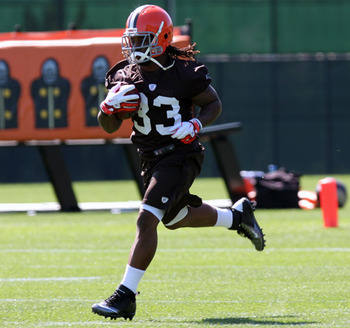 The Cleveland Browns drafted running back Trent Richardson with the No. 3 overall pick.
A top three selection isn't a project player or a player given time to develop. The Browns drafted Richardson to play, and all Richardson knows how to do is make plays.
Richardson benefits from the messy quarterback situation in Cleveland.
The Brandon Weeden, Colt McCoy and Seneca Wallace drama still has to play out. Even when the job is secured, (it is most likely Weeden's), the lack of adequate targets doesn't make the passing game a threat.
Richardson's tough running and explosive speed will keep him on the field in Cleveland. He is strong enough to plow through the goal line in red-zone situations and figures to be Cleveland's best offensive weapon.
Oh yeah, and it's safe to say he will play with a chip on his shoulder.
Watch out Jim Brown.
Coby Fleener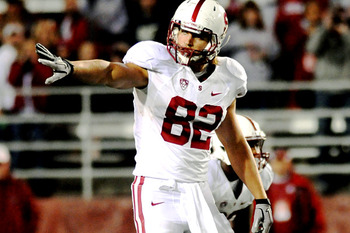 Coby Fleener has an advantage that most pass catchers don't have going into the NFL: familiarity.
Fleener played college ball with Andrew Luck at Stanford and they continue their football journeys together with the Indianapolis Colts.
Fleener already has the chemistry with Luck.
He is a solid pass-catcher and is a good security blanket for Luck. He figures to be involved on third down and efficient in the red zone.
At 6'6'', Fleener figures to be Luck's biggest target and should use his size advantage to regularly find the end zone.
The 2011 season revolutionized what the tight end position means to the fantasy world. Jimmy Graham and Rob Gronkowski had production that was unseen from prior tight ends.
Now that the game is adapting, so should fantasy owners.
Tight ends figure to be more productive in 2012 than ever seen in the NFL. As soon as one tight end goes off the board, the others seem to follow. So if you are drafting a team and want a solid running back, wide receiver and tight end foundation, Fleener is worth a serious look.
Robert Griffin III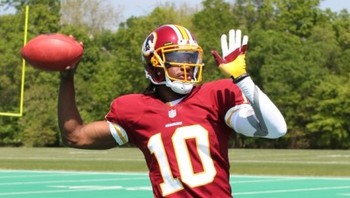 Robert Griffin III was the No. 2 overall selection in the 2012 NFL draft.
The Heisman Trophy winner from Baylor is an explosive and special player who should immediately make plays in the NFL.
The Washington Redskins did their part to make Griffin's transition to the NFL as easy as possible. They signed Pierre Garçon and Josh Morgan to bolster their receiving corps.
Griffin III already has a rocket arm and is a pretty accurate passer.
But what really sets Griffin III apart are his legs.
Cam Newton showed just how special a dual-threat quarterback can be in the NFL. Newton threw some 400-yard games and rushed for a record number of touchdowns.
Griffin III is athletic enough to have a stellar rookie season himself.
Robert Griffin III actually has a case to be a first-round fantasy selection. He has good targets to throw to and can buy time on his feet. If the play breaks down or he sees an opening, his athletic abilities allow him to make spectacular plays.
He is a good runner and he is a passer, and that should make fantasy owners extremely happy in 2012.
Doug Martin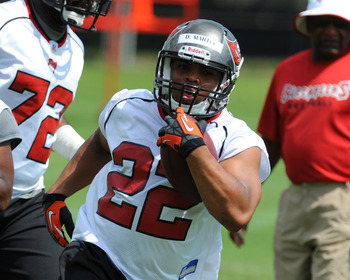 Doug Martin figures to be in a stiff competition for the Tampa Bay Buccaneers' starting running back position with Legarrette Blount.
However, regardless of who initially wins the position, Martin figures to be the more productive of the two backs.
Martin has good vision from the running back position. He is patient and holds onto the football, something that Blount struggles with.
He is a safe pick because he is a consistent player. He will get his fair share of touches every game and have solid production.
The fantasy football world is revolved around running backs. Martin is a solid running back who will have steady production in 2012. Coach Greg Schiano made him a first-round pick and plans on Martin being a valuable part of the offense.
Ryan Broyles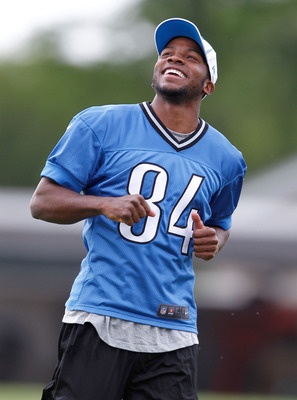 Gregory Shamus/Getty Images
While not every fantasy owner is aware of this Detroit Lion, Ryan Broyles may actually be a huge sleeper.
A college injury cost him a first-round selection and national exposure, but the wide receiver is ready to make plays in 2012.
Matthew Stafford had a 5,000-yard season in 2011. Though the Lions have some running backs available to them this year that were not available last year, they are a passing team.
The drama and stupidity surrounding Titus Young will cost him opportunities in 2012. With Calvin Johnson drawing coverage and attention, Broyles may be able to thrive in his "sleeper" role and make plays.
I know this sounds like a stretch, but depending on how big your fantasy league is and who is/isn't available and what you want on your team, Broyles could be a good pick.
He has impressed coaches with his performance in the slot and the organization believes he is a big playmaker.
So while this may seem like a reach, think about what fantasy football is all about.
Every year, big names bust and the unexpected rise up. If Broyles is available towards the end of the early rounds and you want to show the league you know something they don't know, you might want to seriously think about taking him. He has a 5,000-yard quarterback, and as a slot receiver, has the potential to make big plays.
Keep Reading