Euro 2012 TV Coverage: Wayne Rooney and Top Stars You Won't Want to Miss
June 23, 2012

Scott Heavey/Getty Images
Euro 2012 is in full force and the top stars are only just getting started. Wayne Rooney and other top stars to watch out for are going to be taking over the Euro 2012 tournament.
The best, most exciting stars will include Mario Gomez from German, Christiano Ronaldo from Portugal, Andres Iniesta from Spain and Wayne Rooney from England. Here is how to catch the top stars in action at Euro 2012.
Mario Gomez, Germany
Next Game: June 28, 2012 vs. winner of England/Italy match
How to Watch: ESPN, 2:45 PM
Mario Gomez is currently tied with Ronaldo as one of the leading scorers of the entire Euro 2012 tournament. Gomez is one of the most interesting players to watch because he is always a threat to score and can beat almost any defender one on one. 
Gomez has been using the tournament as a way to make a name for himself globally and he will be even more fun to watch as the tournament progresses while he leads Germany to a possible championship.
Christiano Ronaldo, Portugal
Next Game: June 27, 2012 vs. winner of Spain/France match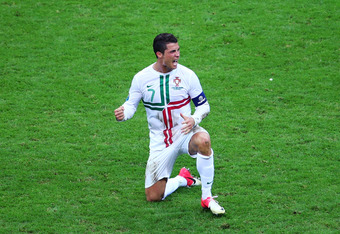 Michael Steele/Getty Images
How to Watch: ESPN, 2:45 PM
Ronaldo is one of the biggest names in the entire tournament and that's because he is a top star that needs to be seen. Ronaldo is going to continue his top scoring ways in any game he plays and it will only lead to more interesting television.
Ronaldo is playing next against the winner of Spain and France and he matches up well against either team. He should be able to take on either team and provide another exciting goal to help the Portuguese compete in their match.
Andres Iniesta, Spain
Next Game: June 23, 2012 vs. France
How to Watch: ESPN, 2:45 PM
Iniesta is arguably one of the more fun players to watch. Despite lacking the scoring prowess of other players on this list, Iniesta is fun to watch because he is the leader of Spain's team. Watching him pass the ball around like Peyton Manning or Dwayne Wade is fun to watch.
He can also play defense and is one of those guy who needs to be watched. His all around talent is what will make whatever game he is in interesting and because of that, Iniesta is one of the best to watch in the Euro 2012 tournament.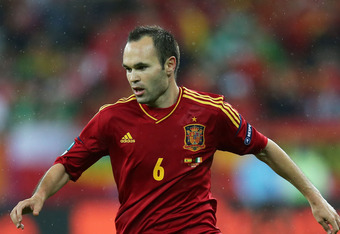 Alex Grimm/Getty Images
Wayne Rooney, England
Next Game: June 24, 2012 vs. Italy
How to Watch: ESPN, 2:45 PM
Wayne Rooney is one of the most aggressive players in soccer and due to that, he served a two game suspension for the start of the Euro 2012 group stage. Once he got back, he scored the only goal for the English in their match against Ukraine. 
Rooney is going to be fun to watch mainly due to his all-out style and his scoring nature. He gets a goal in almost every game for Manchester United and will always go for the kill when he needs to. If that's not worth watching, then who knows what is?