2012 NHL Draft Grades: Sharks and Teams That Drafted Poorly in the 1st Round
June 23, 2012

Justin K. Aller/Getty Images
The San Jose Sharks were one team that drafted poorly in Friday's first round of the 2012 NHL draft. When you are a contending team like the Sharks, taking chances on players in the first round is quite risky.
Let's look at three teams who drafted poorly in the first round.
Anaheim Ducks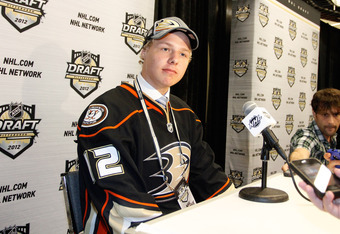 Justin K. Aller/Getty Images
The Anaheim Ducks surprised many by taking Swedish defenseman Hampus Lindholm with the No. 6 pick in the draft.
The Ducks could have taken Jacob Trouba, Cody Ceci, Mathew Dumba or another talented defenseman likely to have a better NHL career than Lindholm.
They also passed on Filip Forsberg, who would have given the Ducks a physical power forward that can score goals consistently. If they trade Bobby Ryan before next season, Forsberg would have been a solid long-term replacement.
Lindholm will be under pressure to perform well as a rookie after being drafted No. 6 overall.
Grade: C
Scott Laughton will bring size and toughness to the Philadelphia Flyers, but they really needed a defenseman in the first round.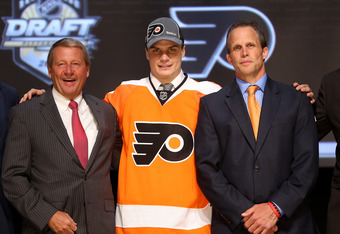 Bruce Bennett/Getty Images
Since the Flyers have several free-agent blueliners to re-sign, upgrading their depth on defense would have been the best move.
Talented defensemen such as Olli Maata, Mike Matheson and Jordan Schmaltz would have been better choices for Philadelphia than Laughton.
This wasn't an awful pick, but it didn't address the major weakness of the team.
Grade: C/C+
San Jose Sharks
Tomas Hertl is a good prospect, but he would have been available later in the first round or maybe in the early second round.
The Sharks needed a power forward who can impact games with his size and offensive production, and Hertl won't provide that.
San Jose could have drafted defenseman Olli Maata or forward Teuvo Teräväinen with the No. 17 pick but decided to take a chance on Hertl instead. It was a poor decision for a team that needed a good first-round pick to improve for next season.
Grade: D+