2012 NHL Draft Grades: Breaking Down Teams with Multiple First-Round Selections
June 23, 2012

Jamie Sabau/Getty Images
While some teams were lucky enough to hit home runs with just one pick in the NHL draft's first round, such as the Edmonton Oilers selecting Nail Yakupov first overall, others had the good fortune of landing two selections in the opening round.
There were actually four such teams, and while some of them did extremely well with the extra pick, others could have done so much more with what they had.
The NHL draft is always difficult to judge right away because the vast majority of the players taken won't see the NHL for at least a year, and more like two or three years for many others. With that said, teams can only be evaluated based on how prospects were perceived prior to the draft even if their true impact won't be felt for quite some time.
Here is a breakdown of how each of the teams with multiple first-round picks fared on Friday night.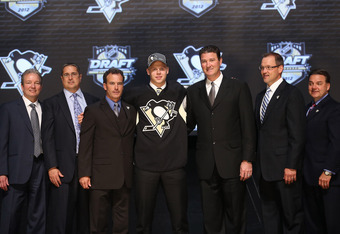 Bruce Bennett/Getty Images
The Pittsburgh Penguins were originally set to pick 22nd in the NHL draft, but persistent rumors of center Jordan Staal wanting out of Pittsburgh in order to play with his brother Eric in Carolina were proven true as the Penguins dealt Staal to the Hurricanes for the No. 8 pick and two players.
The Pens used that pick on defenseman Derrick Pouliot despite higher-touted blueliners like Cody Ceci and Jacob Trouba being available.
Pittsburgh then went defense again when it took Olli Maatta at No. 22. That pick is a potential steal, as he set the OHL playoff scoring record for defensemen this past season, but it doesn't cancel out the first pick. The Penguins should have diversified and taken one forward as their defensive depth is solid, so their strategy was definitely questionable.
Grade: C
Tampa Bay Lightning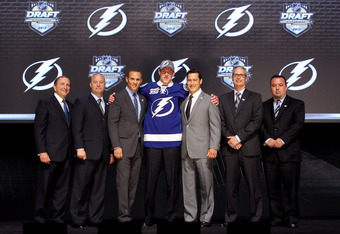 Bruce Bennett/Getty Images
After a disappointing 2011-12 season, the Tampa Bay Lightning ended up with two first-round selections at No. 10 and No. 19. Tampa has a ton of offensive ability, so it is no surprise that the Lightning focused their efforts on defense and goaltending.
At No. 10, the Bolts went with defenseman Slater Koekkoek. He is viewed as a solid all-around rearguard, but most graded him as a late first-rounder, so the pick may have been a bit of a reach.
The Lightning then selected goaltender Andrei Vasilevski with their second first-rounder. The pick wasn't necessarily bad in a vacuum, as Vasilevski was arguably the best goalie in the class along with Malcolm Subban, but Tampa just gave up several picks for former Nashville Predators goalie Anders Lindback.
You can never have too much goaltending depth, but if Lindback works out, then Vasilevski may never play in Tampa.
Grade: D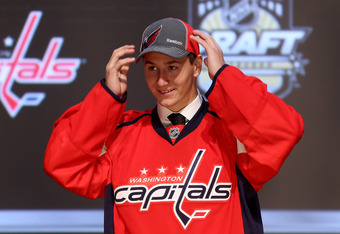 Bruce Bennett/Getty Images
Last season, the Washington Capitals did their best to transform from a team predicated on style to one that focuses more on substance. It appeared to work, as the Caps made it all the way to Game 7 in the Eastern Conference semifinals. They were ousted by the New York Rangers, but perhaps the Capitals are finally built for playoff success.
With the No. 11 and No. 16 picks in the first round on Friday, Washington did what it could to continue that change in culture.
The first pick was big, skilled, Swedish center Filip Forsberg, who most billed as a top-five selection. Washington then went with another large forward in Tom Wilson at No. 16. He doesn't possess the same offensive ability as Forsberg, but Wilson is a guy who is willing to go to the dirty areas and get physical, so he will be a useful player come playoff time a couple of years down the road.
Washington also traded for former Dallas Stars center Mike Ribeiro, so it was a great night for the Caps.
Grade: A
Buffalo Sabres
Since the lockout, the Buffalo Sabres' biggest issue has been a lack of size and physicality at forward. That used to be masked based on the way the rules changed, but with things reverting back to a pre-lockout style, the Sabres need to get bigger fast. Buffalo has a couple promising centers in Tyler Ennis and Cody Hodgson, but both are on the smaller side.
The Sabres made sure that they got some bulk down the middle with each of their two first-round selections, however.
At No. 12, the Sabres got what could be the draft's biggest steal, as they took Russian star Mikhail Grigorenko. There is some concern that he could bolt for the KHL at any time, but Grigorenko is big at 6'3" and has Evgeni Malkin-esque talent, so he is worth the risk.
Buffalo then packaged the No. 21 and No. 42 picks for No. 14. The Sabres went with another center in Latvian Zemgus Girgensons to complement Grigorenko. Girgensons isn't as skilled, but he is a big, physical player who has been compared to St. Louis Blues captain David Backes for his fine two-way play.
If both picks work out, Buffalo will be sitting pretty.
Grade: A
Follow @MikeChiari on Twitter