Dan Miragliotta: Too Passive Again
June 23, 2012

The UFC has a very clear rule against running in a fight: the passivity rule. As posted on the UFC website, here it is: "Timidity, including, without limitation, avoiding contact with an opponent, intentionally or consistently dropping the mouthpiece or faking an injury." This is exactly what Clay Guida did for almost the entire 25 minutes of scheduled action last night in Atlantic City.
The referee, Dan Miragliotta, allowed Guida to avoid contact with Gray Maynard until there was only a minute and fifty-three seconds remaining in the five-round bout. He then decided to issue a flaccid warning: a warning that would have been pertinent had it been issued fifteen minutes sooner.
Sport is about trying to score more points than your opponent in order to win; sport is not about trying to manipulate the rules to win via not-scoring.
Basketball implemented shot clocks for this very purpose; football has timeouts, the two minute warning and a shot clock; hockey has the icing rule and penalties for intentionally shooting the puck over the glass. These rules work to solve the problem of athletes holding on to a lead, stalling and no longer actively seeking to fulfill the intent of the game.
When Clay Guida decided to turn away from his opponent and sprint, he was not utilizing footwork. He was avoiding contact. The golden rule of footwork is "Don't cross your feet." Crossing one's feet leaves one out of position to fight, throw and take strikes.
Clay often crossed his feet in order to turn and run once Gray managed to close him down and cut him off. The punches that Clay was throwing were well off their mark and were intended more to keep Maynard from entering range than to actually hit him. He was in violation of this rule several times throughout the fight but particularly in Rounds 2, 3, 4 and 5. According to Fightmetric stats, Guida landed 49 of 327 total strikes. (To put these numbers in perspective, Edgar landed 95 and Maynard landed 71 at UFC 125.)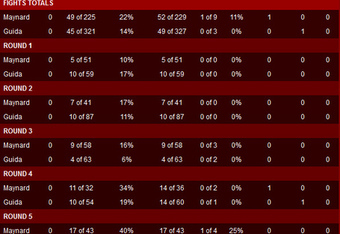 Gray did his part. He cut off angles and pressed the action. When he finally managed to have "The Carpenter" cut off and pressed against the cage, Guida turned and ran.
The lone highlight of the bout was when "The Bully" created a Ricardo Mayorga moment in the forth round. Gray dropped his hands and encouraged Clay to take free shots. He ate them cleanly and even turned that into a near-submission via guillotine. Well done, Maynard.
While Clay was running, for some unusual reason, commentators (Jon Anik and Kenny Florian) were praising Clay for his impressive footwork and elusive head movement.  Strangely, in the fifth round, Clay was praised for burning up the clock. They did not have one disparaging thing to say about his tactics nor about the quality of the fight being languished as a result. They even had the audacity to thank God and Dana White for making this a five round bout.
What was good about that fight being five rounds? The commentators' job is to call the fight and they should be more honest with their audience—and give their audience's fight I.Q. more credit—but the onus is on the referees to do their job: implement the already present tools. Commentators should only call the action, not create it. When the fighters do not fight, that is the job of the person in stripes.
Credit Dana White for saying (via MMA Junkie): "I think Gray Maynard won that fight easily. Nobody can win or lose a fight when the guy is running around in circles. He was literally running. I had some guys who are fans on Twitter saying "Great footwork." This isn't f**kin dancing with the stars. You can't win a fight by running around in circles—that's not how fights are won."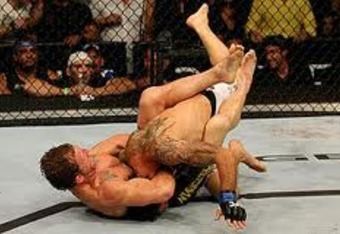 The truth is, the fight was a debacle and not a legitimate main even. Dana is absolutely right and his comments help create a sports culture that is conducive to entertainment and promotes the growth of the sport.
However, where Dana and I disagree is on his comment about Dan's warning: " "That's what they're supposed to do." I would suggest that referees should do more than that. That is what they should do when it commences and not when the fight is virtually over (1:50 remaining) and the damage has already been done. I feel Dana should have higher expectations of the referees especially considering the ramifications on the integrity of the sport.
Some might attempt to mitigate the lousiness—as is often Dana's mantra—by saying it was free. The last time I checked my cable bill, I pay for that channel. Yet, the finger cannot be pointed at White's direction, and hopefully his words ring out to others known for employing this same strategy.
Should blame be placed at the feet of Guida—literally and figuratively—and those of his coach, Greg Jackson? Absolutely. The Jackson camp is notorious for having their fighters utilize this exact blueprint to win either controversial or lackluster decisions. (See Carlos Condit-Nick Diaz or any of G.S.P.'s last fights.) However, they are not unilaterally culpable.
The truth is, the system already has a built in mechanism to counter this strategy: the timidity rule. It is incumbent upon the referee to take a point from the fighter engaging in passivity.The referee's failure to do so creates this opportunity for manipulation. Consider that Maynard was a single round on one judge's card from losing the split-decision that he won.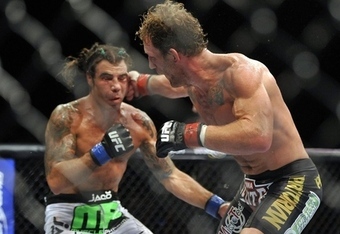 Consider the safety of residents who live in a neighborhood where the police never arrest anyone, or the classroom environment of a teacher who never issues detention. The same principle follows for the health of a sport in which a referee never holds athletes accountable to the rules. This is often seen in hockey and basketball games when the play's chippiness gets out of control and players get hurt.
Dan has done this before. Prior to this, what was the worst main event in the history of the UFC? If you chose UFC 112 (Silva v Maia), we are on the same page.
Miragliotta enacted the same method. He allowed Anderson to dance, run and clown until time had virtually expired and then issued a warning against inactivity. No point deduction, just a warning. Silva still did not engage and the fight ended without any points being taken away. However, he should have issued a warning sooner—not with 50 seconds remaining—and followed through on it.
Warning someone for a foul right at the end of the fight after allowing them to continuously commit the same infraction is an empty gesture. It serves to placate restless and frustrated fans and gives the false impression of doing one's job without having to stand behind any definitive action. It is perfunctory. It is akin to "having enough" and threatening to take the screaming impudent kids out of the restaurant and straight home- conveniently after dessert is over and the bill is on the way.
For the record, according to Fightmetric, Silva landed eight total strikes in the fifth round and eleven in the fourth. For those who know the fight, you will recall him actually running behind Miragliotta and using the referee as a shield: Miragliotta found this amusing and laughed. Dan was complicit in the Guida and Silva bouts, allowing the fighters to break the rules and creating a fight that never should have been exhibited before a paying crowd nor a viewing audience.
Truthfully, this scenario is better than one at the opposite end of the spectrum. Referees who determine the outcome of a fight by capriciously deducting points is a far more bleak paradigm. Yes, the fighters should determine who the winner is- not the referee.  
The athletes should be the main focal point of an outcome. However, the officials are tasked with the duty of ensuring the rules are followed. When one participant is not affording the other competitor an opportunity to compete, the referee is compelled to do his job.  
Warnings should be issued once a fighter's game-plan is revealed to be avoiding contact. These warnings should be supported by point reductions.
Not considering five round fights, what was the worst example of timidity in any combat fight...ever? Surpassing even the Hopkins-Hakkar match (boxing), the worst example of passivity—if it was not Maia-Silva—has to be Khalib Starnes-Nate Quarry at UFC 83. Who was the referee for that fight? How many points did he deduct? Zero. He never even gave an official warning for a point reduction.
I think the matchmakers did a good job and we should have expected a great main event at UFC on FX 4. Dana also said the right things and voiced the general sentiment of most fans. The judges delivered by not awarding the running session as a "W" to the violator. Yet, the worst offender of all was the referee. He is there to do a job and not be a fan. 
Being a referee is very difficult and I praise-and never fault- a referee who chooses fighter-safety first. However, timidity is an easy call to make. Hopefully, referees will simply do their job in the future.