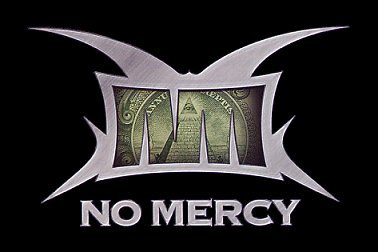 Hey, Bleacher Report!
The ratings war started a few weeks back, so please leave a comment with a rating from 1 (hated it) to 10 (loved it). Please give us some feedback. It will only help us.
This special episode is Smackdown's No Mercy PPV (which really took place in late May).
Welcome to the No Mercy PPV, brought to you exclusively by Friday Night SmackDown.
Tonight, grudges will be settled, championships will be decided and feuds will be settled as after tonight, we'll be heading toward WWE's annual Money in the Bank tournament.
Tonight's main event sees WWE Champion Bryan Danielson try to overcome his longtime rival CM Punk once and for all.
Can Danielson finally prove that he's the best in the world? We'll find out later tonight!
Begin Slideshow

»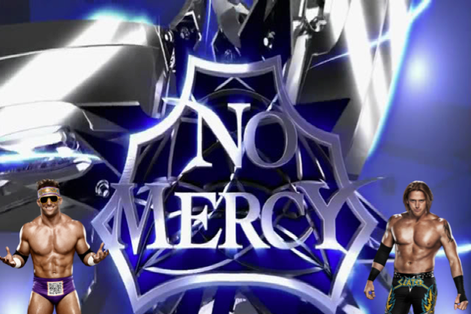 Zack Ryder comes out first. He chants 'Woo Woo Woo!!' at the top of the ramp and the crowd replies. He slaps the hands of all the fans down the ramp to a huge pop before entering the ring
Next in is Heath Slater. He storms out to huge heat and taunts the fans as he enters the ring.
With both contestants in the ring, the referee rings the bell and this match is underway! Zack immediately runs at Heath and goes for a Rough Ryder, but Heath just pushes him out of the way. Heath tries a big boot which Ryder reverses into a neckbreaker! Ryder leaps onto the top rope and waits for Slater to get back to his feet, before jumping off the top rope and connecting with a huge crossbody!
He drags Slater to his feet and tries the Rough Ryder again, but Slater kicks him in the gut and follows up with a huge DDT. Both men are down, but Ryder is able to get to his feet first and climbs to the top rope. Heath pulls Ryder off of the top rope and stares at him, before lifting him up. He tries a backbreaker but Ryder breaks free and locks in an STF type move on Slater!
Matthews: "This is a different strategy than we've seen from Ryder in the past. He looks more focused and determined than ever!"
Striker: "Maybe it'll work for Ryder. He looks like he wants to wrap this up quickly!"
Heath quickly manages to reach the ropes and break the hold. Ryder celebrates and taunts Slater, but it's a waste of time. Slater manages to get to his feet and lands some punches on Ryder! He sends him into the turnbuckle and carries on unloading with punches and kicks. Slater backs away and then runs at him with a clothesline that nearly breaks Ryder's neck! Slater then carries on beating away at Zack's body. He laughs at Ryder and pulls him away from the turnbuckle. He sets him up for a suplex but Ryder pushes Heath away and hits a flying clothesline. Both men are down.
Striker: "Zack was totally dominant at one point! It just goes to show how quickly things can change!"
Matthews: "It seems that this match could go any way now!"
Ryder and Slater both get up at the count of seven, only to send each other back down with a double clothesline! Slater rolls to the outside as Ryder tries to use the ropes to get to his feet. Slater gets to his feet on the outside as Ryder is up on the inside. He props himself up on the ropes and calls for Heath to come back in the ring. Heath re-enters the ring as Ryder taunts him. The two stare down and Ryder slaps Heath across the face. Slater slaps him back and then takes him down. He kicks away at Ryder's face and pushes him under the ropes. The ref reaches a count of 4 before Slater breaks away.
Ryder's on the outside now and as the ref starts a 10 count, Heath climbs out after him. Heath taunts Ryder and tries to drag him up, but Ryder gets out of it and smashes Slater's head into the steel ring steps! He does it again before both men fall to their feet. The ref reaches a count of 5 as Ryder slowly rolls into the ring. Heath finally climbs in at the count of 8. Ryder is up, but Slater beat him to his feet. He tackles Ryder and then follows up with a legdrop. He grabs Ryder's throat and begins to strangle him! The referee pulls Slater away and Heath releases the hold, but he goes straight back to it and tries to send him out of the ring. Somehow, Ryder manages to stay between the ropes. Heath continues the assault with a legdrop on the ropes to Ryder! He follows up with even more punches and then a huge boot to the head. Heath laughs and goes for the cover! 1...2... KICK OUT!! Slater can't believe it!
Matthews: "Slater's in shock! He can't believe Ryder kicked out of that cover!"
Slater unloads more punches to Ryder, but Ryder fights back and both men go crashing to the outside again. Slater is up first and hits Ryder with a knee to the gut, before holding Ryder up on the barricade and connects with a running kick! Ryder looks out cold. Slater pushes Ryder into the ring and goes for the cover once again, but Ryder rolls him up into a cover of his own! 1...2...KICK OUT!!
Ryder nearly stole it there! Ryder and Slater both get to their feet. Zack ducks an E-Minor attempt from Slater and takes him down with an arm drag, but Slater grabs Ryder again and locks in that chokehold once more. He drags Ryder up, only to send him straight back down with a vicious shoulder-block. Slater laughs and picks up Ryder once more, but from out of nowhere, Zack connects with a Rough Ryder! Both men are down now, but Ryder tries to go for a cover and puts his hand over Slater, who rolls to the outside! Ryder grabs the ropes and pulls himself up, as Heath staggers to his feet on the outside. Ryder leaps over the ropes and connects with a flying crossbody!!
Both men are down on the outside. As Ryder crawls back into the ring, Slater reaches under the apron and pulls something out. Slater rolls himself in at the count of six and both men are up. As they stagger into each other, Slater punches Ryder in the head with brass knucks behind the referee's back. He hasn't seen it! Slater throws the knucks to the outside and goes for the pin. 1...2...3!
Winner (and New #1 Contender for the Light Heavyweight Championship): Heath Slater
After the match, Slater goes to the top rope and celebrates. He makes the ref raise his hand in victory as he looks down at Ryder and kicks him. Suddenly, Michael Cole's music hits and he appears at the top of the ramp!
Cole: "Heath, you must think that I'm blind. I've seen what you've been doing for the past few weeks, using brass knucks to cheat and win! The referee might not have seen it, but all these people here tonight saw it and more importantly, I SAW IT! This match isn't going to end like this. I'm ordering the referee to re-start this match, RIGHT NOW!!"
Cole leaves as the ref rings the bell. Slater's still reeling from Cole's announcement and as he turns around, Zack Ryder connects with his finisher and now the cover! 1...2...3!
Winner (and #1 Contender for the Light Heavyweight Championship): Zack Ryder (9:47)
Ryder can't believe it! He rolls out of the ring and mixes with the fans as Richie Steamboat appears at the top of the ramp and applauds him, before leaving Ryder to continue celebrating.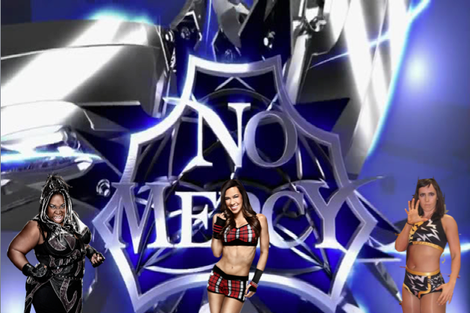 We see a video package of the events that have led to this match and the dominance of Kharma and Death Rey over all the other Divas.
AJ comes out first to a nice pop from the crowd. She looks nervous as she waits for her opponents to hit the ring. Kharma and Rey make their way out together, with Rey working the crowd and Kharma looking a hole right through AJ.
Rey enters the ring first and stands right in front of AJ, who's shaking with fear. From the other side of the ring, Kharma gets in next and stands behind her. AJ is the meat in this sandwich. As the bell rings, it doesn't look good for AJ as the heels surround her. AJ tries to get out of the ring, but Kharma traps her and they nail AJ back and forth, before Rey flies off the ropes and nails AJ with a flying forearm and she bounces outside to the floor.

That leaves Rey and Kharma in the ring alone. Rey thinks that the match is won, but Kharma has other ideas. She charges at Rey and clotheslines her! Rey tumbles through the air, inside and out. Kharma stands over her, licking her lips. She picks Rey up and throws her into the turnbuckle. Kharma charges at her and lands a big splash in the corner. As Kharma goes to bounce off the ropes, AJ grabs her foot and tries to trip Kharma up, but Kharma turns round, picks her up by the hair and throws her through the air so she effectively cross-body's Rey. With both her opponents down, Kharma starts laughing in the middle of the ring.
She picks AJ up by the throat and chokeslams her hard down on to the mat. Rey tries to escape but Kharma grabs her leg. She picks Rey up and connects with a massive Implant Buster in the middle of the ring. She's not done yet though. She picks up Death Rey and press-slams her on to AJ! With both of her opponents down on the canvas side-by-side, Kharma puts a foot on each girl's chest, and the ref counts 1…2…3!!
Winner: Kharma (Match Time – 4:29)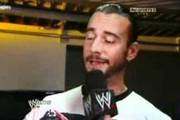 We go backstage to see Todd Grisham standing by with the challenger for the WWE Title, CM Punk.
Todd: "Thanks for joining me Punk, so tonight, you have the chance to win back the WWE Championship that you lost under controversial circumstances at Wrestlemania. What makes you think that you've got enough to overcome Bryan Danielson tonight?"
Punk: "Well Todd, what a positive way to put things! If everybody was like you, I'd have ended up buried long before now. Jeebus! You should be asking what makes Bryan Danielson think he can overcome CM Punk tonight! He's the one who's taken short-cuts at every step of the way to keep hold of my title!
I've busted my ass for the last 10 years to get to where I am and Bryan literally used a briefcase to get the title. He didn't outwrestle me, he cheated and tonight, he can't. One of us has to climb that ladder and reach for, ironically, the brass ring to get what's rightfully theirs, the WWE Championship. Simply put Todd, I've done that 4 times before. I've built a legacy around being some-one that stands out, and tonight, I'll stand-out once again and become the new WWE Champion!"
With that, Punk taps Grisham on the shoulder and walks off.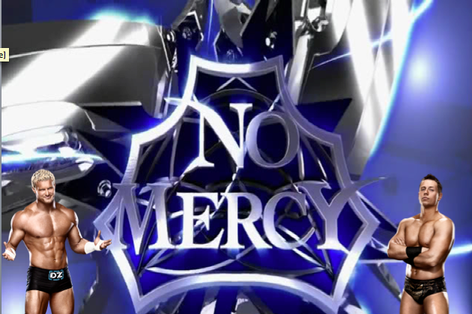 Dolph Ziggler is in first. He looks around at all the fans to a mixed reaction. He hits his chest and warms up on the way down the ramp. Climbing in the ring he slicks his hair back and waits. The Miz enters now to MASSIVE heat. The Miz laughs at Ziggler and the fans and cockily strides down the ramp to the ring, taunting fans on the way.
The ref rings the bell as Miz and Ziggler lock up. Ziggler quickly gets the upper hand and slaps Miz. Miz slaps Ziggler back in return. The two continue to trade blows until Ziggler lands a hard elbow and sends Miz crashing to the floor. Miz bounces straight back up and Ziggler sends him flying into the corner. Dolph now walks over to Miz and hits a monkey flip, who flies half-way across the ring. Ziggler runs at him and delivers a dropkick to the side of his head and then forces his head against the ropes. The ref reaches a four count as Ziggler lets go and Miz rolls to the outside.
Matthews: "Ziggler has been all over Miz in this match so far. It just goes to show how talented Ziggler is!"
Striker: "Don't rule out The Miz just yet. He's a big part of the WWE's future too!"
Miz gets to his feet on the outside and taunts Ziggler. Dolph then jumps over the ropes and onto Miz on the outside, connecting with a crossbody! Ziggler rolls back into the ring as the ref reaches a five count and lets Miz get to his feet as the ref reaches 8. Ziggler once more leaps over the ropes and onto Miz. Ziggler drags up Miz by his hair and sends him crashing into the steel ring steps. He then pushes Miz into the ring and follows suit. He goes for the cover - 1...2...KICK OUT!
Matthews: "Ziggler nearly had it there!"
Striker: "Yeah but he didn't, and now Miz can try and gain some momentum!"
Ziggler climbs to his feet and lands kicks to the body of Miz. He then picks Miz up and tries to lock in the sleeper, but Miz breaks free and lands a few punches to Ziggler's head. He throws him into the ropes and then connects with a bulldog before sending Ziggler to the outside. Miz climbs the top rope and taunts the fans shouting "AWESOME!!" The fans are all over him!
Ziggler slowly gets to his feet on the outside clutching his head. Miz now leaps over the top ropes with some high-flying offense, but Ziggler counters it and dropkicks him straight in the chest! With both men down the referee starts a 10 count. He reaches a count of 7 before Ziggler is up. He picks up Miz and they both enter the ring. Ziggler lands shot after shot to the head of Miz and then picks him up. He lands a DDT and follows up with a cover, but Miz reverses into a cover of his own! 1...2... KICK OUT! Miz gets to his feet and lands a vicious kick to the side of Ziggler's head. He sets himself up at the side of the ring and waits.
Matthews: "Miz is looking for the Skull Crushing Finale here!"
Ziggler gets to his feet and Miz grabs him from behind. He's set him up for the Skull Crushing Finale, but Ziggler fights his way out of it until Miz releases the hold. As Miz stumbles back around, he walks straight into a Zig-Zag from Ziggler! He rolls straight into the cover - 1...2…3!!
Winner: Dolph Ziggler (Match Time - 6:34)
After the match, Ziggler climbs to the top rope and celebrates his victory. He laughs at the fallen Miz and leaves the ring, laughing and smiling at Miz as he walks up the ramp. Miz is sitting in the middle of the ring, looking frustrated and angry! The final shot is of Ziggler at the top of the ramp laughing pointing both hands to the air before leaving.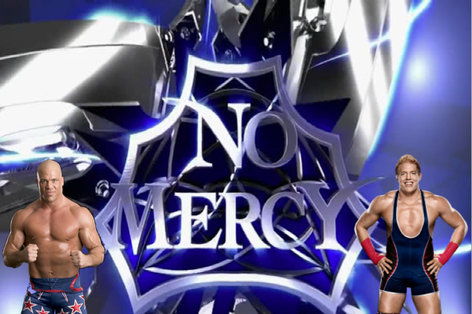 A video package is quickly shown highlighting the amateur wrestling background of both men. Jack Swagger's music hits now and he makes his way out to some very strong heat as he does his signature push up.

Striker: "Jack Swagger needs to use this opportunity tonight to get his career back on track. He's a tremendous athlete and wrestler, but he feels like he was held down by Ted DiBiase. It's now put up or shut up time for Swags!"
Kurt Angle makes his way out to the ring and gets the biggest pop of the night from the live crowd!
Matthews: "It's good to have Angle back in the WWE, the only Olympic medallist in wrestling history. I don't think I've ever seen him have a bad match and tonight won't be any different!"

Both men are in the ring now, with their eyes locked onto each other. Angle mouths to Swagger: "I'm going to break you" and he makes a twisting motion that pops the crowd. The referee now signals for the bell as the match is underway.
Swagger quickly goes on the assault forcing Angle into the corner while they are locked up. The referee begins a count of five as Swagger extends Angle's head back into the corner as the referee counts 1…2…3...4…Swagger breaks the hold. They circle each other and lock up again as Swagger tries to force Angle into the corner, but Angle reverses Swagger into the corner now! The referee tells them to break as he begins another count 1…2…3...4... Both men make a clean break.
They both start back in the middle of the ring and circle each other. Angle goes for a go-behind and attacks Swagger's leg as he slams him down to the mat and works on the legs of Swagger. Swagger tries to roll him over and lock in an arm bar. They exchange chain wrestling moves before Angle gains the upper hand, spinning Swagger around to try and lock in the ankle lock, but Swagger uses the ropes to kick Angle off and he rolls out of the ring.
Striker: "Nice escape there by Swagger. It gives him the chance to catch his breath."
Angle goes after Swagger and grabs him by the hair. Angle whips Swagger into the steel steps and Swagger hits the ground hard. Angle quickly rolls him into the ring and follows behind him. Angle goes to grab Swagger, but Jack uses Kurt's momentum to roll him over and lock in the AnkleLock. Angle is writhing around in pain trying to reach the ropes. Swagger pulls back, putting more pressure on the Olympic Champion, but Angle just reaches the ropes!
Matthews: "Angle was just able to make it to the ropes there. I wonder how much damage has been done?"
Swagger has to break the hold and he looks angry. He stalks Angle and tries to lift him up however, Angle reverses it, flips Swagger over and uses the ropes to get back to his feet. Swagger tries to get to his feet as Angle evades Swagger and connects with a German suplex! Swagger lands awkwardly on his neck. Angle takes the straps down, which means that business is about to pick up! Angle quickly locks in his own Ankle Lock on Swagger! It's Jack's turn to be screaming in pain! He tries everything to escape, but he just can't. Angle's got it locked in perfectly. Swagger looks like he's about to tap, but he somehow manages to roll through the Ankle Lock and sends Kurt flying face first into the turnbuckle.
As he stumbles back towards the middle of the ring, Swagger gets to a standing position and looks like he's going to set up for the gut-wrench powerbomb, but Kurt counters it into an Angle Slam! Angle looks at the turnbuckle and then points to Swagger. The crowd pops and they know what's coming next.
Striker: "Kurt's taking a huge risk here. He could just lock in the Ankle Lock and win this match!"
Angle takes a deep breath and goes for a top-rope moonsault on Swagger, but Jack rolls out of the way and Angle hits the mat face first. Angle's lying motionless as Swagger uses the ropes to pull himself up. Swagger sees the position that Angle is in and immediately locks in the Ankle Lock. Angle is stuck in the middle of the ring now and he can't go anywhere. Swagger leans down on Angle so that all his weight is lying on Angle's leg. Kurt desperately tries to crawl towards the ropes. Swagger's attempting to pull Angle back to the middle of the ring, but it's not working! Angle is halfway to the ropes! Swagger's able to lift himself up and pulls Kurt back into the middle of the ring and really wrenches Kurt's ankle! Angle's now yelling in pain with nowhere to go and eventually… Angle taps!!

Winner (by submission): Jack Swagger (Match Time: 11:31)
After the ref rings the bell, Swagger releases the hold on Angle and screams in relief that he has beaten him. Swagger begins to leave the ring, but turns around and picks Angle up before connecting with a HUGE gut-wrench powerbomb!
Matthews: "Oh My God! Angle looks like he's broken in half!"
Swagger's not done. He picks Kurt up and destroys him with another powerbomb as Angle just bounces off the ring. Swagger smirks at Angle and spits on him as he leaves the ring. The referee signals the "X" as doctors rush to the ring to check on the fallen Olympic Champion.
Striker: "What an impressive showing from Jack Swagger. I guess he proved to all these people just how good he is. He's destroyed a former Olympic wrestling gold-medallist. Who else can say that they've done to Angle what Swagger did? That's a very short list Josh!"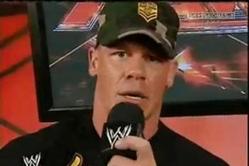 We go backstage to the locker room with Todd Grisham.
Todd: "Ladies and gentlemen, please welcome my guest at this time, John Cena!"
The crowd in the arena gives Cena a mixed reaction at best.
"John, you're definitely a different man to the one we saw a year ago, but you're still in the main event and you're still the most talked wrestler in the WWE. Tonight, you'll be facing the returning Chris Jericho in a No Holds Barred Match and I wanted to get your thoughts heading into this grudge match?"
Cena: "Well, Todd, just listen. I've been THE guy around here for so long that nothing fazes me anymore. Opening matches, grudge matches, main events, it's all the same to me. I'm what the people come to see. I'm a 12-time World Champion! If it fazed me, I wouldn't be where I am today. I don't do it for the people, I do it for myself. They can't decide what they want, so it's all about ME now! The Rock beat me at WrestleMania because I wasn't focused, but believe me, tonight, I'm more ready than I've ever been and Chris Jericho? You don't want none of this! He walks around taking people out with chairs? You've made the biggest mistake of your life rock-star, because now, what I'm gonna to do you, it's ALL legal. At the end of the night, rock-star, I'm turning your lights out!"
With that, Cena walks away and Todd sends us back to ringside.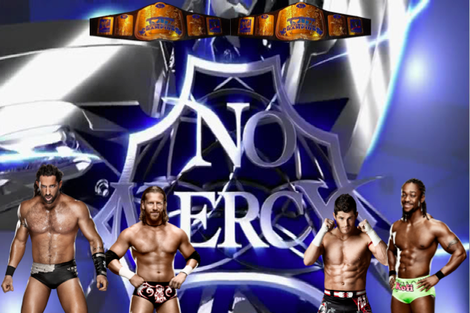 The challengers for the WWE Tag-Team Championships, Hawkins & Reks make their way out first. They wind up the crowd by telling them that it's their time to win the tag-titles. Air Boom come out next and the crowd goes nuts for the champs! They slide into the ring, straight into the faces of their challengers. There's a lot of pushing and shoving going on, but once things settle down, it looks like it's gonna be Kofi going at it with Hawkins.
Kofi knocks Hawkins back with a big kick to the head and follows up with a dropkick. He dropkicks Reks as he tries to come in. Kofi fights Hawkins on the floor and slides under the guardrail. He springboards back off the guardrail and takes out Hawkins with a flying forearm. Reks gets laid out by Bourne with a flying knee on the other side of the ring. Kofi brings it back in the ring for a scoop slam and a big knee drop.

Bourne comes in for a bit of double teaming for a pin attempts. Hawkins turns it around on Bourne and backs him in the corner, tagging in Reks. Reks with a kick to the mouth. Bourne backdrops Reks and tags in Kofi. Kofi works Reks over and drops him with a backbreaker. Kofi goes for the SOS but it's blocked. Hawkins is tagged in and they turn things around on Kofi in the corner. Hawkins talks trash and beats Kofi down. Hawkins runs into a big boot and Kofi goes to the top. He fights Reks off but Hawkins kicks him. Kofi ends upside down, hung from the ring post. Hawkins kicks him and bends his knee. Kofi ends up on the floor and Reks brings him back in. Reks stomps on Kofi from the top and makes another tag for another pin attempt.

More tags and a double team powerbomb for a 2 count as Bourne runs in to break it up. The champs continue to keep control of Kofi. Kofi counters a suplex and connects with a neckbreaker. Reks and Bourne come in at the same time. Bourne unloads and hits a big forearm smash. Bourne hits flying knee on Hawkins and then a hurricanrana on Reks, but Hawkins comes back in and they start double-teaming Bourne.

Bourne blocks the double underhook from Reks. Kofi springboards in for some assistance. Bourne goes back down and the champs try to double team Kofi. Kofi catches them both with a DDT at the same time - one reverse and one standard. Kofi misses a splash in the corner and gets kicked in the face by Hawkins. Hawkins slingshots in and takes Bourne out. Kofi drops Hawkins on his face and covers for a close 2 count. The crowd chants "this is awesome" now. Kofi fights Hawkins in the corner and takes him up top. Kofi climbs up for a superplex but Hawkins pushes him off. Bourne runs up and tosses Hawkins from the top to the mat. Bourne turns around to a takedown from Reks. Kofi and Reks trade shots now, before Kofi clotheslines him over the top rope. Kofi turns around and drops Hawkins with a superkick! Bourne tags in and hits Air Bourne! He covers Hawkins 1…2…3 to get the win and retain the titles!
Winners (and still WWE Tag-Team Champions): Air Boom (Match Time – 17:38)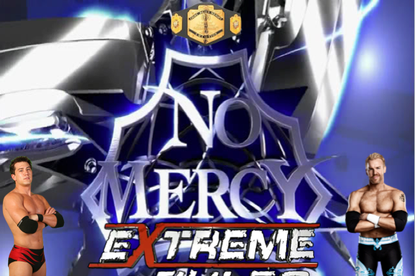 Christian is out first to HUGE heat. He taunts the crowd and runs to the ring, holding his belt high. Richie's out next to a tremendous pop from the crowd. He slaps the hands of his adoring fans as he speeds to the ring and smirks at Christian. Christian responds by putting the belt in Richie's face.
The ref rings the bell as both men lock up with each other, trading blows. Christian gets the upper hand and connects with some punches to Richie's head and gut. He sends him into the ropes and connects with an arm drag. Christian follows up with a cobra clutch, but under the rules of the match, he can't tap out! Richie's in agony and Christian's smiling as he puts more pressure on Richie's back.
Striker: "This could wear Steamboat down already!"
Christian continues to lock in the hold, but Richie tries to fight back! He kicks Christian's back and forces him to release it. Richie slowly gets back to his feet and Christian tries to take him back down, only to be sent crashing to the mat with a tornado DDT. Richie leaps to the outside and grabs a ladder. He tosses it back into the ring and climbs in. He puts it on top of Christian and lands a double legdrop! Richie's in pain, but he sets the ladder up by the turnbuckle. Richie climbs to the top rope and leapfrogs over the ladder, connecting with a senton bomb!
The crowd begins a 'Holy Sh*t' chant as both men are down. The ref begins a ten count as they attempt to once more get to their feet. Christian uses the ropes to struggle to his feet and turns towards the ladder. Picking it up, he sets it down on Richie's chest and he climbs to the top rope. He goes for a frog splash on the ladder and connects, sending the crowd wild!
Matthews: "This match has been back and forth so far, but who'll get the gold in the end?"
Both men are down again, but somehow, Richie rolls out of the ring and looks under the apron for a chair AND a table! Tossing them in, Christian slowly gets up on the other side of the ring. Richie sets up the table in the corner and clutches chair in his hands. Christian turns round into a huge shot from the steel chair! Christian staggers into the ropes and back into another huge chairshot from Richie! Christian is busted wide open!! Richie decides to set up the table and places it in the center of the ring. He grabs Christian and pulls him towards the table.
Striker: "He can't be?! No way!! He's him set up for the Flying Dragon through the table!"
Before Richie can connect with the move, Heath Slater runs down the ramp!
Steamboat sends Christian to the outside and Slater comes in. The two men exchange blows, before Slater kicks Richie in the gut. He tries to hit his finisher, only for Richie to break free and connect with a huge superkick! Heath hits the ropes and bounces back into Richie who grabs him and sends him flying through the table after the Flying Dragon! Richie picks up Heath by the hair and tosses him to the outside. Richie jumps to the outside and picks up yet ANOTHER table and tosses it in! With Christian slowly getting to his feet on the outside, Richie sets up the table. He rallies up the fans and goes looking for Christian, but the champ is behind him! Christian lands the killswitch on Steamboat! Instead of going for the pin, he places Richie on the table. Christian leaps back up to the top rope and sends Richie crashing through the table with a flying elbow!
Richie looks in a bad way, but Christian seems revitalised by connecting with such a huge move! Christian makes his way to the turnbuckle and waits for Richie to get to his feet. Christian looks possessed! He goes for a spear, but Richie leapfrogs him and Christian flies head-first into the ringpost! Richie rolls Christian through for a cover. 1…2…KICK OUT!! Christian is bleeding badly now with his face looking like the proverbial crimson mask!
Striker: "This match has been unusually physical for a Light Heavyweight Championship bout and despite what it looks like, Christian could still retain the gold!"
Richie drops to the floor breathing heavily. He crawls to the outside and pulls a table out from under the ring!
Matthews: "I can't believe that Richie has brought another table into play! He's looking to make a statement in this match!"
He climbs back in with it and sets the table up near to the corner. Richie turns round and gets caught by Christian, who goes for another Killswitch and connects! He goes into a quick cover. 1…2…KICK OUT! Christian's FURIOUS! He grabs a steel chair and lunges at Richie, who dropkicks it back in his face! With Christian down, Richie sets up the ladder in the corner of the ring, dangerously close to the table. Steamboat looks to place Christian on the table and he does. Richie climbs to the top rope, but he's met by Christian! They exchange blows, but Richie smashes Christian's head off the ladder, stunning the champ. Richie looks around and the crowd are going crazy. He smiles and looks at Christian.
Matthews: "Now isn't the time to be playing to the crowd! The title's on the line here."
Striker: "He's not wasting time. Richie's got evil intentions here. Don't tell me he's gonna try this?!"
Steamboat floats over Christian on the ladder and sends him crashing through the table with a Flying Dragon. Both men are down, but Richie begins to stir. Christian hasn't moved since crashing through the table. He looks done in! Richie crawls over Christian and pins the champion… 1…2…3!!!
Winner (and new Light Heavyweight Champion): Richie Steamboat (Match Time - 14:30)
As Tony Chimel announces him as the winner, Richie is full of emotion as he hugs the belt. Christian isn't moving as officials and paramedics race down the ramp to his aid. They load Christian onto a stretcher and take him out of the arena as Richie continues to celebrate.
Matthews: "Matt, that was one hell of a match. It was as physical a match as I've seen for that belt! Both men played a huge part in how good that match was!"
Striker: "Yeah and he finally landed his new finisher on Christian as promised! He connected in style too, floating over the ladder, sending the champ through a table! Wow! Christian will hope he's NEVER on the receiving end of that again!"
Richie slowly climbs down the ladder and in front of thousands of fans, straps his new belt round his waist. Suddenly, the lights go out and the arena is in darkness. A few moments later, a spotlight appears on Richie, who looks confused in the middle of the ring. The music of You Me At Six - The Swarm hits. A superstar walks out in darkness and then onto the ramp before the house lights go up again.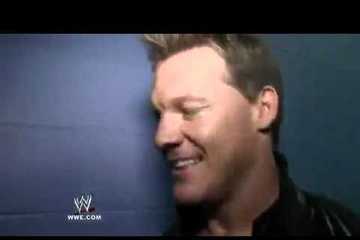 We go backstage now to Todd Grisham, who's going to interview the returning Chris Jericho.
Todd: "So Chris, tonight is your first match for almost three years. Do you think your body will hold up to the challenge of a No Holds Barred Match?"
Jericho: "Todd, have you looked at me? My body is just fine, it's all natural skill. There's no chance that I will not go out there and do what I do every other night. Everyone in the arena should be privileged to watch me tonight. I'm not back for the people so they should enjoy what they get, I am back to prove to everyone I am the best."

Todd: "Considering your poor track record against Cena are you worried about the outcome of tonight's matchup?"
Jericho: "What?"
Todd: Are you worried about facing Cena because of your lack of wins against him previously?
Jericho: "What?"
Todd: "Does the fact that Cena have the advantage over your in victories influence your confidence for tonight?"
Jericho: "What?"
Todd: "Ummm.."
Jericho: "What? What? What? What? See that's the level of answer I have to give you to keep the illiterate and vile entities that fill that arena happy. It doesn't bother me that Cena has beaten me before because I am the best in the world at everything I do. I am back and better than ever. He can't beat me. I always look to the future and in my future I see championship gold, not losing to John Cena. Do you know the real reason why Cena doesn't act like the go happy soldier he once was? It's because Vince McMahon no longer runs the show. If this was Raw, we'd be dominated by Cena propaganda every 5 minutes but thank god that this is SmackDown. The winds are changing, the days of old are gone and a revolution IS coming!"

Todd: "Thanks Chris, good luck."

Jericho: "I don't need luck, I'm the best in the world at everything I do."
Chris then slaps Todd as he walks away.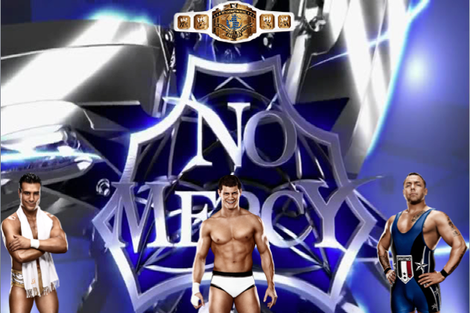 A video package of how these three men came to be is shown, highlighting Alberto's sneakiness, Santino's toughness and Cody Rhodes' brutality. First out is Cody Rhodes who gets the loudest boo of the night from the live crowd.
Striker: "Here is a former champ ready to put his first foot forward and begin again. Hopefully, he'll be fired up and ready to prove himself after last week's Smackdown, where the COO Triple H gave him a pedigree for his troubles."
Santino Marella's music hits and the crowd goes nuts for the "Italian Stallion".
Matthews: "Santino really looks focused here tonight. He's been concentrating about nothing else except getting his title back since Wrestlemania and here tonight at No Mercy, he gets that opportunity!"
Ricardo Rodriguez now comes out to some heat.
Ricardo: "Now it's my honour to introduce to you the greatest Intercontinental Champion in WWE history - ALBERRRRRRRTO DEEEEEEEEEEL RRRRRRRRRRRRRIOOOOO!!!!!!!!!!"
Alberto now struts out with the title wrapped around his waist and the crowd are all over the champion.
Striker: "Ah, this man is my favourite to win here tonight. The champ, the Mexican aristocrat Alberto Del Rio. He has such class, such style and can get it done in the ring as we've seen against Cody Rhodes and Big Show these past couple weeks."
All three men now facing off in the middle of the ring as the referee now shows each competitor the championship belt, Del Rio stops the referee and gives it a kiss goodbye. The referee now signals for the bell.
Rhodes and Del Rio are looking at each other and smiling then looking at Santino, Del Rio points at Santino as they move closer to him. Del Rio tells Cody to go and he charges at Santino, but Santino hits him with a clothesline stopping him dead in his tracks. Del Rio however seizes the opportunity and dropkicks Santino out of the ring. Del Rio goes for the quick cover on Cody…1...KICKOUT!! They both quickly roll up to stand and Cody shakes his head at Del Rio, realising he was just using him.
Matthews: "Well that partnership didn't last long!"
Del Rio and Rhodes now lock up. Rhodes delivers a quick kick to the mid-section and bounces off the ropes, connecting with a big boot, which stuns Del Rio. From the outside, Santino grabs Del Rio's legs and trips him, pulling the champ outside. Santino hits the champ with left and rights, before backing him on to the apron. Cody hits both of them with a sliding baseball drop kick, knocking them both to the floor. Cody gets out of the ring to join them and looks under the apron, before pulling out a lead pipe. Santino goes to clothesline Cody, but Cody nails him with the lead pipe! Cody charges at Del Rio, but Alberto kicks him in the stomach, dropping him to his knees. Del Rio sets him up and connects with an enziguiri on the outside!
Striker: "See, that's the skill I'm talking about. It takes knowledge of all aspects of the ring to be able to do that on the outside."
Del Rio rolls Santino into the ring and goes for a cover…1…KICK OUT!! Ricardo's yelling at the referee for not counting fast enough. Del Rio picks up Santino and whips him in the corner. He charges after him and connects with a big clothesline. Del Rio sets Santino up on the top rope and positions him for a superplex. Del Rio tries to hit it but Santino blocks it with a carefully placed foot, Del Rio attempts to hit Santino with a left, but Santino blocks it and throws Del Rio off the top rope to the outside.
Matthews: "Oh no, what an impact Del Rio made when his body bounced against the security barrier! I don't know if he can recover from that."
Santino stands up on the tope rope, signalling an elbow drop! Suddenly, Cody rushes into the ring and sets Santino up for an electric chair. He positions Santino in the middle of the ring and slams him hard to the mat. Cody gets the cover…1…2…KICK OUT!!! Cody starts smacking himself in the head now as he grows increasingly frustrated with Santino. He picks him up by the hair and whips him into the corner. As Santino bounces back out, Cody hits a DDT and covers him…1…2...KICK OUT!!!
Cody's arguing with the referee and backs him into a corner, screaming at him. Santino kips up as Cody turns around and Santino knocks him down with a nice clothesline. As Cody gets up again, Santino knocks him down. He drags Cody up and hits a swinging neck-breaker and covers him...1...2…KICK OUT!!!
Santino signals that it's time for the Milan Miracle and the crowd goes nuts for the Italian. Cody stumbles to his feet, as Santino gets him in position, but Cody counters with an elbow to the head. Cody jumps onto the ropes and lands a Beautiful Disaster kick! Cody covers Santino. 1…2... but Santino has his fooon the rope!
Striker: "Santino showing great ring smarts there!"
Cody starts smacking the ring with his fists. He gets up and shakes his head, looking dead at Santino. He screams at him to get up. Santino tries to get to his feet, using the ropes and as Cody grabs him for the Cross Rhodes, Santino trips him! Marella swoops in and hits a Milan Miracle! The crowd goes nuts! Santino covers Rhodes, but the ref doesn't see it! Ricardo is on the ropes, distracting the referee! Santino goes over to Ricardo and grabs him, when suddenly Alberto slides into the ring and dropkicks Santino into Ricardo, and out of the ring!
Alberto covers Cody as Santino tries to get back in, but Ricardo holds on to Santino's leg below the apron so the referee can't see! The referee counts 1…2...3!!!!!
Winner (and still Intercontinental Champion!): Alberto del Rio (Match Time: 13:17)
The crowd's all over Alberto and Ricardo as they celebrate their victory! Del Rio snatches his title and slithers up the ramp, clutching it to his chest! Santino chases after Ricardo and connects with a Milan Miracle on the outside! Santino looks confused and angry as Cody lays unconscious in the ring.
Matthews: "God-damn it, Santino got screwed out of the title again! Things are going to heat up big time on Smackdown!"
Striker: "The champ retained his title here. It doesn't matter how, but he did it again!"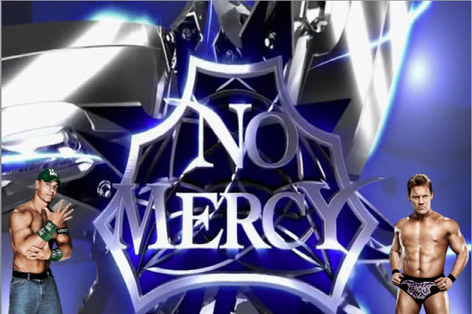 A massive video promo hyping this match is shown, showing everything from Jericho's return to the contract signing. John Cena's music hits as the crowd is split on how to deal with Cena, he receives some pops while getting booed very loudly.
Matthews: "Cena got the upper hand on SmackDown last week during the contract signing, so let's see if he can continue it here tonight!"
The lights all go off now as Chris Jericho's music hits and he comes out in his normal jacket. It feels like everyone in the arena is booing him.
Striker: "Jericho is back in his return match! Let's see if he can start off his return with a bang in this No Holds Barred match-up!"
Jericho's circling the ring, not ready to get involved just yet, as Cena watches him carefully. Jericho walks around to the announce desk and grabs a microphone.
Jericho: "Cena, I'm going to give you one last chance to back out of this match!"
Cena shakes his head furiously and laughs.
Jericho: "Oh, you're laughing? You think this is funny? We'll see how funny you find it when I'm finished with you John-boy!"
Jericho drops the microphone and picks up a chair. Cena rushes out of the ring towards Jericho as the bell is rung. Jericho goes to swing the chair, but Cena spears Jericho through the security wall! Jericho lies there wincing in pain. Cena gets up and goes to strike Jericho with the chair, but Jericho kicks Cena's knee out, knocking him to the ground. Jericho drags Cena up by the neck and throws him into the ring post, bouncing his skull off it. Jericho rolls Cena into the ring now and throws the chair in the ring behind him. Jericho covers Cena...1...KICK OUT!!
Jericho puts a sleeper hold on Cena, trying to wear him down, but Cena battles his way out and forces Jericho into the ropes. Jericho bounces off the ropes and goes for a standing lionsault, but Cena catches him. Cena throws him onto his shoulders, ready for an FU on the chair, but Jericho manages to escape. As Cena turns around, Jericho goes for a Code-Breaker, but Cena catches him. Cena's ready to drop him on the chair, but Jericho hits a hurricanrana sending Cena head first into the chair. Jericho covers Cena...1…2…KICK OUT!!
Matthews: "Cena's head nearly went through that chair!"
Jericho looks on in disbelief that he wasn't able to pin Cena! He slides out of the ring and starts dismantling the Spanish announce table. Cena slides out of the ring to meet him and hits Jericho from behind with a hard right. Jericho falls into the table as Cena pummels him with right hands. Jericho reverses with a thumb to the eye and a blatant kick to below the belt. Cena falls to his knees as Jericho rolls him onto the table. Jericho now gets up on the apron and bounces off the ropes into a massive lionsault. Cena just manages to roll off the table before Jericho connects and Jericho hits the table, but it doesn't break!
Cena now stands on the table and picks up Jericho, lifting him onto the table. Jericho hits another thumb the eye and goes for a CodeBreaker, but Cena catches him and lifts him onto his shoulders. Cena steps off the table and sends Jericho crashing through it, courtesy of an FU!
Cena tries to drag Jericho back into the ring, but he's a dead weight. He struggles to get Jericho in the ring, but eventually does and he covers him…1…2…KICK OUT!! Cena looks shocked that Jericho was able to kick out!
Cena drags Jericho up and lifts him onto his shoulders, going for an FU onto the chair but Jericho counters it into a swinging DDT onto the chair. Cena is busted open as Jericho covers Cena. 1...2…KICK OUT!! Jericho lays there for a couple of seconds, planning his next step. He gets up and grabs the chair before swinging it down repeatedly on Cena's back. Cena's body is bouncing off the mat now. Jericho's yelling at Cena "Is this what you wanted Cena, huh?", before he nails him in the head with the chair. Jericho covers him…1…2…KICK OUT!!
Jericho looks angry now, as he picks up Cena by his head. Jericho gets covered in Cena's blood as he slaps him in the chest and whips him into the turnbuckle. As Jericho charges at him, Cena hits him with a clothesline! Cena goes for the STFU on Jericho, but Jericho is able to flip Cena and goes for the Walls of Jericho now. Cena manages to kick him off into the ropes. Cena hits Jericho with a big right hand, but Jericho escapes and connects with a massive CodeBreaker and covers Cena!
1…2...KICK OUT!!
Matthews: "How did Cena kick out of that? I thought it was all over!"
Jericho's now screaming at the referee. He slowly pulls Cena up by his neck almost choking him. When Cena reaches his feet, Jericho picks up the chair and goes for a CodeBreaker with the chair and connects. Jericho rolls over onto Cena and covers him. 1...2…3!
Winner: Chris Jericho (Match Time – 19:42)
Striker: "I knew we were going to see a physical match but I didn't think we would see this. Jericho showed he hasn't lost a beat!"
Matthews: "SmackDown's definitely been put on notice. The Chris Jericho we saw tonight is going to be a force to be reckoned with!"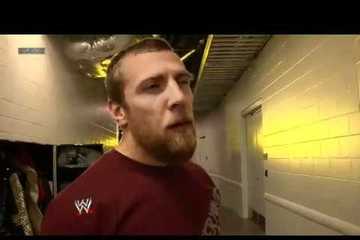 Todd Grisham is still feeling the effects of the right hand from Chris Jericho when Bryan Danielson shows up.
Danielson: "You know Todd, something doesn't feel right. I know what it is. It's the face that I've got to talk to you without the WWE Championship around my waist. Tonight's main-event is a ladder match, and my pride and joy is hanging above the ring right now. Punk thinks he's going to out-smart me tonight, but he's dead wrong. Michael Cole can try to stack the deck in Punk's favour, but his plan won't work and no one can stop me. After I climb that ladder and retain my title, my name will go down in history as the best wrestler in the world and there's nothing anyone can do about it."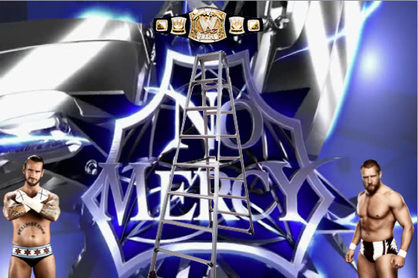 Josh Matthews and Matt Striker run down all of the events that have led us to this ladder match and they ask if WWE Champion Bryan Danielson can leave No Mercy with his WWE Championship.
The challenger, CM Punk, is first to make his entrance. Punk gets a hot, positive reaction from the crowd. The champion, Bryan Danielson, is out next. The fans receive him in sort of a mixed-fashion, although some chants for him can clearly be heard on the broadcast.
Tony Chimel does his formal main event-style introductions, and the main-event ladder match is about to get rockin' and rollin'! The bell sounds and Danielson and Punk talk-trash back-and-forth with each other for a bit. Danielson hits Punk with a kick to the stomach, sending him into the ropes. Punk comes back with a series of kicks, taking Danielson to the mat with a kick to the side of the head. Punk sends Danielson to the outside over the top rope. He follows him out and looks under the ring before going to grab a ladder. Danielson catches Punk with a boot and sends him into the barricade. Punk avoids being sent into the ring post and sends Danielson into the barricade instead. Punk suplexes Danielson over the guard rail and heads up to the apron, hitting a big leg drop across Danielson's back. Punk grabs a ladder and sets it up against the ring post. He heads back into the ring, but Danielson kicks the middle rope into Punk's crotch on the way in.
Matthews: "That was a despicable move by the champion!"
Striker: "It was effect Josh. Remember, the champ is facing the odds here with the deck stacked against him. He has to leave with the championship!"
Danielson hits a DDT and lays out Punk. Danielson heads to the outside and grabs a ladder, but when he goes to bring it in, Punk dropkicks the ladder into his face. Punk launches himself over the top, crashing down into Danielson.
Matthews: "We've got some hot action in the first few minutes of this one already folks!"
Punk brings the ladder into the ring and goes to climb it, but Danielson stops him and sends him crashing into the ladder. Danielson sets up the ladder in the corner before stomping away at Punk. Danielson chops and punches Punk, but Punk reverses an Irish whip and sends Danielson crashing into the ladder in the corner. Punk props the ladder in between the second and third rope. Punk ducks being thrown into the ladder, but Danielson is able to catapult him into the ladder head first. Danielson grabs the ladder and drives it into his back before propping it up on the middle rope. Danielson tries to suplex Punk on the ladder, but Punk is able to reverse it before hitting a lionsault while Danielson is still laid across the ladder.
Striker: "This match is turning into a good one already, and we've still got a long way to go!"
Danielson sets a ladder down in the middle of the ring and hits a huge spinebuster, planting Punk on the ladder. Danielson picks up the ladder and tosses it aside. Danielson tries for something, but Punk counters and monkey flips Danielson into the ladder propped in the corner. Punk follows it up with a flying elbow while Danielson is still laid out on the ladder. Punk sets up the ladder and kicks away at Danielson before slamming the ladder down. Punk misses with a kick, but connects at the second attempt laying Danielson out on the ladder. Punk heads to the top and tries for a senton bomb, but Danielson moves and Punk crashes into the ladder. Danielson picks the ladder up and uses it to send Punk crashing out to the floor, hitting the barricade on the way down. Danielson sets the ladder up and begins his climb. Punk tries to leap onto the ladder, a la Kofi Kingston, however, Punk lands awkwardly, crunching his leg in the process. Danielson again climbs the ladder and Punk tries climbing after him. Danielson pushes Punk down head first onto the mat below. He continues climbing and grabs the title for the win!
Winner (and still WWE Champion): Bryan Danielson (Match Time: 21:27)
After the match, Punk's sitting on the outside looking up at Danielson, who proudly holds the title high in the air. He points at the title, then at Punk, before telling everyone "I'm the best in the world!" as the show heads off-air.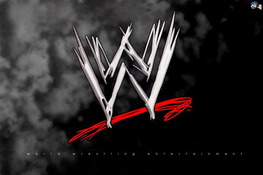 And that's our show! Tell me if you liked it by leaving a comment with a rating of the show (1 to 10).
Tune in later today for the aftermath of the PPV as well as the other three episodes that Smackdown is currently missing, as well as two new episodes of Raw as we catch up this weekend right before our Money in the Bank ppv.
Please leave a comment with a rating and your thoughts as we try to consider all ideas. Thanks!