NHL Draft 2012 TV Coverage: When and Where to Watch Day 2 Action
June 23, 2012

Justin K. Aller/Getty Images
Day 2 of the 2012 NHL draft promises to be just as thrilling as Friday's first round, which saw the Edmonton Oilers draft winger Nail Yakupov No. 1 overall to kick off the action.
On Saturday, rounds two through seven will be played out as the draft is set to conclude. There are a number of talented prospects waiting to hear their fate, including defensemen Ludvik Bystrom and Matthew Finn.
Here is everything you need to catch the final day action from the 2012 NHL draft. 
Where: Consol Energy Center, Pittsburgh
When: Saturday, June 23, 10:00 a.m. ET
Watch: NHL Network (United States), TSN (Canada)
Prospects Who Will Go Early on Day 2
Ludvik Bystrom
The 17-year-old Swede is a superb skater with plenty of intensity to bring to an NHL franchise looking to add depth to its squad. Bystrom helped Sweden to a silver medal at the 2012 U-18 World Championships.
Though his performance for the National Team pales in comparison to his play with Modo, where he averaged nearly a point per game in 2011-12, Bystrom is more than worthy of being selected early in Day 2. 
Sebastian Collberg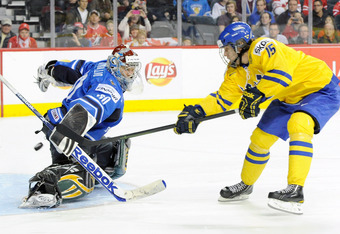 Richard Wolowicz/Getty Images
There is absolutely no denying that Sebastian Collberg will be one of the first players to hear his name called on Day 2. The Swedish right winger is a point machine and a phenomenal goal scorer. At age 18, Collberg would provide a team with not only great potential, but exceptional talent that could be put to use early on.
Collberg was key for Sweden at the World Junior Championships in 2012, netting four goals and racking up three assists in six games while leading his fellow Swedes to the gold medal.
Matthew Finn
Canadian Matthew Finn can do a lot of things that are expected of NHL defensemen, but at age 18 it will take some learned experience before Finn can be fully relied upon. However, he has certainly shown what he is capable of becoming if he can avoid injury.
Finn has the size to succeed in the NHL and could become a great addition to a struggling or aging defense in the coming seasons. Finn will be a solid Day 2 pick in 2012.
Follow Patrick Clarke on Twitter to discuss the NHL.