8 Tactical Trends We've Seen at Euro 2012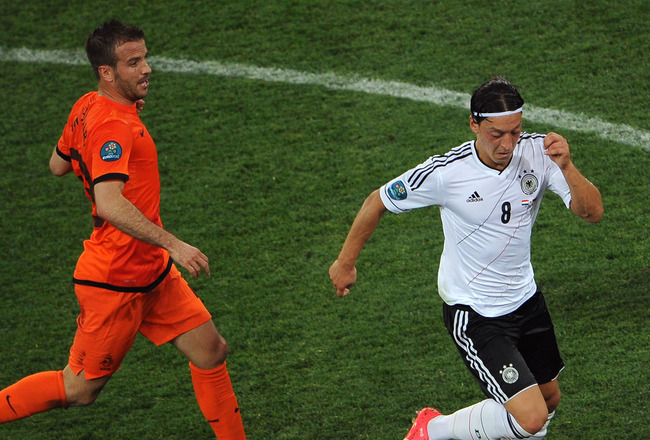 Christopher Lee/Getty Images
Euro 2012 has been some spectacle, hasn't it?
We've seen some intriguing tactical duels between managers over the course of the tournament, and certain themes of success have emerged.
This article will look to underline certain international tactical trends and explain who used them and when.
Enjoy the slideshow!
2 Holding Midfielders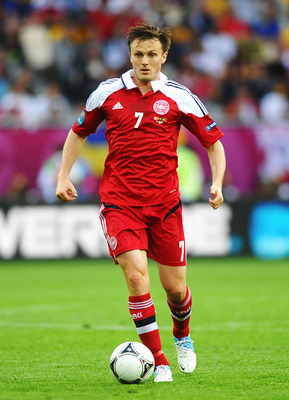 Laurence Griffiths/Getty Images
Found in several formations, but most commonly the 4-2-3-1, international football is all about controlling the game.
It's generally played at a slower pace that domestic football, so packing the midfield with two holders is essential in the minds of many coaches.
It is a tactic many managers use to try to gain the upper hand in possession, and you'll find that in most cases, teams who use two holders have a large majority of the ball in comparison to their opponents.
Poland, Czech Republic, Netherlands, Denmark, Germany, France and Sweden have all utilised two pure holding midfielders in this tournament, and it's been effective.
Flying Full-Backs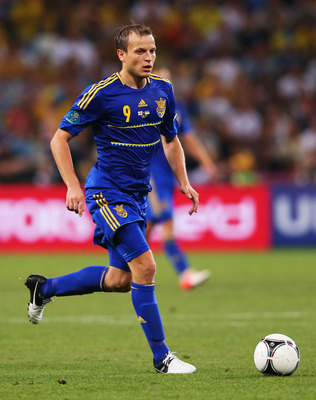 Alex Livesey/Getty Images
The role of the full-back is changing, so left- and right-backs who can't bomb forward are no longer considered top-tier.
Controlling formations such as the 4-3-3 and the 4-2-3-1 demand explosive full-backs to provide an out-ball at all times and help the team maintain possession.
We've seen it on a domestic level from Manchester City, Bayern Munich and Barcelona. We've see it this summer too.
Poland's Lukasz Piszczek, Czech Republic's Theodor Gebre Selassie, Germany's Philipp Lahm, Portugal's Fabio Coentrao and France's Mathieu Debuchy have all been utilised as attacking full-backs.
For an analytical example of Ukraine right-back Oleh Gusev's flying performance against England, click here.
Inverted Wingers
Jasper Juinen/Getty Images
This is very much a modern-day football trend, but we've seen no shortage of it.
In fact, with regards to Ukraine, their system is pretty much built on it. Andriy Yarmolenko and Yevhen Konoplyanka play as inverted wingers, frequently cutting inside to shoot and create mismatches in the middle.
This allows Oleh Gusev and Yevhen Selin to go forward and stretch the pitch, creating even more issues for the opposing full-backs.
We've also seen Andrey Arshavin, Cristiano Ronaldo, Arjen Robben, Franck Ribery and David Silva play in this fashion.
Over-Reliance on Your Best Player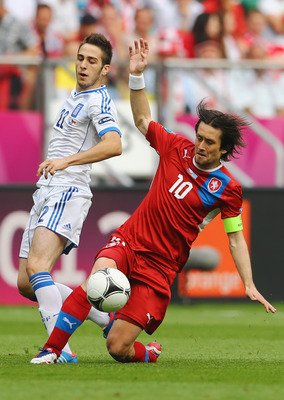 Christof Koepsel/Getty Images
It's a well-known fact that international teams simply do not gel the way domestic teams do. This can lead to a disjointed performance, but it can also lead to one player taking the reins.
This European Championship has seen a staunch reliance on a single key player become a theme for many teams.
Netherlands looked to Wesley Sneidjer to create almost everything, as the playmaker drifted across the pitch, between the lines and down the flanks in an effort to get something going.
Portugal's over-reliance on Cristiano Ronaldo is clear to see, as their improving performances have been subject to his uplift in form.
Germany look to Mesut Ozil, while the Czech Republic fell apart when devoid of Tomas Rosicky.
A Return to Man-Marking?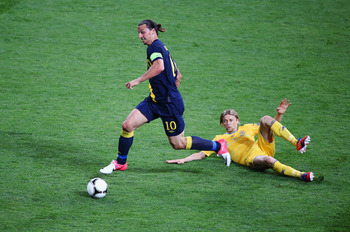 Martin Rose/Getty Images
Not adopted by all, but several teams have looked at man-marking to solve problems on the field—possibly due to the over-reliance on key players discussed.
We've seen Miguel Veloso of Portugal deployed specifically to stop Mesut Ozil, then again versus Netherlands and Wesley Sneijder.
Theodor Gebre Selassie spent 45 minutes stuck to Cristiano Ronaldo during the first quarterfinal of the competition, while Anatoliy Tymoshchuk was awarded the unenviable task of man-marking Zlatan Ibrahimovic in Kiev.
In France's game against Spain, Mathieu Debuchy was fielded specifically to nullify Jordi Alba's threat down the left.
The 2010 World Cup was a zonal-marking show, something perhaps epitomised by Brazil boss Dunga's solid midfield tandem of Gilberto Silva and Felipe Melo.
Although no significant shift has been made, certain managers have dabbled with a man-to-man system this summer, which you rarely find outside defending set pieces at the moment.
Stubborn Tactics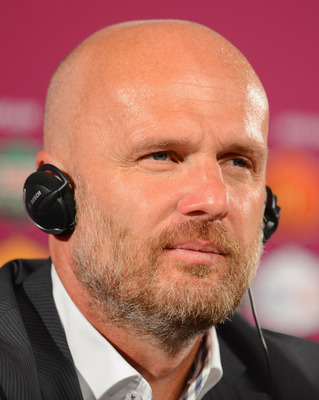 Handout/Getty Images
With the exception of Laurent Blanc's wild, adventurous experiments which involve Florent Malouda as a central midfielder, most coaches this summer have resolutely stuck to their coaching principles.
For example, Roy Hodgson has fielded an almost identically performing England team despite switching a few players around.
Even when Dutch manager Bert van Marwijk needed a win in the final group game, all he did was replace Mark van Bommel with Rafael van der Vaart and move him slightly further forward.
In some cases this can be a good thing, for example Paulo Bento's persistence with his solid Portuguese XI.
But sometimes a change is needed and it doesn't happen, like with the Czech Republic's obvious struggles utilising Milan Baros without Tomas Rosicky.
Possession Football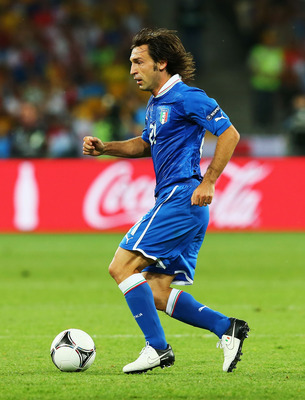 Martin Rose/Getty Images
With the exception of England, Republic of Ireland and Greece, every team at Euro 2012 wanted to retain possession.
Possession is king in international football, as the game is played at a slower, reduced pace. Most teams got that, but a select three didn't. It's not a surprise to see all three of those demolished by possession-hungry outfits.
Spain, Italy, Germany and Portugal all utilise controlling formations with more than two central midfielders, allowing them to retain the ball and create diagonal options for the man in possession.
Attack the Channels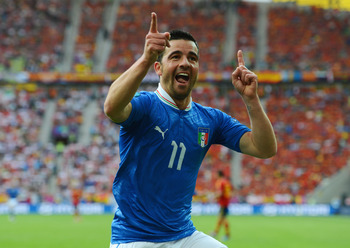 Shaun Botterill/Getty Images
Marauding full-backs leave holes—that much is obvious. Where are those holes? In channels one and two, of course.
The space vacated by a left- and right-back is the Achilles' heel of an otherwise solid 4-2-3-1 formation.
Antonio Di Natale proved that by rinsing Gerard Pique for pace in the channel Alvaro Arbeloa left open for Italy's opening goal, whilst England frequently looked for Danny Welbeck in that area, only with significantly less accuracy.
Czech Republic looked a credible goal threat in the first half of their quarterfinal with Portugal, when Petr Jiracek and Vaclav Pilar frequently found space between Pepe, Bruno Alves and their respective full-back.
Conclusion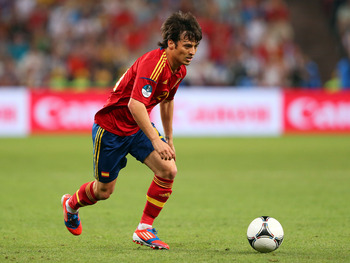 Alex Livesey/Getty Images
While there have been a few innovative tactical moves this summer by a select few coaches, most opt for the tried, tested and stubborn.
We've seen a lot of possession-based football, a lot of 4-2-3-1s and a certain lack of willingness to change.
Italy's injury-forced switch to 3-5-2 was a short-lived novelty, whilst the strikerless approach is utilised purely by Spain.
The best coaches make changes at the right time, such as Joachim Low's decision to inject pace into his side to beat a Chelsea-esque Greece in the quarterfinals.
The decision must be the right one, though, as Laurent Blanc's laughable double right-back experiment shows you can get it badly, badly wrong.
Please also consider reading:
- Tactical guide for Spain vs. Portugal
- Tactical guide for Germany vs. Italy
Keep Reading