UFC on FX 4 Results: 5 Fights for Gray Maynard to Take Next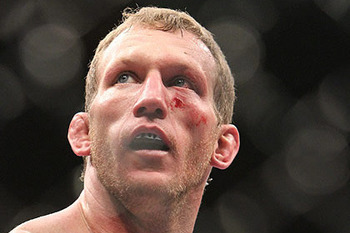 mmaweekly.com
Gray Maynard had his hand raised at the end of his fight with Clay Guida, but Maynard didn't seem too thrilled with how the fight played out.
Maynard spent the better part of five rounds attempting to close the distance and land his power punches. For five rounds, Maynard chased Guida around like James Woods finding a piece of candy.
Regardless of how you'd like to describe the main event of the UFC on FX 4 event, the bottom line is that Maynard was declared the winner. The win is Maynard's first since his battle against Kenny Florian, as Maynard was unsuccessful in two attempts to defeat Frankie Edgar.
Maynard finds himself in a precarious situation, as the lightweight division is stacked from top to bottom. An unimpressive performance like the one displayed against Guida is almost as bad as a loss.
Where Maynard goes from here is up for debate. White may keep him competing against top-level guys, or perhaps he faces another fighter attempting to make a name off of Maynard. Usually, a guy in the top five has a pretty clear path to the title, but with Maynard, there are multiple avenues for the UFC to take.
The Loser of Benson Henderson vs. Frankie Edgar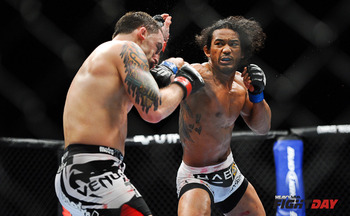 heavy.com
Following the rematch between Benson Henderson and Frankie Edgar, Gray Maynard may call dibs on the loser in that bout. Although it would go against the normal formula for Joe Silva's matchmaking, facing either man would make sense for Maynard.
A bout with Henderson would be Maynard's toughest opponent besides Edgar.
Henderson is a big lightweight as well, and also possesses a solid striking game along with a slick submission game. It would also be a fight against a top five fighter, and someone who's been a WEC and UFC champion.
The reasons for a fourth fight against Edgar go without saying. Maynard clearly wants to defeat Edgar one last time, and their last two encounters have been exciting. I don't think there needs to a fourth fight between these two, but it would definitely sell given their history.
Gleison Tibau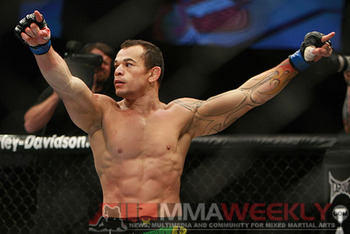 mmaweekly.com
As the old saying goes, "Pick on someone your own size."
Gleison Tibau may not be a household name among many MMA fans, but he should be considered "in the mix" with a victory at UFC 148. A win would make it four in a row for the Brazilian and would mean Tibau is due for some higher-level opponents.
He's a massive lightweight, sometimes weighing well over 20 pounds the weight limit on fight day. He's also a pretty talented fighter who can both knock out and submit his opponents.
A bout against Tibau is unlikely, as neither he or Maynard are big draws, but it could be the only guy that's available for Maynard to stay active.
Nate Diaz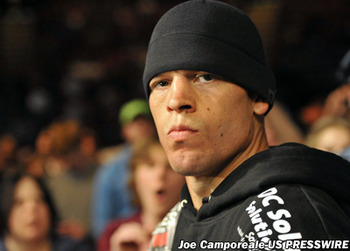 Joe Camporeale- US Presswire
Nate Diaz has spoken before about the possibility of a rematch with Gray Maynard. The loss to Maynard was one of the most frustrating things Diaz has gone through in his UFC career, and led him to leave the division.
Now Diaz has returned and put on some strong showings en route to securing the next lightweight title shot.
Diaz has made it well-known that he wouldn't mind the chance to fight Maynard again, and given the state of flux the lightweight division is in, that opportunity may come sooner rather than later.
Maynard would likely follow the same avenues of success as their first encounter with his takedowns, but I believe Diaz has improved his bottom game since then. Diaz has looked better and better each time he's stepped in the Octagon and would definitely give Maynard a run for his money if a rematch were to occur.
Donald Cerrone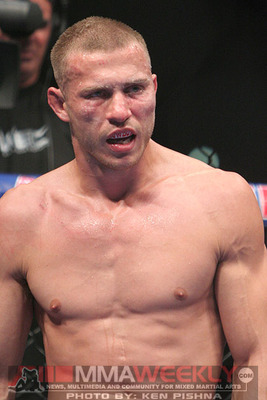 mmaweekly.com
Donald "Cowboy" Cerrone had was much-hyped in 2011, with fans expecting a title shot to come in quick fashion. Those hopes were dashed when he lost to Nate Diaz, but Cerrone rebounded nicely with a win over the tough Jeremy Stephens in May.
Now I know we said the same thing about Clay Guida vs. Gray Maynard, but Cerrone vs. Maynard would definitely lead to some fireworks. When have you ever known Cerrone to not be aggressive and come forward?
It's clear that Cerrone's method of thinking is: the best defense is a good offense.
Cerrone also presents a number of problems for Maynard.
"Cowboy" is one of the most accomplished kickboxers in the UFC and has a nice submission game to support his stand up game. Maynard would likely get picked apart on the feet, and could be in for a challenge on the mat with Cerrone's submission attempts.
Anthony Pettis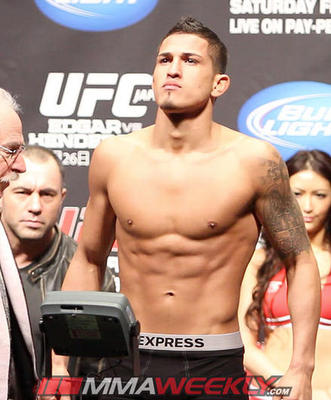 mmaweekly.com
Anthony Pettis is awaiting word of his next fight, and a bout against Gray Maynard makes a lot of sense for both men.
For Pettis, it's a chance to defeat a top five lightweight and prove he can deal with the strong wrestling presented by the best lightweights in the world. For Maynard, the fight will be against a top five opponent and also a big name to compete against.
Pettis was taken down repeatedly in his UFC debut against Clay Guida, a point that Maynard would be smart to note. One would like to believe if Guida can hold Pettis down, then Maynard is fully capable of doing the same.
With Nate Diaz receiving the next title shot, a fight between these two men could serve as a lightweight title eliminator.
Keep Reading