Euro 2012: Quarterfinal Odds, Preview and Prediction: England vs. Italy
June 23, 2012

Laurence Griffiths/Getty Images
ENGLAND vs. ITALY
Date: Sunday, June 24, 2012
Location: Olympic Stadium (Kyiv, Ukraine)
Time: 2:45 p.m. ET/11:45 a.m. PT
Television: ESPN, ESPN Deportes
Computer: Watch ESPN  (Formerly ESPN3 )
Satellite Radio: SiriusXM Channel 92
To Advance: England -105, Italy -115
90 Minutes + Injury Time Odds: England Pick -105, Italy Pick -115
Total: 2u -130
Three-Way Odds: England +180, Italy +175, Draw +200
First-Half Odds: England Pick -105, Italy -115
First-Half Total: ½o -165
To Win Euro 2012: England 8/1, Italy 8/1 
Odds: LVH SuperBook
The toughest Euro 2012 quarterfinal to handicap, this England-Italy match will likely be the most exciting of the four. But the bad news for the winner? It gets Germany in the semifinals.
England heads into this match as winners of their group after a draw with France (1-1) and wins over Sweden (3-2) and Ukraine (1-0).
Defensively, Roy Hodgson's Three Lions side has been above average, with goalkeeper Joe Hart (Manchester City) and Chelsea backs Ashley Cole and John Terry playing admirably in the group stage.
England got a big boost last match with the return of Wayne Rooney, and the Manchester United star, along with teammate Danny Welbeck, will force the Italian defense to be at its absolute best on Sunday.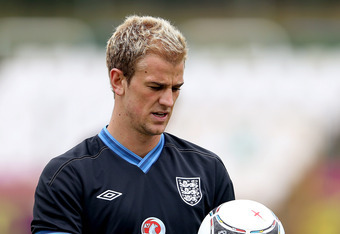 Scott Heavey/Getty Images
And should Rooney, Welbeck or Theo Walcott be ineffective or wear down in the second half, Hodgson can always call on Andy Carroll (Liverpool) or Alex Oxlade-Chamberlain (Arsenal) to come in off his bench to try to come up with a game-winner.
So far, England has been pretty solid offensively and has the best chance conversion rate (22 percent) of all sides in the tournament.
Italy advanced to this match with draws against defending champions Spain (1-1) and Croatia (1-1) and a shutout of the Republic of Ireland (2-0).
In its opener against Spain, Cesare Prandelli's Azzurri looked very strong and actually outplayed La Furia Roja for most of the match.
One negative for Italy is the health of Giorgio Chiellini. The center-back will likely miss this game and is expected to be replaced by Leonardo Bonucci (Juventus).
In goal, the nation that gave the world pizza—we will never be able to thank you enough, seriously—has star Gianluigi Buffon (Juventus), who has allowed just two goals in three games to this point.
Prandelli will likely use Daniele De Rossi in the central midfield, where he will be locking horns with his "idol," English midfielder and captain Steven Gerrard. That could be interesting.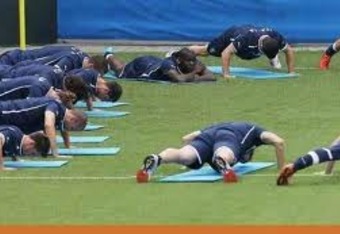 Another player I expect the Italian manager to start here is wunderkind Mario Balotelli, a guy who can make a lot happen in a short period of time, even against the best the world has to offer.
And it will be very fun to watch Balotelli go head-to-head with his Sky Blues teammates Hart, James Milner and Joleon Lescott in Kyiv.
Like England, Italy has its share of talented midfielders and forwards in Antonio Di Natale, Antonio Cassano, Andrea Pirlo and Claudio Marchisio, so expect both Hart—whom Buffon said "can achieve great things in the world of football"—and Buffon to both be relatively busy, although in the end, I see the defenses prevailing.
If there was one game in this tournament that could be deemed a chess match, this is it. And the odds indicate such. And if there was one match not to wager on and to just sit back and watch (with a pizza and a Newcastle Brown Ale) and enjoy as it evolves, this is the one.
But this keyboard monkey (me) is here to provide odds, analyze a bit, make a pick and offer up some betting advice, Bubba. And I've already done the first two, so I know you readers want a prediction and a gambling angle. So here you go. Good luck.
And enjoy the game. There will only be three more after this one.
PREDICTION: England 1, Italy 1 (England wins on PKs, 4-3)
BET: Under 2 -130
Follow me on Twitter: @KevinStott11