The 50 Funniest Moments in Sports Movie History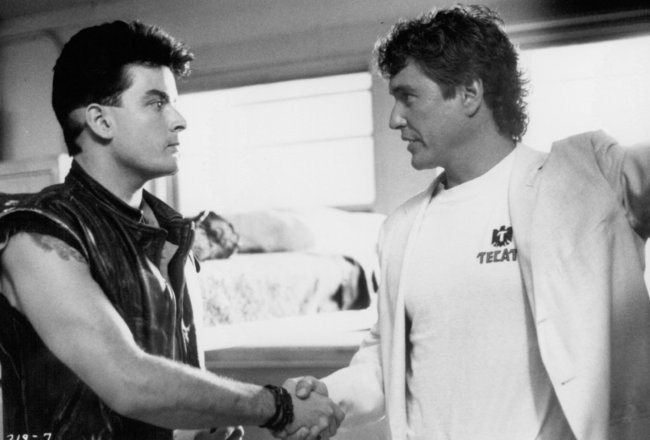 Image via download-2008.com

Quoting movies is a great way to entertain yourself. It can bring you back to that moment in time when you first watched the movie. Whether good or bad, the memories are the reason we love quoting these movies.
So it is easy to assume that remembering the funniest moments from sports movies would bring back happy moments, correct? I think so.
Since I am a nice guy and have an appreciation for cinema, especially sports movies, I have compiled a list of the funniest moments in sports movie history. Keep in mind that not all your favorite lines were used because of the wonderful use of curse words, but I still tried to keep this list as honest as possible.
Please enjoy.
50. Carl Spackler: Caddyshack
"So, I tell them I'm a pro jock, and who do you think they give me? The Dalai Lama, himself. Twelfth son of the Lama. The flowing robes, the grace, bald... striking. So, I'm on the first tee with him. I give him the driver. He hauls off and whacks one - big hitter, the Lama - long, into a ten-thousand foot crevasse, right at the base of this glacier. Do you know what the Lama says? Gunga galunga... gunga, gunga-lagunga. So we finish the eighteenth and he's gonna stiff me. And I say, "Hey, Lama, hey, how about a little something, you know, for the effort, you know." And he says, "Oh, uh, there won't be any money, but when you die, on your deathbed, you will receive total consciousness." So I got that goin' for me, which is nice."
Bill Murray is a comedic genius. He has been spewing out classic lines since Saturday Night Live. This exchange between Murray and one of the caddies, is one of the greatest of all time.
49. Ernie Capadino: A League of Their Own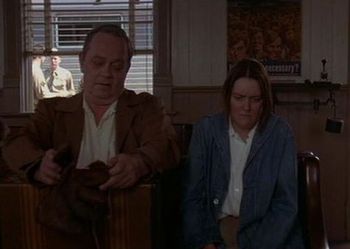 Image via itsfilmedthere.com
"Are you coming? See, how it works is, the train moves, not the station."
Jon Lovitz had a small part in this film but he made the most of his screen time. He plays a scout, Ernie Capadino, hired to find the best female baseball players in the US for the first ever women's professional baseball league.
If this one does not make you laugh out loud, maybe the next one will.
48. Ernie Capadino: A League of Their Own
"You know, if I had your job, I'd kill myself! Wait here, I'll see if I can dig up a pistol."
Jon never fails to deliver. He makes a good joke even funnier with a dry subtlety that could make even a monk crack a smile.
47. Happy Gilmore
Grandma - "Sir, can I trouble you for a glass of warm milk? It helps me go to sleep."

Hal - "You can trouble me for a warm glass of shut-the-hell-up! Now, you will go to sleep! Or I will PUT you to sleep. Check out the name tag. You're in MY world now, grandma!"
Now we all know this line has little to do with sports. But it comes from Adam Sandler's funniest sports movie thus far, Happy Gilmore. A true classic of a golf flick.
46. Bad News Bears
Coach Morris Buttermaker - "Come on, fellas. Rome wasn't built in a day."
Ogilvie - "Yeah, it took several hundred years."
This was just a small clip of a movie filled with gems. The clip continues on with Coach Buttermaker, Walter Matthau, trying to find the positive aspects of their recent 18-0 loss.
Just watch the whole clip and enjoy.
45. Major League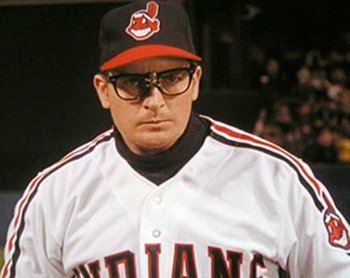 Image via crossingbroad.com
Willie Mays Hayes - "Call the stewardess, Vaughn. I need one of those bags."
Rick Vaughn - "There aren't any stewardesses."
Willie Mays Hayes - "I wonder if there are any pilots."
Finally, a Major League moment. I think it is safe to say that there will be many more to follow. So just consider this one a warm-up.
44. Chazz: Blades of Glory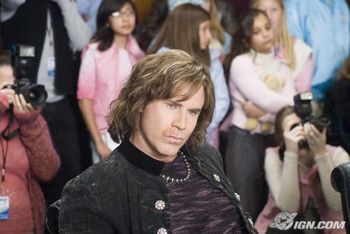 Image via davidicke.com
"I'm a sex addict. It's my cross to bear. It's a real disease with doctors and medicine and everything!"
There are still not too many fans of Blades of Glory. But I want to let everyone who hasn't seen it know one thing, it is worth the time. The movie is not that great, but some of the Will Ferrell quotes are great.
If anything, just go watch the clips of his work online.
43. Necessary Roughness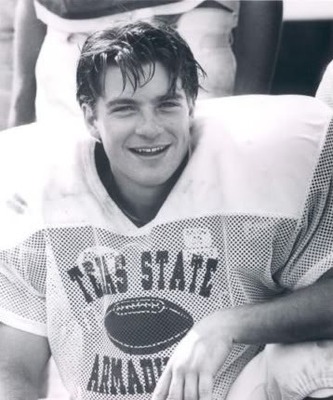 Image via bateman-daily.livejournal.com
Jarvis Edison: "How many timeouts do we have left?"
Paul Blake: "Three."
Jarvis Edison: "Can we take 'em all now?"
No, I am not talking about the TV show. This is taken directly from the 1991 movie of the same name. You remember, right? The original.
42. Jack Dundee: The Best of Times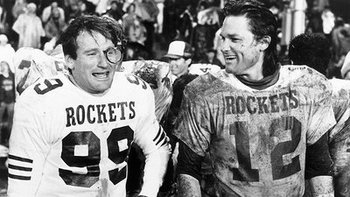 Image via thegoodphight.com
"You better watch it, Dr. Death! I'm pretty damn fast for a Caucasian."
The Best of Times is not your obvious choice for a sports movie but if you saw the movie, you would know that it is. The whole basis of the film is about two guys, Jack and Reno, getting another shot at a football glory by reliving a game they played in high school.
No time travel, just a good ole-fashioned rematch, about 15 years later.
41. Crash Davis: Bull Durham
"I wouldn't dig in there if I was you. Next one might be at your head. I don't know where it's gonna go. Swear to God."
If Kevin Costner wanted to make another sports movie, I am game. If he wanted to do it with Tim Robbins, I think I would be even more excited. There was a great chemistry these two actors had throughout Bull Durham that is hard to replicate.
It worked and the rest is history.
40. He Got Game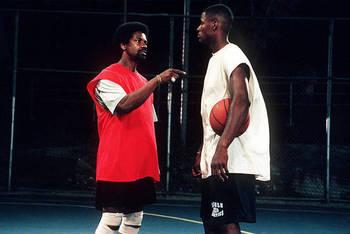 Image via ballertainment.com
Jesus Shuttlesworth - "I hate my name. What kind of name is Jesus anyway?"
Jake Shuttlesworth - "It's biblical."
Jesus Shuttlesworth - "Yeah, no kidding."
He Got Game is more than just another sports movie, it is one of the greatest ever made.
As for basketball movies, I will be one of the many that would say this, but it is the best ever made. They might come up with another one in the future that will surpass this one, but as of now, it is the best basketball movie of all time.
39. Baseketball
Baxter Cain: "Do you think Shaq got rich playing in Orlando? Hardly, he made his fortune moving to L.A. You know how much he makes now?"
Douglas Reemer: "As much as he made playing in college?"
But Baseketball, as ridiculous as it was, is still one of the funniest sports movies of the past twenty years.
Matt Stone and Trey Parker didn't write this classic but they did deliver some of the funniest lines in the movie.
Including this one...
38. Joe Cooper: Baseketball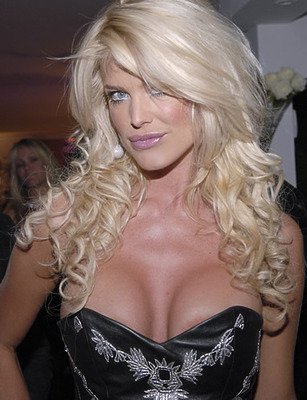 Image via askmen.com
"Go back to your fancy cars, and your big bank accounts, and your celebrity friends, and your beautiful women, and Victoria Silvstedt, Playmate of the Year..."
I would have played the entire clip, but the fans of Baseketball can tell you why I won't be. Let's just say it doesn't end with the word year.
37. Cal Naughton Jr: Talladega Nights: The Ballad of Ricky Bobby
"So when you say psychosomatic, you mean like he could start a fire with his thoughts?"
John C. Reilly plays the role of Cal Naughton Jr., a NASCAR driver and Ricky Bobby's best friend. He plays dumb like a champ and delivers this line with perfection.
You don't have to like Will Ferrell to appreciate the genius behind his movies.
36. Ham Porter: The Sandlot
"You play ball like a girl."
As a kid, this was the ultimate insult you could shout at another player. And every time you would say it, it was always followed by oh's and ah's from your friends.
Was it politically correct? No way. Most women that play softball these days are better than you think.
35. Jimmy Dugan: A League of Their Own
"That's good advice."
I think the clip speaks for itself.
Do you think it is possible to make another movie just about Jimmy Dugan? I would go see it.
34. Peter LaFleur: Dodgeball: A True Underdog Story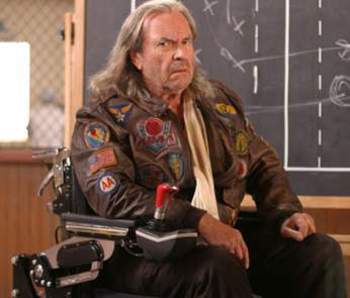 Image via sportsrubbish.com
"Too bad Hallmark doesn't make a 'Sorry your dodgeball coach got killed by two tons of irony' card."
Since I could not find the clip online, I think I have to explain this one.
You see, Patches O'Houlihan, played by Rip Torn, dies after getting crushed by a casino restaurant sign titled, "The Luck of the Irish."
Get it now?
33. Bull Durham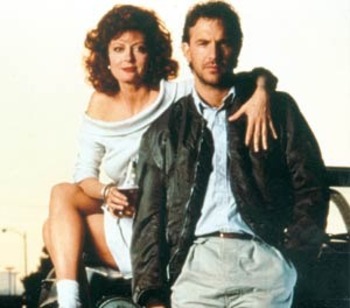 Image via tvtropes.org
Skip - "Don't take this the wrong way Millie, but if I catch you in here again I'll ban you from the ballpark."
Millie - "You can't ban me from the ballpark because my daddy donated the scoreboard."
Skip - "What do we need a scoreboard for? We haven't scored any runs all season."
Bull Durham needs no introduction or sales pitch from me. If you haven't seen it by now, you are missing out on a great funny sports movie.
Why haven't you seen it already?
32. Sidney Deane: White Men Can't Jump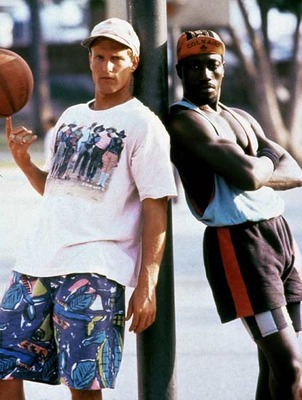 Image via cinefilestv.blogspot.com
"You can put a cat in an oven, but that don't make it a biscuit."
When I talk about quoting sports movies, I can't leave out White Men Can't Jump. Although, thanks to the many uses of the f-word, it is always hard to find great lines that aren't inappropriate for here.
This was one of the few.
31. Happy Gilmore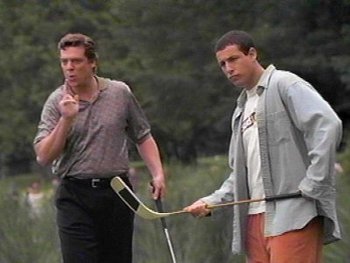 Image via quincyhoang.com
"Did that go in? I wasn't watching, did it go in? I didn't see it, could you tell me if it went in?"
Sarcasm. It works well for Adam Sandler.
30. Haywood: Major League
Image via foolishpleasure-valerie.blogspot.com
"How's your wife and my kids?"
Pete Vuckovich acted in only one film in his entire life. Major League.
He is a former MLB pitcher but plays a hard hitting first baseman that everyone hates.
29. Tin Cup
Image via ew.com
Roy McAvoy - "If I had it to do all over again, I'd still hit that shot."
Romeo - "Man, you'd bury yourself alive just to prove you could handle the shovel."
Cheech Marin had plenty of great quotes from Tin Cup. It was an excellent casting job because he plays a great sidekick/comic relief.
28. Bad News Bears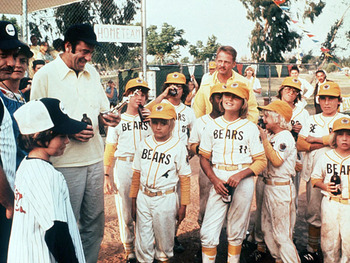 Image via newspaper.li
Engelberg - "You're not supposed to have open liquor in the car. It's against the law."
Coach Morris Buttermaker - "So is murder, Engelberg. Now put that back before you get me in real trouble."
The original Bad News Bears was so much better than the remake staring Billy Bob Thornton, I had to turn it off before it was over.
No offense to the people who enjoyed it. I am just a fan of the Walter Matthau version of Coach Buttermaker.
27. Chazz: Blades of Glory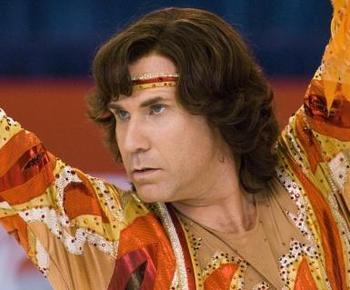 Image via moviefanatic.com
"Troubled childhood? If you consider a 9-year-old kid with a 35-year-old girlfriend troubled."
No one has ever depicted a figure skater as a rock star. That is, until Blades of Glory.
Chazz Michael Michaels is the type of figure skater we all wish were out there. Then it would be more exciting to watch in a non-Olympic year.
26. The Waterboy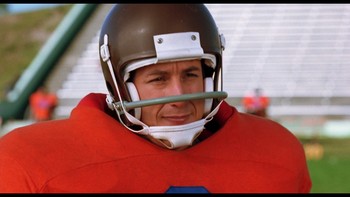 Image via blu-raystats.com
Bobby Boucher - "Good luck on the upcoming play."
West Mississippi Lineman - "I'll be playing with your mama tonight."
Bobby Boucher - "Sixty-two. Sixty-two, sixty-two... there you are!"
If you like this movie, then do not take offense to what I am about to say.
I hate this movie. It is only funny in clips and was very hard to sit through. However, I did find this moment surprisingly hilarious and had to include it on my list.
25. Field of Dreams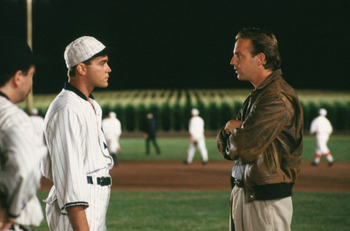 Image via starpulse.com
Ray Kinsella - "The Voice is back."
Annie Kinsella - "Oh, Lord. You're supposed to build a football field now?"
Of course I had to find a way to include Field of Dreams and yet one more Kevin Costner sports movie in the list.
I would be crazy to not include at least three of his movies.
24. The Longest Yard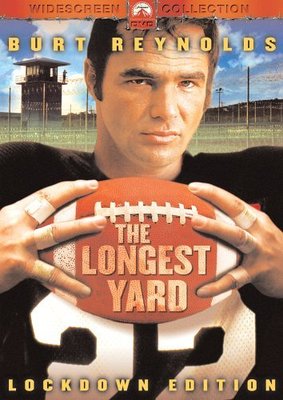 Image via bestmoviesbyfarr.com
Police Officer - "Why'd you drive her car into the bay?"
Paul Crewe - "Couldn't find a car wash."
The original is always better. I have said this before, and I will say it again.
The Longest Yard was so much better the first time around. Although, the remake wasn't terrible. It just wasn't the first one.
23. Major League II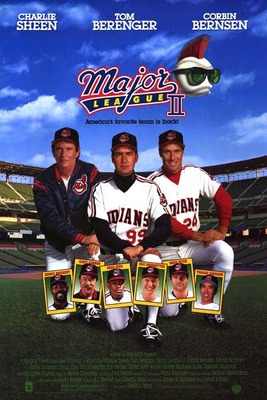 Image via movieposter.com
Valet - "Mr. Vaughn, I thought you were starting tonight."
Rick Vaughn - "I did."
Valet - "Oh, sorry. I didn't tune in until the 2nd inning."
I am running out of room to feature all the great lines from Major League 1 and 2. But don't you worry. I still have a few empty slots to fill with classics.
And when you are done here, check out another...
22. Harry Doyle: Major League II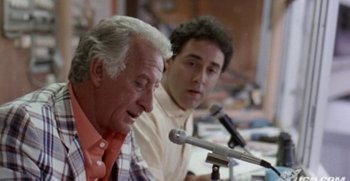 Image via avclub.com
"Well fans, Roger Dorn has done a little redecorating around the ballpark. The outfield walls now look like the yellow pages. And any of you folks having trouble finding a good proctologist, might want to come down here and check out the area around the 375 foot sign. As for the game, we've got a real nail biter here tonight. It's a lot closer than that 11-2 score."
I couldn't find a video of this Harry Doyle quote, but if you watched the movie, you remember it well.
I can't tell you how many times I have used the phrase, "It's a lot closer than..."
21. Dodgeball: A True Underdog Story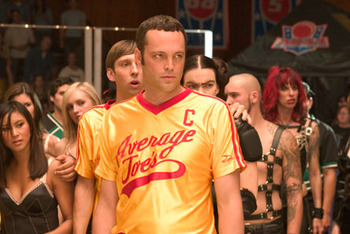 Image via starpulse.com
White Goodman - "Go ahead, make your jokes, Mr. Jokey... Joke-maker. But let me hit you with some knowledge. Quit now. Save yourself the embarrassment of losing with these losers in Las Vegas, La Fleur."
Peter La Fleur - "Alliteration aside, I'll take my chances in the tournament."
When it comes to condescending comebacks, no one does it better than Vince Vaughn. He has made a career of talking down to others with his quick wit.
And we love it.
20. Ty Webb: Caddyshack
"A flute without holes, is not a flute. A donut without a hole, is a Danish."
I almost went an entire quotes article without mentioning Chevy Chase. Am I crazy? That man is a quote making machine and was brilliant in Caddyshack.
19. Necessary Roughness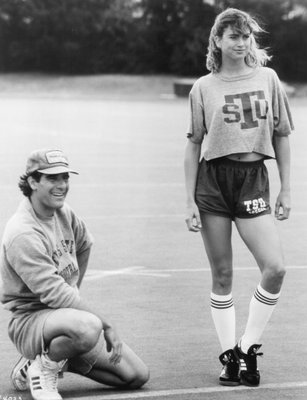 Image via fark.com
Coach Rig - "Not much of a crowd."
Coach Gennero - "Well, at least we have the home field advantage."
Coach Rig - "The Alamo was the home field."
I have seen plenty of movies in my life but I still find this line as one of the funniest of all time. It still cracks me up to this day.
18. Blades of Glory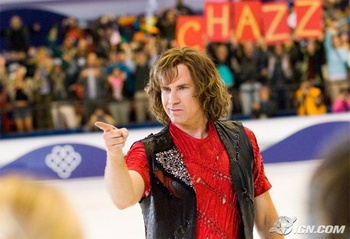 Image via stars.ign.com
Chazz - "The night is a very dark time for me."
Jimmy - "It's dark for everyone, moron!"
Chazz - "Not for Alaskans or dudes with night-vision goggles."
As much as I did not enjoy Jon Heder's character, Jimmy, I did enjoy the banter between him and Chazz.
17. Talladega Nights: The Ballad of Ricky Bobby
Ricky Bobby - Wow. I feel like I'm Highlander!"
Jean Girard - "What is the Highlander?"
Ricky Bobby - "It's a movie. It won the Academy Award."
Jean Girard - "Oh for what?"
Ricky Bobby - "Best movie ever made."
Here is a brilliant idea. Let's put Will Ferrell and Sacha Baron Cohen in a movie together. I am not even sure they needed to script the scenes with these two in it. I would even bet this line was added on the fly.
16. Harry Doyle: Major League
"Just a reminder, fans, comin' up is our "Die-hard Night" here at the stadium. Free admission to anyone who was actually alive the last time the Indians won a pennant."
I wonder how this movie would have ended up if they wouldn't have used Bob Uecker for the role of Harry Doyle. I am not sure anyone else could have delivered these lines with as much comedic value.
15. Ham Porter: The Sandlot
Any time I watch a MLB game, I try to watch the catcher's and see if they actually talk to the batters. It seems that this is a part of the game that has gone away thanks to high definition TV's and all the camera angles in the ballpark.
This scene makes you wish the catchers would revert back to the good old days of baseball when catchers use to talk trash and distract the hitters.
14. Jimmy Dugan: A League of Their Own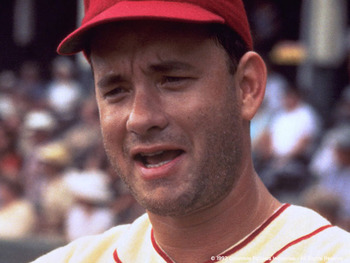 Image via mike-wiles.blogspot.com
Walter Harvey - "Let me be blunt. Are you still a fall-down drunk?"
Jimmy Dugan - "Well, that is blunt. Ahem. No sir, I've, uh, quit drinking."
Walter Harvey - "You've seen the error of your ways."
Jimmy Dugan - "No, I just can't afford it."
A League of Their Own was a good sports movie, but Tom Hanks made that movie great. He made Jimmy Dugan one of my favorite sports movie characters of all time.
This back-and-forth between Hanks and Garry Marshall was just one of the many Dugan classics from the film.
13. Harry Doyle: Major League II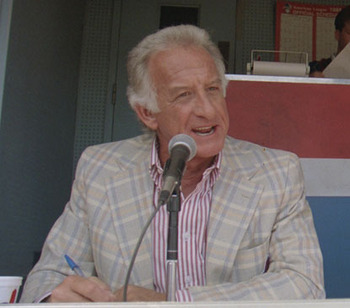 Image via heroesinmycloset.com
"Went to see his movie but it was only out for two and a half hours. I was told, however, that it was in focus."
When Harry Doyle started drinking, you knew he was going to start laying down some classic lines.
He blurted out this gem when speaking about Willie Hayes' new movie that came out during the off-season.
12. Roy Munson: Kingpin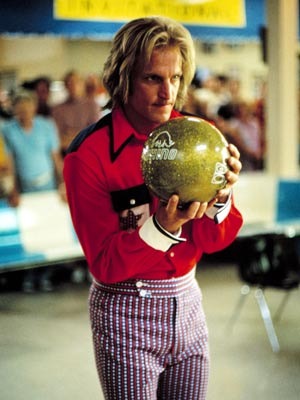 Image via funnyquotestoday.com
ESPN Announcer - "So Roy, where have you been for the last fifteen years?"
Roy - "Well, I uh, well, ya see, I uh... Drinking. Lot a drinking."
ESPN Announcer - "I see. Well, are you still drinking?"
Roy - "No. I uh... I put... uh... Why, you buying?"
There are not too many great bowling movies. In fact, I can only think of one, Kingpin.
At least they didn't fail to execute a classic sports movie comedy.
11. Patches: Dodgeball: A True Underdog Story
"If you can dodge a wrench, you can dodge a ball."
This line should be in the hall of fame of great movie lines.
You might not remember many lines from Dodgeball, but you will remember this one. Classic.
10. Billy Hoyle: White Men Can't Jump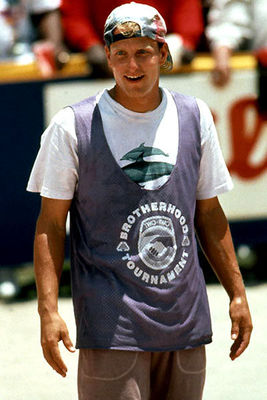 Image via moviesbestownload.blogspot.com
"I'll tell you what. Why don't we take all these bricks and build a shelter for the homeless, so maybe your mother will have a place to stay. And your sister too. I want your mother and your sister out of my house immediately."
I have still not been able to recover from this line. I try and use this when I play basketball and it never seems to come out right.
This was a great line at the right time. Timing is everything.
9. Roy McAvoy: Tin Cup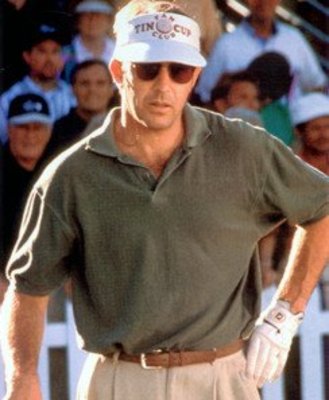 Image via cocktailmatch.com
"And whatever you think of me, you should know that your boyfriend, he hates old people, he hates children, and he hates dogs. And that broad's out there crying still, alright? In the exit room. You're still in the exit room."
I think that when a movie line makes you laugh, time and time again, it deserves its spot on this type of list.
Every time I hear this one, I can't help but laugh.
8. Crash Davis: Bull Durham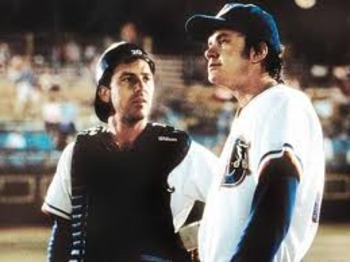 Image via popdose.com
"This son of a b---h is throwing a two-hit shutout. He's shaking me off. You believe that s--t? Charlie, here comes the deuce. And when you speak of me, speak well."
I wanted to avoid this line because of the few choice words by Kevin Costner but it was so funny and so great, I was willing to get in trouble over it.
Crash Davis is the best catcher in sports movie history. I just wanted to add that little tidbit.
7. Jimmy Dugan: A League of Their Own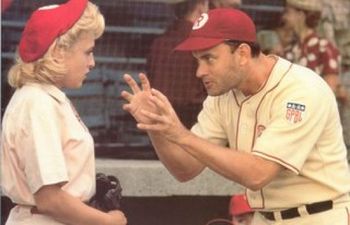 Image via alexadena.wordpress.com
"Are you crying? Are you crying? Are you crying? There's no crying! There's no crying in baseball!"
Out of context, this line is nothing more than a head coach yelling at one of his players following a bad play.
If you saw the flick, this is one of the funniest moments in sports movie history. And it is followed with a great argument between Tom Hanks and the umpire.
6. Family Dinner: Talladega Nights: The Ballad of Ricky Bobby
This scene needs no introduction.
I can just sit back and let everyone enjoy the show.
5. Denis Lemieux: Slap Shot
"You do that, you go to the box, you know. Two minutes, by yourself, you know and you feel shame, you know. And then you get free."
This entire clip needed to be included because if I were to only show this line, it wouldn't have made as much sense to those of you who have yet to watch this classic sports comedy.
Also, this is one of the only clips that doesn't involve a censor button.
4. Lance Armstrong: Dodgeball: A True Underdog Story
"Quit? You know, once I was thinking about quitting when I was diagnosed with brain, lung and testicular cancer, all at the same time. But with the love and support of my friends and family, I got back on the bike and I won the Tour de France five times in a row. But I'm sure you have a good reason to quit. So what are you dying from that's keeping you from the finals?"
One of the funniest moments in sports movie history belongs to an athlete.
Go figure.
3. Al Czervik: Caddyshack
"Oh, this is the worst-looking hat I ever saw. What, when you buy a hat like this I bet you get a free bowl of soup, huh? "
Rodney Dangerfield made a living off of one-liners and zingers. His role in Caddyshack was to be the comic relief and deliver countless zingers and burns throughout the film.
This was his best rip, that I could use, of Judge Smails.
2. Skip: Bull Durham
"Eight... and sixteen. How'd we ever win eight?"
When I first saw his clip, years ago, I had not yet seen Bull Durham. I heard about it from friends, but never considered watching it until this particular scene.
I still laugh to this day when I hear Larry say, "It's a miracle."
1. Harry Doyle: Major League
"Juuuuuust a bit outside."
This was not only one of the funniest sports movie lines of all time, it is one of the best movie quotes of all time.
No one does sarcasm better than Bob Uecker as Harry Doyle.
Keep Reading